State takes aim on scents, lures in battle with CWD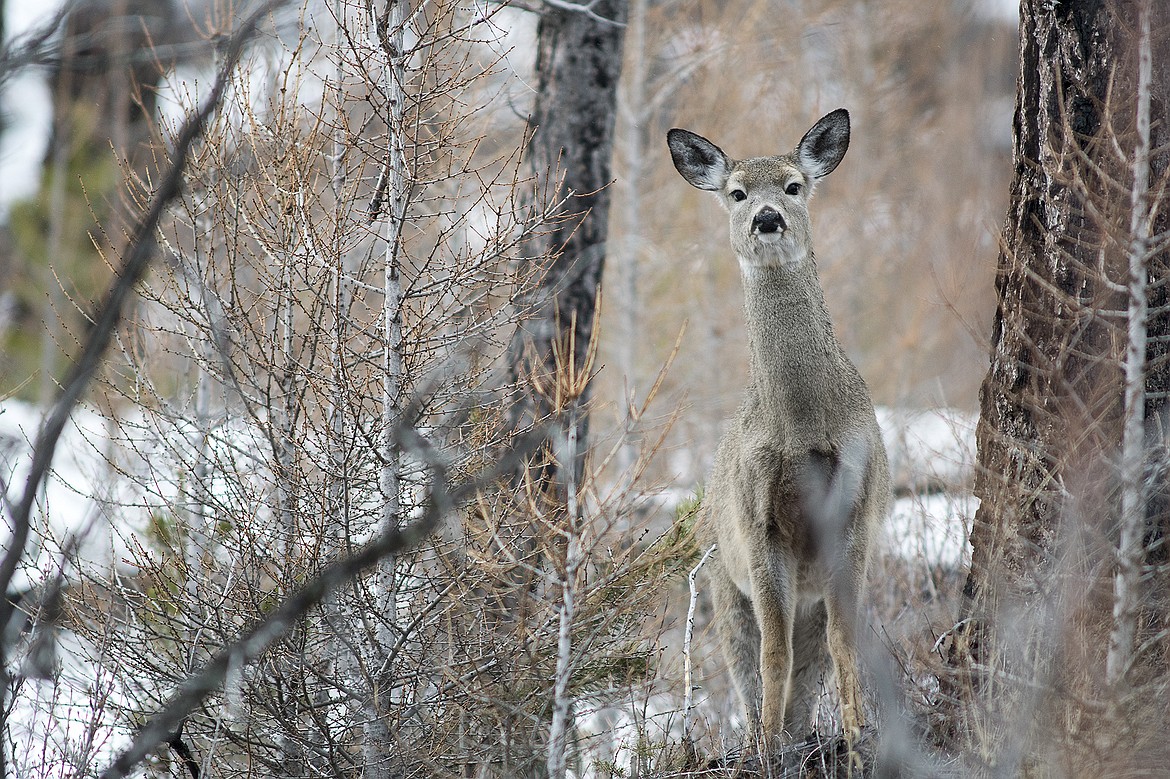 A whitetail deer pauses in this file photo.
by
SCOTT SHINDLEDECKER
Daily Inter Lake
|
June 17, 2021 12:00 AM
In an effort to limit the spread of chronic wasting disease, Montana Fish, Wildlife and Parks is poised to curb the use of cover scents and lures hunters use in pursuit of game animals.
The state Fish and Wildlife Commission will vote on three items regarding CWD and urine-based scents and lures at next Thursday's meeting.
Public comments offered during a May meeting generally supported the regulation of such scents and lures which are mainly used by hunters seeking elk and deer. The use of lures and scents are not allowed for bear hunting.
The limitations include the use of lures and scents from 25 states and three Canadian provinces.
Western states with confirmed cases of CWD include Montana, Wyoming, Utah, Colorado, New Mexico as well as adjacent states North Dakota and South Dakota. Other states include Arkansas, Illinois, Iowa, Kansas, Maryland, Minnesota, Mississippi, Missouri, Nebraska, New York, Ohio, Oklahoma, Pennsylvania, Tennessee, Utah, Virginia, West Virginia and Wisconsin.
Provinces in Western Canada with CWD include Alberta and Saskatchewan.
If the Commission approves the Fish, Wildlife and Parks proposal, lures and scents from these states would not be allowed unless they are approved by the Archery Trade Association and Responsible Hunting Scent Association because those requirements meet Montana standards. The approval would have to be on the product packaging of any urine lure a hunter intends to use to mask human odor.
According to Montana FWP, the reasoning for limiting scents and lures is because of the potential effects CWD could have on animals such as deer, elk and moose. It is a neurological disease which is always fatal for the aforementioned animals. Prions present in many tissues and fluids from deer, elk and moose such as urine and glandular scents, which may influence the spread of CWD if infected material is used either for masking scent or bait.
CWD was first documented in the wild in Montana in a mule deer buck killed in Carbon County in 2017. Since then, the state has tested thousands of hunter-killed game to find where CWD is occurring in the state and how prevalent it is in certain populations.
About 15,000 tests were done in the last two years. In the most recent testing period, from April 1, 2020 to March 15, 2021, the state collected 7,974 samples, 13% more than in 2019 (7,025).
The samples included 4,088 white-tailed deer, 3,108 mule deer, 729 elk and 49 moose.
From the most recent collection period, a total of 271 animals were positive, including 233 whitetails and 38 mulies. No elk or moose tested positive for CWD.
In Northwest Montana, the Libby CWD Management Zone accounted for all of the positive tests from 2017-2021. In Hunter District 100, there were 807 tests with 48 positive tests. White-tailed deer accounted for 45 positives.
In District 103, 868 deer, elk and moose were tested in the same time period with nine positives, eight of which were whitetails. In District 104, 561 animals were tested with 29 positives, all whitetails.
In the Libby CWD Management Zone, hunters submitted 491 white-tailed deer during the general hunting season and 23 tested positive for the disease. From Jan. 4, 2021 to Feb. 28, 2021, state officials trapped, euthanized and tested 107 whitetails in the Libby Zone with 13 positives.
Neil Anderson, the wildlife program manager for Montana FWP in Region 1, said rates are largely unchanged in the last two years.
"The rates are about 11 to 13% and we're shooting for getting that down to 5%, but it's gonna take several years to reduce it," Anderson said. "We're hopeful to reduce the deer density in Libby and continue to spread the word about proper carcass disposal and getting animals tested because it is free."
Anderson said there is concern after a mature white-tailed buck which was killed by a hunter tested positive.
"It's one deer, but the fact it was found more than 30 miles from Libby is a concern," Anderson said. "We'll keep doing surveillance and working to spread the word of properly disposing carcasses and not feeding deer."
Anderson said he hopes to get more samples from places such as Thompson Falls and other areas not close to Libby so the agency can have a better understanding of the problem.
"There seems to be a general feeling of "It's a Libby problem" but we need more data," he said.
The commission also approved an either-sex B deer license within the Libby CWD Zone. There are no limits on how many licenses can be sold, but there is a limit of one license per person.
The Libby City Council approved a portion of a wildlife management plan pertaining to the municipality's urban deer population, according to a report in The Western News.
One of the document's goals is to integrate with the state's Libby CWD Management Plan. The municipal plan addressed destroying deer that are aggressive, unsafe and sickly as well as reducing damage to property and vegetation by culling the animal's population. The document also calls for educating residents against feeding deer, which is illegal under state code, showcasing how to dispose of carcasses safely and reduce the prevalence of CWD.
Additionally, the Blackfeet Indian Reservation had its first CWD positive case when one white-tailed deer turned up. A tribal hunter turned in a deer in late November he had harvested from the Meriwether Road area, northeast of Browning.
According to its CWD work plan, state Fish and Game officials said they'll attempt surveillance in all hunting districts that intersect a 40-mile buffer on known positive tests where CWD hasn't been found.
There is no known transmission of the disease to humans; however, the Centers for Disease Control and Prevention recommends that hunters who harvest an animal in an area where CWD is known to be present have their animal tested. If the animal tests positive, the organization advises against eating the meat.
The meeting, set for June 24, will be held via Zoom with the CWD and scents and lures proposals being discussed in the 12:30 p.m. session. It will be broadcast at fwp.mt.gov.
Scott Shindledecker may be reached at 758-4441 or shindledecker@dailyinterlake.com.
---