Record-setting heat dome scorches western Montana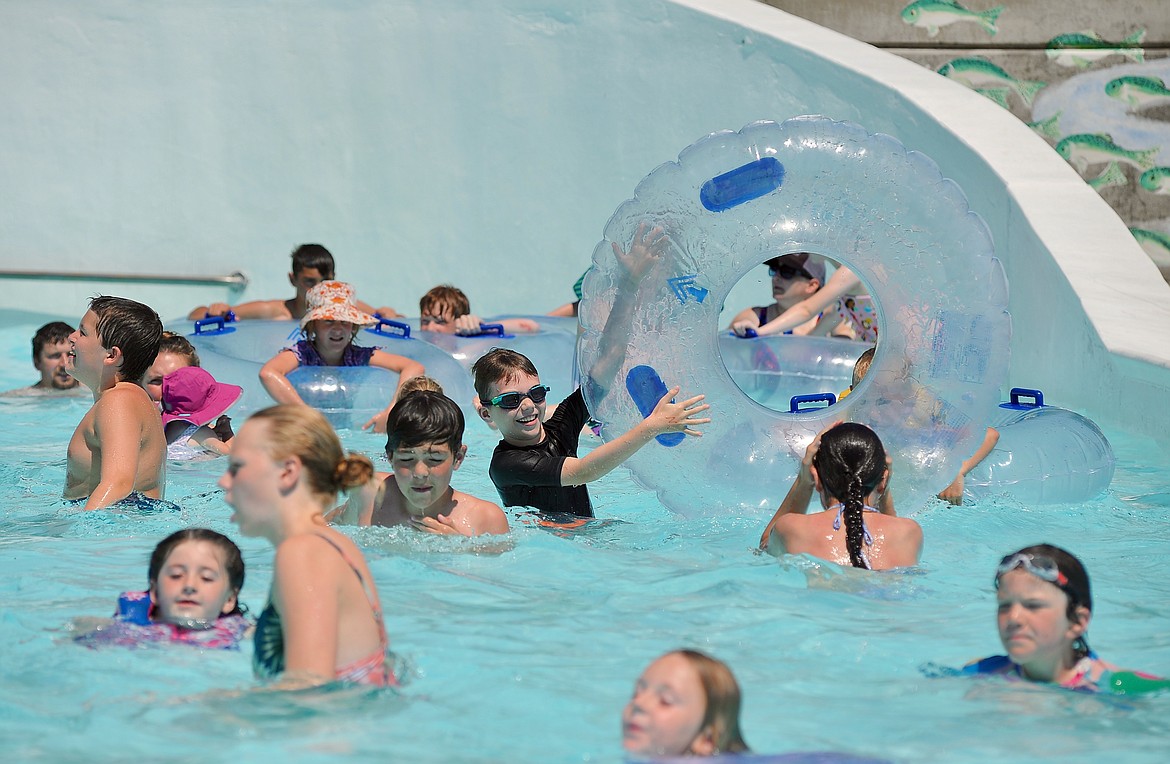 Swimmers enjoy the lazy river at Woodland Water Park in Kalispell on Tuesday, June 29, 2021. (Matt Baldwin/Daily Inter Lake)
Woodland Water Park was the place to be in Kalispell on Tuesday as a record-smashing heat dome settled over western Montana.
The public outdoor pool was packed by 1 p.m. as temperatures soared into the mid-90s. Later in the afternoon a high of 101 degrees was recorded at Glacier Park International Airport in Kalispell, which tops the previous daily record of 95 set 42 years ago in 1979. The last time Kalispell saw 100 was Aug. 10, 2018.
The all-time high in Kalispell is 105.
Kalispell resident Kristy Vollertsen joined the crowds at the pool on Tuesday with three boys in tow. She said it was the best option to keep the kids "entertained and cooled off."
The heat bubble that has scorched much of the Pacific Northwest coast this week migrated east Tuesday. Record-breaking, triple-digit temperatures are likely over the next three days across the region.
A National Weather Service heat advisory is in place for the Flathead Valley and into Glacier National Park through Thursday.
Farther west in Libby, a more serious excessive heat warning is in place. The temperature there hit 109 on Tuesday afternoon, setting an all-time high for the city and breaking the previous record of 108. The Libby area is expected to see highs of 109 again on Wednesday, and 107 on Thursday.
Residents across western Montana are advised to take precautions during the dangerously hot and long heat wave. Drink plenty of fluids, stay in an air-conditioned room, stay out of the sun, and check up on relatives and neighbors. Young children and pets should never be left unattended in vehicles under any circumstances.
FLATHEAD ELECTRIC Co-op spokeswoman Wendy Ostrom-Price said the increased use of air conditioning shouldn't impact the local power supply.
"While there is always some concern when it comes to extraordinary weather events, our system is built to handle the extreme cold and our summer peaks have never been close to our winter peaks, so our [power supply] system should hold up fine," she said.
Ostrom-Price said peak loads in the summer are typically around 200 megawatts, "whereas our system peak for the most recent cold snap in February was 359. Air conditioning is just not near as big of a factor during the summer as heating is during the winter."
The co-op's biggest concern right now, she said, is fireworks, "given the hot, dry conditions and potential for fires near our poles and other equipment."
Kalispell resident Trisha Carlson said it's the earliest in the summer she has used her home's air conditioning system.
"I don't think we've ever needed to turn it on in June," she said while on her way to the pool with the kids.
A modest cooldown is possible by the weekend, with highs topping out in the upper 80s in the Flathead Valley.
Recent Headlines
---