Hedges Elementary fifth-graders 'Pay it Forward'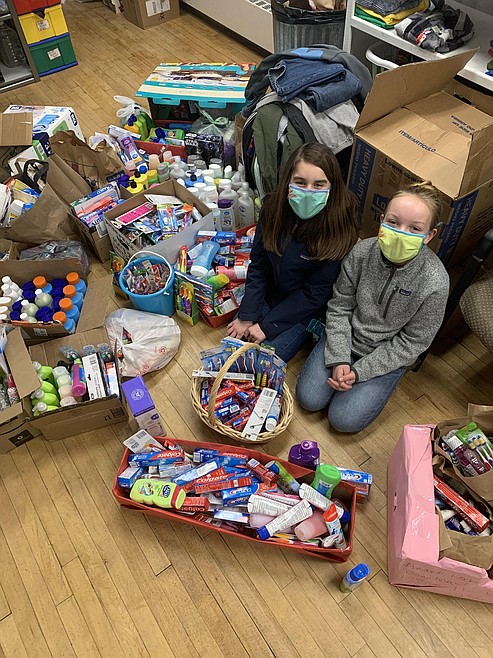 Hedges Elementary fifth-graders Camas Bushnell and Emery Eash organized a school-wide fundraiser and collected 1,219 hygiene products that were donated to the HEART Locker, which serves Kalispell and Evergreen children and teens in need. (Hilary Matheson/Daily Inter Lake).
by
HILARY MATHESON
Daily Inter Lake
|
March 5, 2021 12:00 AM
Two ambitious Kalispell fifth-graders didn't just take on their teacher's challenge to "pay it forward," they surpassed their own expectations.
Hedges Elementary students Camas Bushnell and Emery Eash were inspired to organize and hold their first fundraiser after their teacher, Paxton Schmauch, read the book "Pay It Forward,"by Catherine Ryan Hyde, to their class. Schmauch then asked her students to think of ideas on how they could change the world, or return a kindness shown to them to someone else.
"In my classroom we talk a lot about kindness and treating others as you would want to be treated and that is something I preach in my room," Schmauch said. "I want my kids to be kind and so that's one of the reasons I read that book because it talks about how you can pay it forward to people — and it means something to them."
Bushnell and Eash took the initiative to make a difference in their community and worked together to make it happen. After seeking suggestions and advice from Schmauch and school administrators, the two girls decided to hold a school-wide fundraiser to collect hygiene products for the HEART Locker, which serves Kalispell and Evergreen K-12 students in need by providing access to free clothing, bedding and school supplies, in addition to the hygiene items.
To market the fundraiser, the pair came up with a slogan.
"Love is the way, show it today," Bushnell and Eash said in unison during a recent interview at the HEART Locker.
"We nailed that," Eash said with a laugh, having said the phrase often.
The pair had just finished dropping off 1,219 items, primarily shampoo, conditioner, body wash, lotion, deodorant, toothpaste and toothbrushes.
Many of the items Hedges families donated were kid-themed, which doesn't happen often, so those products go fast, according to Casey Driscoll, HEART Program director and homeless education liaison for Kalispell and Evergreen school districts.
"Part of why we're so excited about it is because they did such a good job of picking stuff out and kids will get really excited if Spongebob is on the soap, or 'Paw Patrol' is on the soap," Driscoll said.
"Our goal was 1,000 [items] but we expected under it probably," Eash said.
"Yeah, we were like if we get 800, wow, that's awesome. We got over 1,000 — and mind blowing," Bushnell said.
It shouldn't be too surprising, however, since the duo worked hard to publicize the fundraiser by writing a script and recording a video shown to classmates, putting up flyers around the elementary school and presenting to the school board of trustees, who were the first to give a monetary donation to their cause. In addition to the items, $185 was raised.
A LITTLE competition is also helpful. A pizza party was given to a third-grade classroom that donated the most — more than 270 items.
"I think mostly it was they were just happy to know that we were helping people," Eash said.
After wrapping up their first fundraiser, the girls were asked what advice they would give to other young students wanting to do the same.
"Start small, grow bigger," Bushnell said.
"Yeah," Eash said, turning to her friend, "That was really good, Camas."
The first step Eash recommended students take is to share their ideas with an adult, such as a teacher or administrator, which is what they did.
"Talk to some of the adults around you because sometimes you need a little bit of help from an adult with a little more authority than you do," Eash said.
Then, reach out to others who might have talents or skills to contribute in carrying out plans.
"I couldn't have done it without Emery," Bushnell said.
"And I couldn't have done it without Camas," Eash said.
"And we couldn't have done it without Miss S," they both said.
Schmauch hopes other students will see it's possible to make a difference no matter what age a person is.
"Them doing this project kind of shows that even kids this young can show kindness in a way that is useful to our community," Schmauch said.
The two fifth-graders said they would like to try organizing other fundraisers in the future.
"There are a lot of people in our community who need help," Eash said.
Reporter Hilary Matheson may be reached at 758-4431 or by email at hmatheson.com.
---