Blue Moon co-owner Dick Sapa dies
by
CHRIS PETERSON
Hungry Horse News
|
March 8, 2021 10:15 AM
Dick Sapa, the co-owner of the iconic Blue Moon Nite Club west of Columbia Falls died March 4 at his Columbia Falls home. He was 78.
Sapa and his wife, Charlotte, moved here from Minnesota and bought the bar from Lily Brash in 1972.
The Blue Moon Nite Club, built in 1947, one of many watering holes that sprung up as the Hungry Horse Dam was being built. Old 1940s advertisements for the club in the Hungry Horse News touted "orchestra music." Through the decades it has remained an unpretentious, rustic bar and dance hall that has stood sentry at the intersection of Montana 40 and U.S. 2.
Sapa was a musician himself, and fronted the Blue Moon's country-western house band for many years.
In his early days in his hometown of Moorhead, Minnesota, he also was the lead singer and guitar player of a rock band called "Richie Wynn and the Tornadoes." He was selling insurance at the time and set his sights on the Flathead Valley, which "looked like a good place to raise kids," he recalled in an earlier interview with the Daily Inter Lake.
"He wanted to grow a beard and move to Montana," Charlotte recalled with a laugh in a 2019 interview with the Hungry Horse News. "And that's exactly what he did."
Those early years were not easy. The front door was a piece of plywood with a padlock on it.
They lived in a little apartment behind the bar — a true hole-in-the-wall.
Today it is one of the most popular bars and restaurants in the region, hosting numerous live bands and a rodeo every week during the summer months. The couple and their family worked endlessly on building the business.
Sapa was also an avid hunter and fisherman.
The couple had three children, Bill, Charlene and Jimmy.
Jimmy died tragically in 1984 along with friend and fellow baseball player Ray Johnsrud when their car collided with a train. The Sapa-Johnsrud baseball fields in Columbia Falls are named after them.
The Sapas have been huge supporters of Columbia Falls school and sports events, hosting auctions at the bar for the Glacier Twins and other school functions.
Bill spent several years working various jobs in Alaska and Dick, a dedicated outdoorsman and hunter, would go up with him in the winters, hunting and trapping for months at a time.
Dick took trophy-sized grizzly bears and a polar bear on one hunt, as well as two wolverines. He and Billy also nabbed a large alligator on a hunt in Florida.
On their hunt, their guide forgot a device called a "bang stick" that shoots the gator once it's caught by hook and line. The guide suggested they let the gator go.
But the Sapas were having none of that, so they wrangled the gator to the boat, taped its mouth shut and dragged it some 25 miles back to shore where they could shoot it properly.
The gator, all 11 feet of it, hangs above the bar today.
The Sapas were also farmers, raising cattle on their ranch off South Hilltop Road. In the summer the family could often be seen along U.S. 2 putting up hay bales for the cattle. The large pasture lots and fields greet visitors to Columbia Falls today.
Dick is survived by his wife, children and several grandchildren, many of whom work at the bar and restaurant today.
A visitation will be held from 4 to 7 p.m. Thursday, March 11, at Columbia Mortuary. A Mass of Christian burial will take place at 11 a.m. Friday, March 12, at St. Richard Catholic Church in Columbia Falls.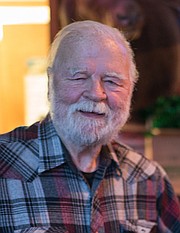 ---