Library board ponders solutions for budget crunch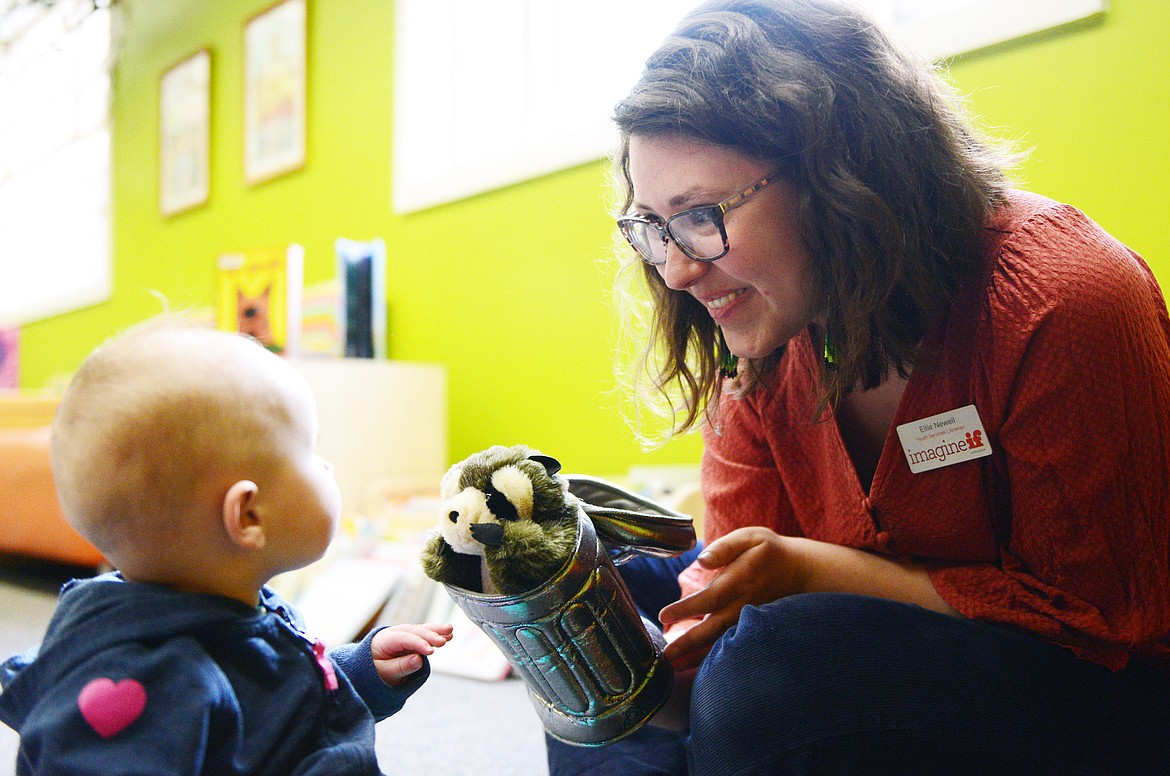 Ellie Newell, Youth Services Librarian at ImagineIF Library Kalispell, entertains a young visitor with a puppet on Friday, March 6, 2020. (Casey Kreider/Daily Inter Lake FILE)
by
CHAD SOKOL
Daily Inter Lake
|
March 14, 2021 12:00 AM
In need of technology upgrades, better accessibility and additional staff, the board of Flathead County's ImagineIF Libraries is considering asking voters to approve a property tax increase as the county's population continues to surge.
Two of the board's five members have formed an "exploratory committee" to examine the idea, and the full board will take it up during its next virtual meeting on March 31. ImagineIF Director Connie Behe emphasized the discussion is still preliminary, and a levy is one of several potential solutions to the libraries' budget crunch.
"If we continue as we are with a stagnant budget, then we will be unable to fulfill the library's mission of providing safe spaces for access to information and reading, and we will not be able to be responsive to our community," Behe said. "There will not be enough materials or programs to keep up with our growing community, forcing families and other patrons to turn to private sources of information and books."
Any decision to put a tax increase on voter ballots would require approval from the county commissioners. And persuading at least two of the three Republican commissioners may be an uphill battle.
In a phone call Friday, Commissioner Pam Holmquist told the Daily Inter Lake she can't justify asking property owners for more money at a time when many are struggling financially due to the coronavirus pandemic.
"It's been a tough year for everybody," Holmquist said. "So considering a bond issue at this time, I could say that I don't think that I could probably support a bond issue on anything at this time — not necessarily the library or anything else."
THE LIBRARIES' annual budget has hovered between $1.7 million and $1.8 million the past three years, with around 87% coming from local property taxes. The rest comes from donations and small allocations from the state.
While the commissioners decide how much tax money the libraries get each year, Holmquist said they don't scrutinize individual budget items as they do with most county departments. That's left to the autonomous library board, members of which are appointed by the commissioners.
Flathead County homeowners currently pay $16.90 for every $200,000 of assessed property value for library services, which include physical and digital book checkouts, audiobook subscriptions, device checkouts and a wide range of programs for children, teens and adults. The exploratory committee has suggested taxing an additional $2.89 per $200,000 of property value, bringing the total to $19.79.
Behe said a levy would bring ImagineIF's tax revenue closer to average compared to other public libraries in Montana.
"I think a lot of people would be OK with that if they understood how much return on investment you would get," she said.
THE COMMITTEE reported the additional tax revenue would total about $264,000 annually, enabling the libraries to hire an assistant director, host more early-childhood programs and make the Bigfork location more accessible for people with disabilities.
No one was hired to replace the last assistant director after the commissioners cut library funding several years ago, resulting in an $80,000 budget shortfall, according to the committee's report. Those duties fell on senior librarians and Behe, who said the situation is "not sustainable into the future."
"Local property tax revenue approved by the county for the library is trending downward even as population size, program attendance, and digital and children's materials circulation increase," the report states. "Funded below average for peer Montana libraries means we have half the number of librarians, less money for collections, and our technology budget hasn't increased in seven years. We are struggling to meet the needs of our community and the divide will only grow wider."
BEHE SAID the libraries also need more physical space, but that wouldn't be covered by the levy and new construction would be an even taller order. In the basement of the main library in Kalispell — an old post office the county leases from Kalispell Public Schools practically for free — books are piled in boxes in the same spaces where staff work at desks, and water sometimes gets in through the low window wells.
Behe said she hopes to have a collaborative conversation about what the libraries need to thrive. If the board does decide to pursue a levy and the commissioners approve it, the question could appear on ballots in November 2022; Behe said it would be too expensive to hold a special election before then.
The other option is to ask for a larger slice of the county's general fund.
"I don't envy the role the commissioners have; they have tough decisions to make and need to consider competing priorities," Behe said. "I need to do a better job of describing the problems we are facing at the library and the impact they have on the community."
Reporter Chad Sokol can be reached at 758-4434 or csokol@dailyinterlake.com
Recent Headlines
---