Blackfeet leaders vote to open Glacier's east entrance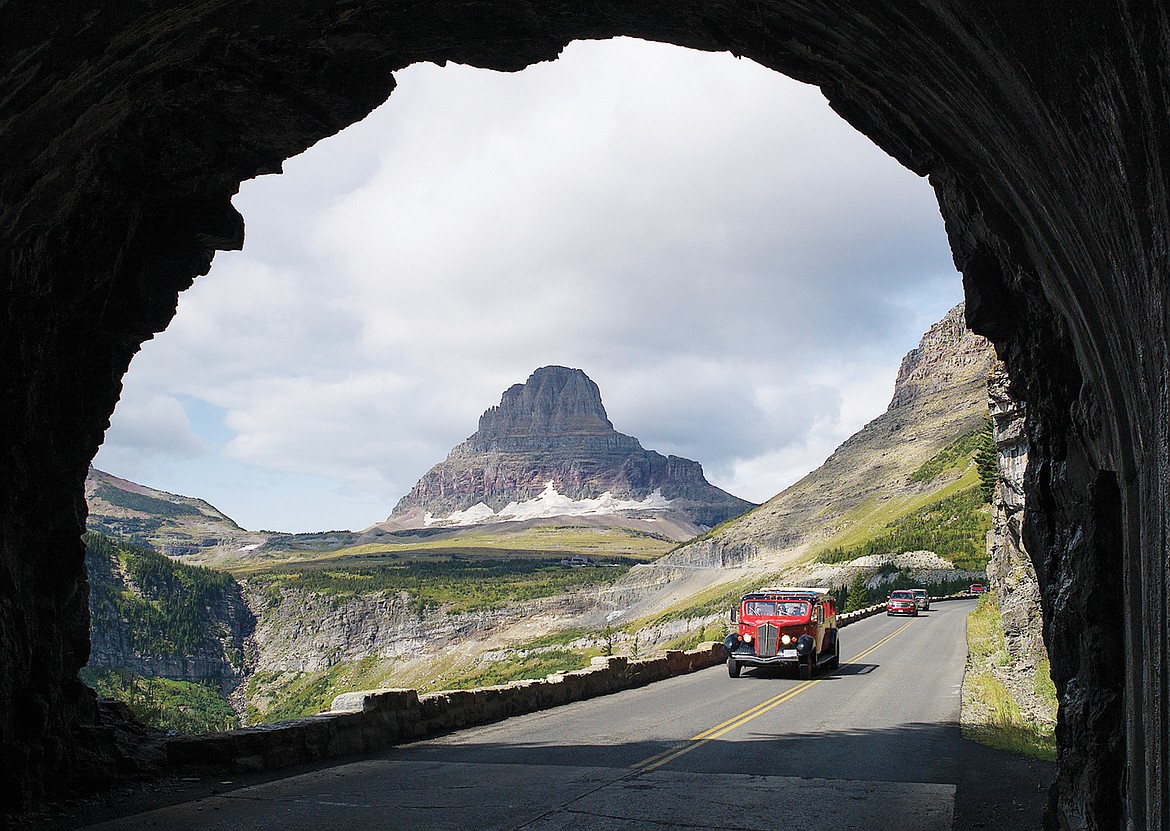 A red bus heads into the East Side Tunnel in Glacier National Park. A deal announced Wednesday would add $1.3 billion a year for deferred maintenance at national parks. (Daily Inter Lake FILE)
by
KIANNA GARDNER
Daily Inter Lake
|
March 17, 2021 10:00 AM
At a special meeting Wednesday the Blackfeet Tribal Business Council unanimously voted to allow the eastern entrance of Glacier National Park open for the 2021 season beginning March 18.
According to a park officials, the entrance at St. Mary will allow vehicle traffic on the Going-to-the-Sun Road for about 1.5 miles until the winter gate closure at St. Mary Campground, which will remain closed to winter camping until further notice.
The roads into Cut Bank and Two Medicine will stay closed to vehicle traffic for the winter and Chief Mountain Road will stay closed at the park boundary until road conditions permit.
At St. Mary, Cut Bank and Two Medicine entrances, individuals may continue past the closed gates on foot, skis or snowshoes, as is typical for winter seasons.
Construction began on Many Glacier Road on March 15 and is closed to vehicular traffic and closed to hiker and biker traffic Monday through Friday through May 28.
"Visitors are reminded that winter conditions are unpredictable and can quickly become dangerous," the news release states. "Visitors should prepare for icy conditions, high winds, and snow. Cellular communications in the park are extremely limited."
THE OPENING of the eastern side of the park comes after a year of uncertainty involving the COVID-19 pandemic. The tribe declared a state of emergency on March 15, 2020, and closed the eastern entrance soon after in an effort to safeguard residents from the spread of the virus. The entrance is located on the Blackfeet Indian Reservation.
The decision to reopen the entry point, according to a news release, is based on the increased availability of COVID-19 testing and vaccines.
A recent notice on the Blackfeet COVID-19 Incident Command Facebook page states 95% of the reservation's vaccine-eligible population has been immunized. That high vaccination rate prompted the reservation to move into Phase 3 of its phased reopening plan earlier this week. The phase, known as "New Normal" loosened restrictions on community gatherings, eliminated fines for those in violation of COVID-19-related rules, and much more.
"With the move to Phase 3, as well as consultation with medical authorities and the high rate of vaccination on the Blackfeet Reservation, the Council felt that it was time to allow the east entrance to open," said Blackfeet Tribe Public Information Officer James McNeely. "The safety of the Blackfeet people remains the top priority of the Council, who will continue to work Glacier National Park, Superintendent Jeff Mow, area business owners, and local health officials."
McNeely added that masks will still be required for an indefinite period of time, "possibly the next couple years."
Proper hand hygiene and social distancing are still highly recommended by tribal leaders, as is regular COVID-19 testing. Those who have not received their vaccination are encouraged to do so by contacting the Southern Piegan Clinic or Blackfeet Community Hospital.
As the Centers for Disease Control and Prevention continues to update its response to the pandemic, the news release emphasized the safety measures must stay in place in order to "ensure the successful reopening of the Blackfeet Reservation, with safety as the paramount driving factor balanced with the need to recover and restore the Blackfeet economy."
Reporter Kianna Gardner may be reached at 758-4407 or kgardner@dailyinterlake.com
---