Campaign aims to help Columbia Falls toymaker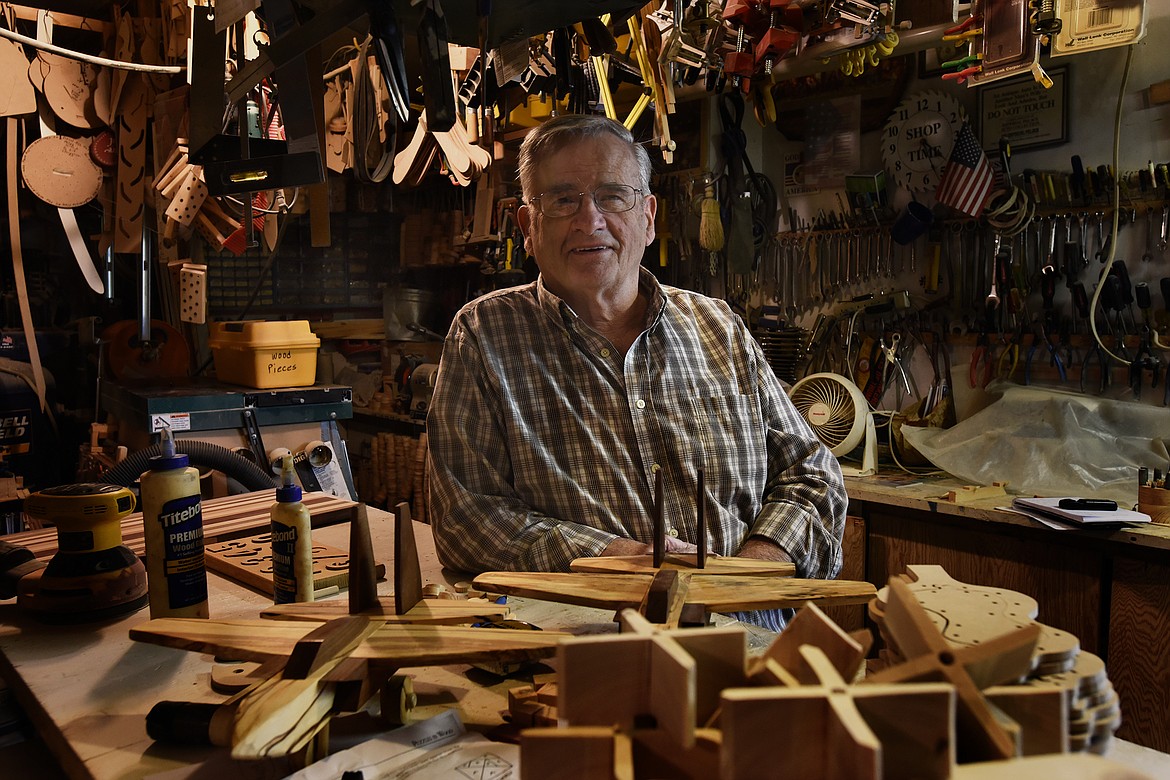 A new Gofundme campaign aims to help Edwin Toren, who has been donating his own time and money to produce wooden toys for the Toys for Tots program for 15 years. (Jeremy Weber/Daily Inter Lake)
by
JEREMY WEBER
Daily Inter Lake
|
March 17, 2021 3:10 AM
Wooden toys in all phases of completion covered a bench in Edwin Toren's Columbia Falls workshop last week as he continues toward his goal of building 1,500 toys. Toren spends six days a week hard at work in his one-man toy factory, using tools that hang from nearly every surface and other machines that fill his garage.
For the past 15 years, the former Columbia Falls mayor or volunteer firefighter has been helping Toys for Tots make sure that area children find something under their trees on Christmas morning. Toren donates his time and expertise to create a variety of wooden toys, ranging from wagons and cars to airplanes, boats and more.
As he always has, Toren does all of the work free of charge.
"I have a soft heart for kids and if I can help, then that is what I am going to do," Toren said. "I just can't stand the thought of a child not getting a toy on Christmas."
Now, a new fundraising campaign seeks to help out the man who has been supplying local children with handmade wooden toys for Christmas for more than a decade.
Never one to seek the spotlight, or even receive credit for efforts, Toren was reluctant when former Flathead resident Brenda Ahearn, along with Whitefish resident Jamie Goguen, approached him earlier this year about putting together a fundraising effort to help offset the cost of replacing many of his aging machines. Toren has been using his retirement stipend to fund the $3,000 to $5,000 he spends making the toys each year, but the cost of replacing several larger machines is beginning to add up.
That's where Goguen's Gofundme campaign comes in.
"He's been doing this for so long as an incredible unsung hero. I just wanted to be able to help him out," Goguen said.
To date, 30 donors have helped the campaign raise more than $7,500 of its $10,000 goal.
For Toren, the roots of his toymaking project go back to his childhood growing up on a farm in Eastern Montana in the 1950s, where his Christmases brought essentials such as clothing or an occasional piece of candy or fruit.
"I hated to go to school after Christmas because all of the other kids were showing off their presents. I would have to tell them 'that's nice' and not tell them what we got," Toren explained. "It was all very meager. There were no toys to speak of. It was all things that we needed. I'll admit, it was tough. It wasn't easy, but back then that is just the way it was all over. Our family wasn't that much different from many of the others. If I can help kids at Christmas, that's what I want to do."
Toren remembers the first batch of toys he made for the Toys for Tots program — 65 wooden creations that left him with a feeling of accomplishment. This year, Toren hopes to make 1,500 or more, but it still might not be enough to supply the close to 2,100 children on this year's Toys for Tots list.
While much of the material used to make the toys is donated to Toren free of charge, upkeep on the machines used it beginning to take its toll. In 2020, Toren spent more than $2,000 to replace aging machines that were no longer usable and will soon have to replace an expensive air compressor that is on its last legs.
"Everything has a life. Things eventually wear out. No matter how hard you try to keep them going, machines eventually break down," Toren said. "There are a lot of little costs that a lot of people would never think about."
Each year, Toren goes through 15-20 saw blades at $20 each, 40-50 sanding disks at $12-14 a pop and buys screws in 50-pound buckets.
Toren is more than happy to quietly cover the costs himself, but Ahearn and Goguen felt it would be nice for the community to help out the man who has been helping others for so long.
"We all want a hero and it is so nice when that hero is local," Goguen said. "He's been doing this quietly for more than a decade, helping people and doing the right thing. Now, it's our turn to help him out."
As for Toren, he just wants to continue doing what he loves.
"This is my home. I'm out here six days a week and I love it," he said. "I wouldn't trade it for anything."
For more information on the Gofundme campaign to help Toren, visit https://www.gofundme.com/f/help-heirloom-toymaker-in-time-for-christmas-2021
Recent Headlines
---