New owner modernizes Olney resort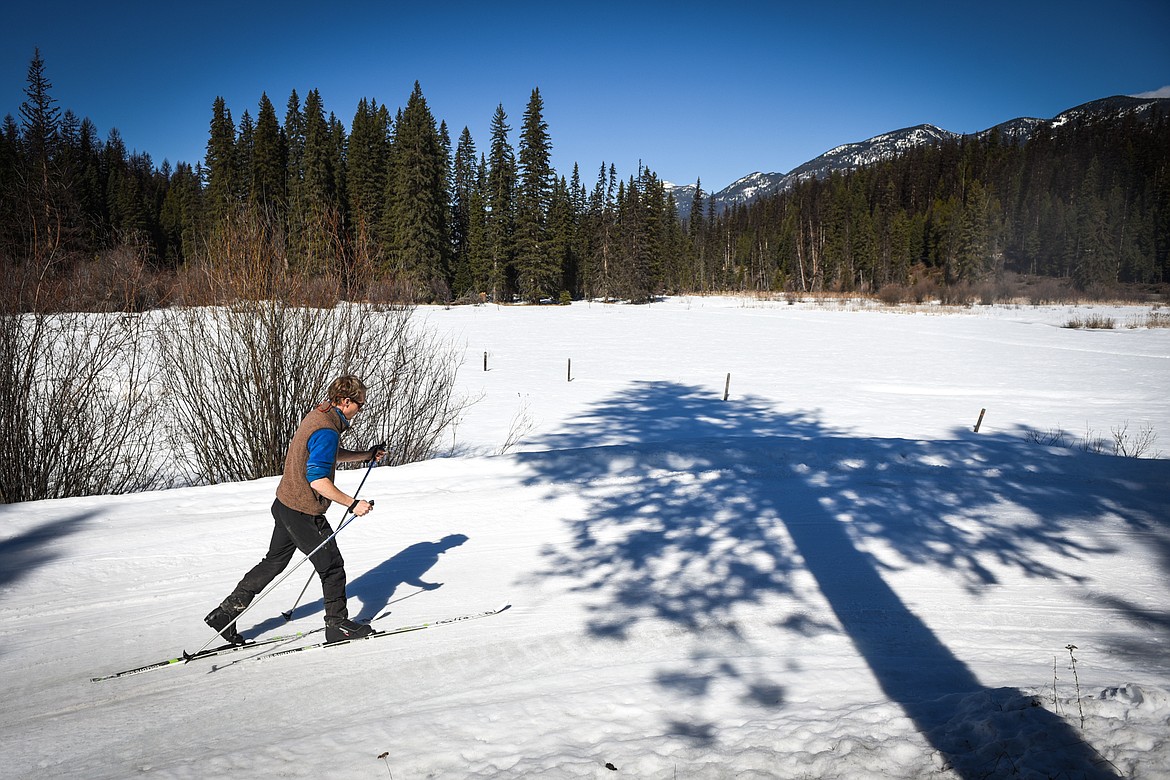 General manager Brett Svetlik on one of the Nordic trails at Dog Creek Lodge & Nordic Center in Olney on Wednesday. (Casey Kreider/Daily Inter Lake)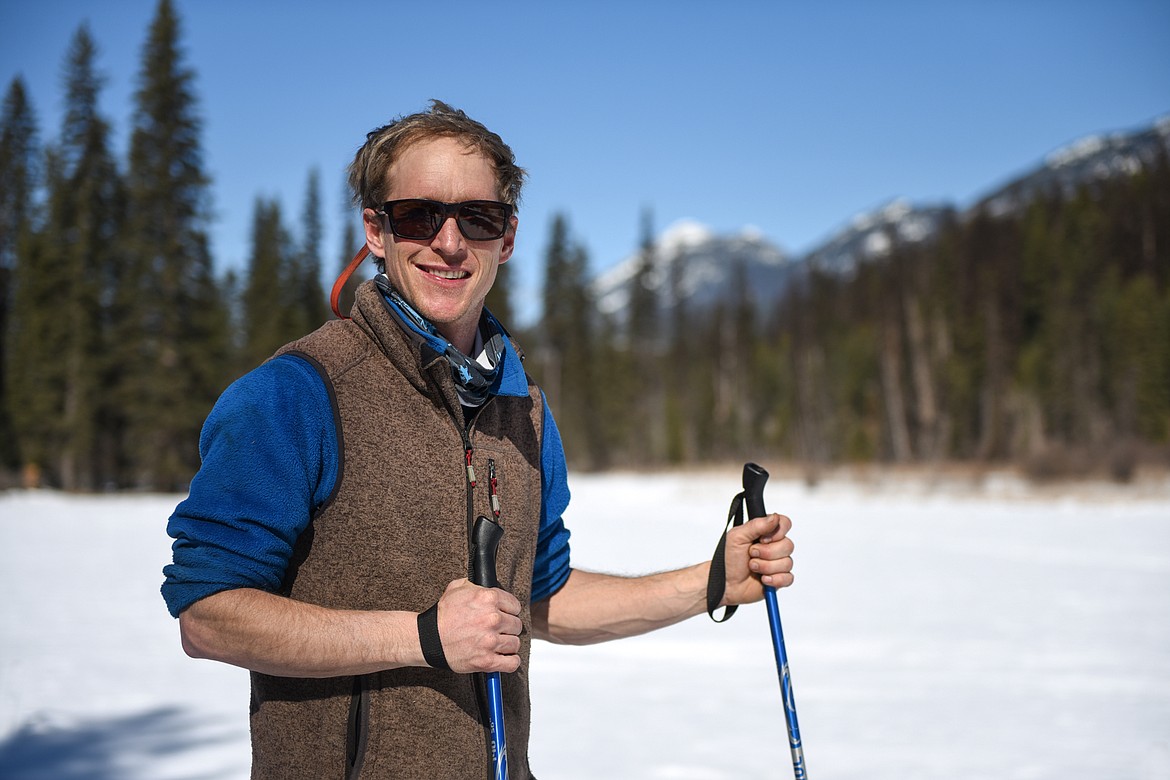 General manager Brett Svetlik on one of the Nordic trails at Dog Creek Lodge & Nordic Center in Olney on Wednesday. (Casey Kreider/Daily Inter Lake)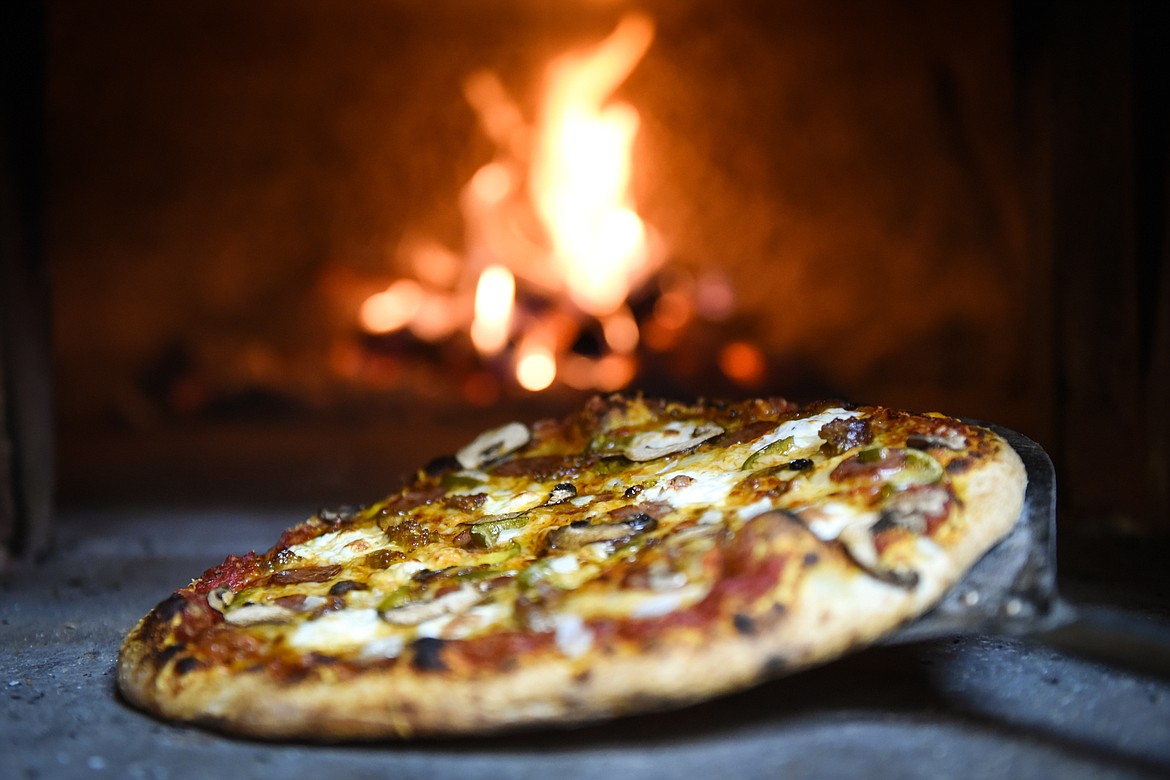 One of Dog Creek Lodge's signature wood-fired pizzas made from locally sourced ingredients comes out of the oven on Wednesday. (Casey Kreider/Daily Inter Lake)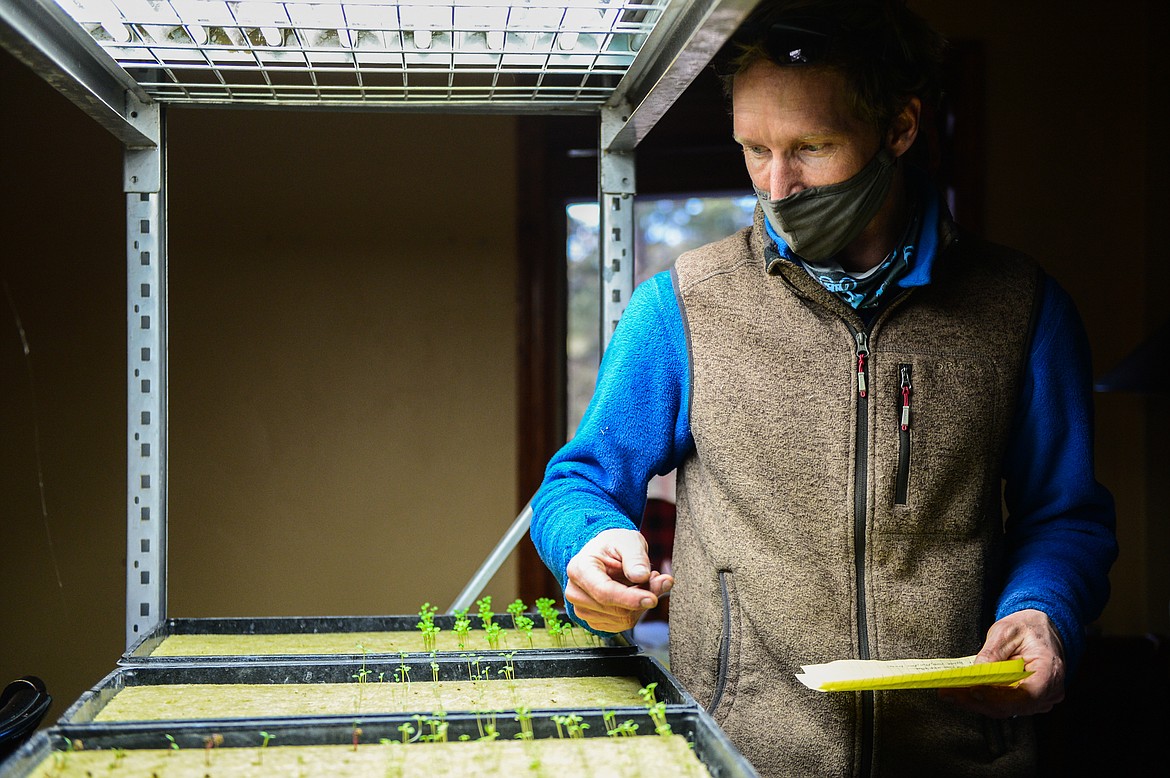 General manager Brett Svetlik grows much of the produce used in Dog Creek Lodge's menu hydroponically. (Casey Kreider/Daily Inter Lake)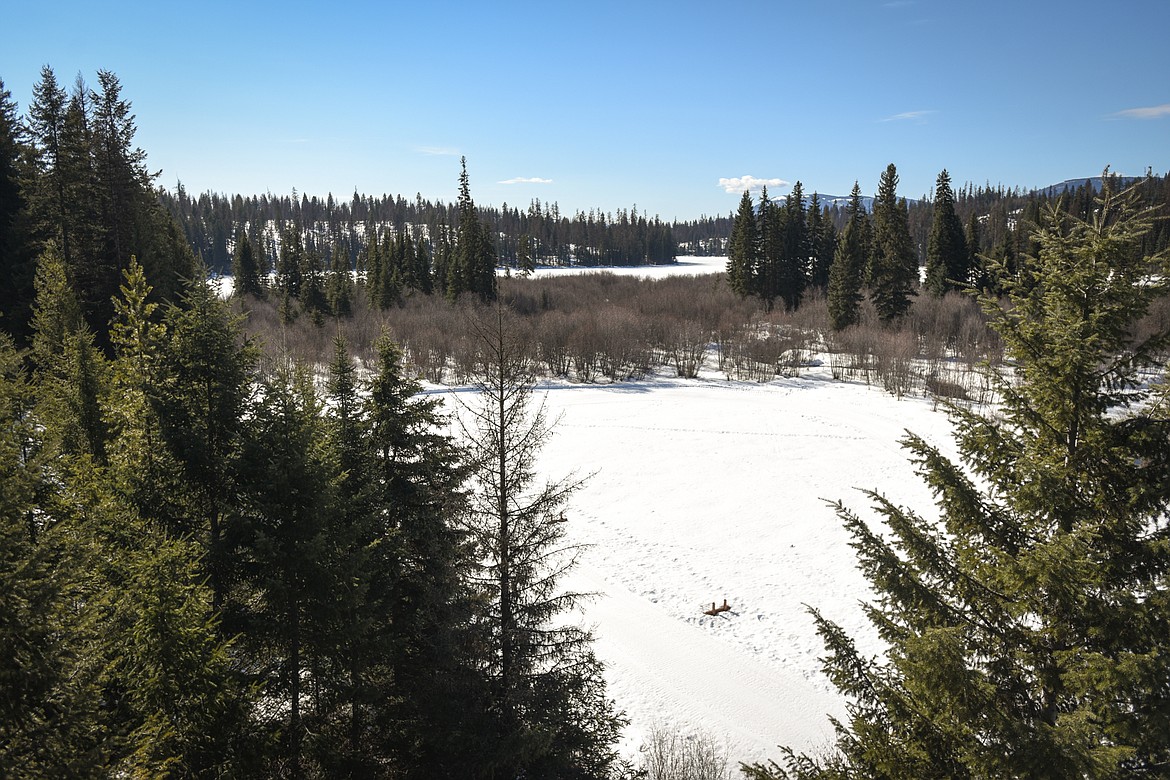 A view across Dog Creek to Dog Lake from the deck of the lodge house at Dog Creek Lodge & Nordic Center in Olney on Wednesday. (Casey Kreider/Daily Inter Lake)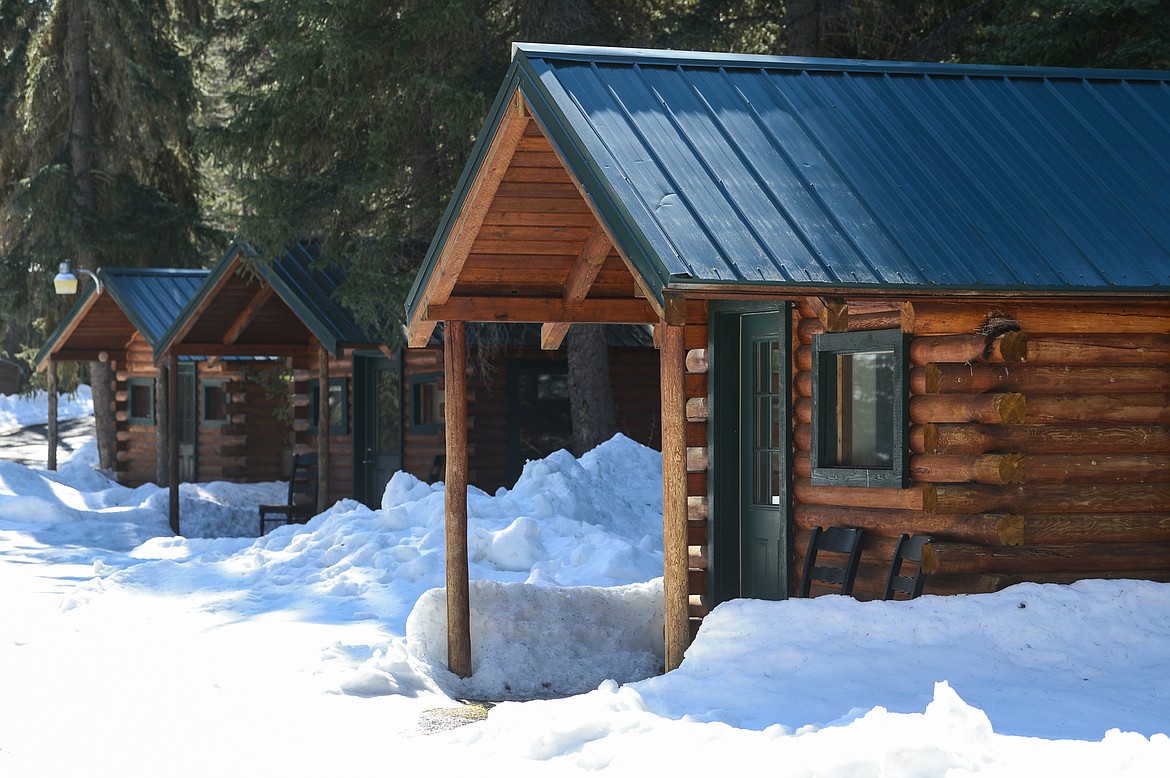 A few of the guest cabins available to rent at Dog Creek Lodge & Nordic Center in Olney on Wednesday. (Casey Kreider/Daily Inter Lake)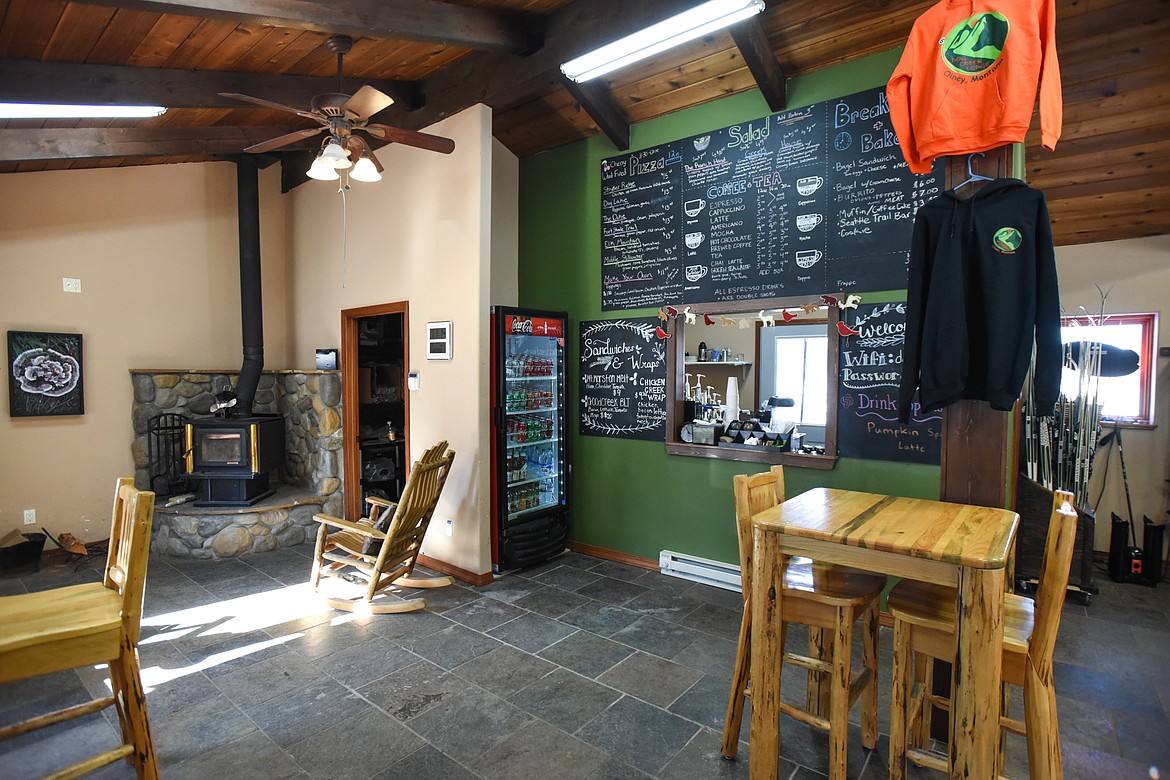 The cafe and coffee bar area inside Dog Creek Lodge & Nordic Center in Olney on Wednesday. (Casey Kreider/Daily Inter Lake)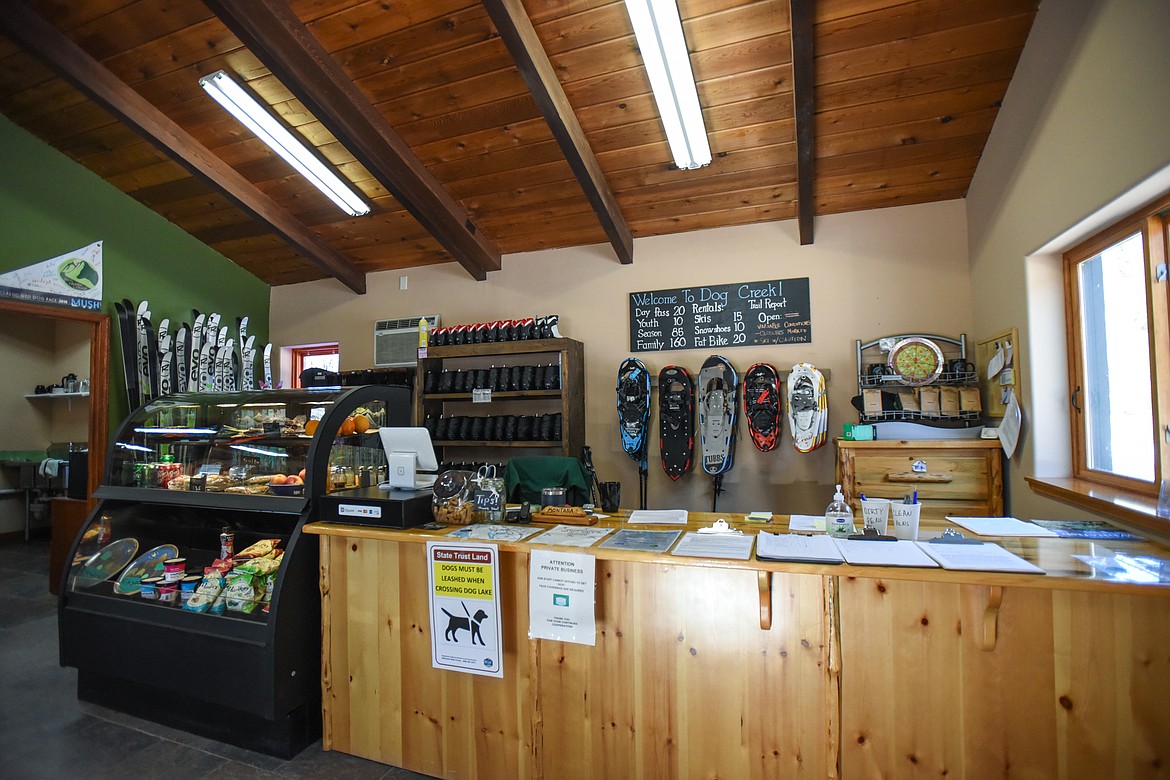 The front desk area where visitors can rent a variety of equipment like skis, snowshoes and fat tire bikes at Dog Creek Lodge & Nordic Center in Olney on Wednesday. (Casey Kreider/Daily Inter Lake)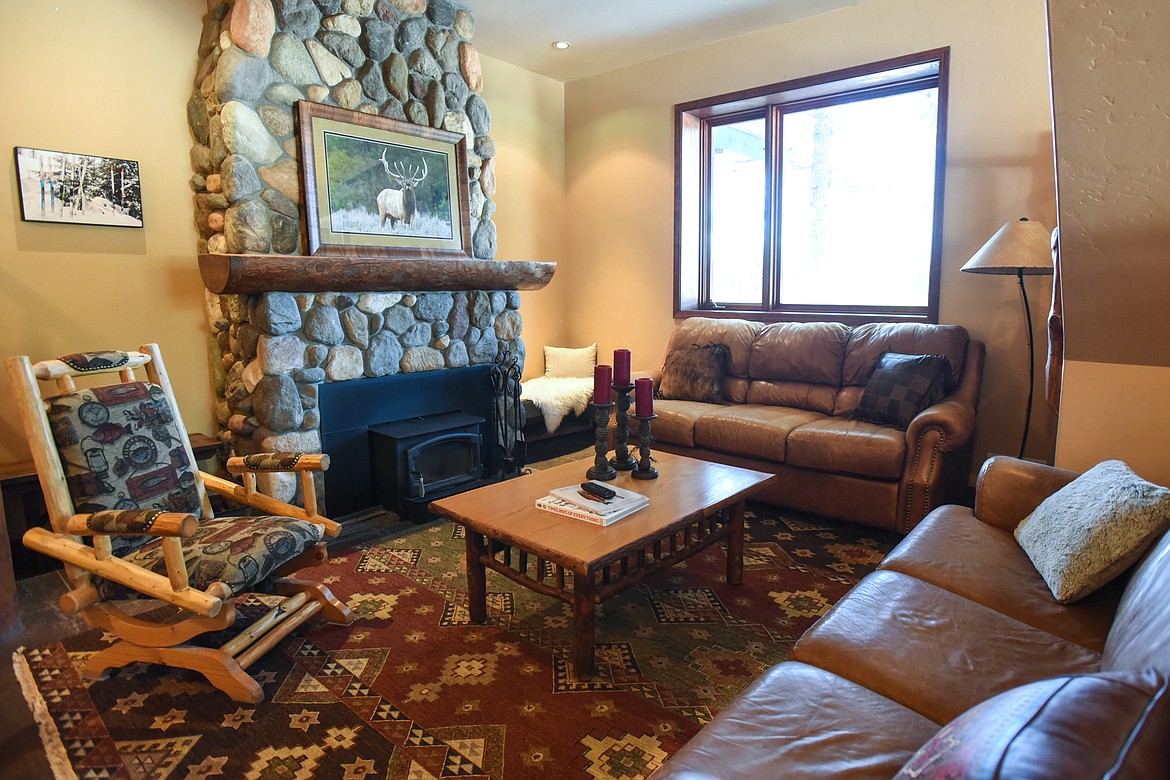 A sitting area inside the main lodge at Dog Creek Lodge & Nordic Center in Olney on Wednesday. (Casey Kreider/Daily Inter Lake)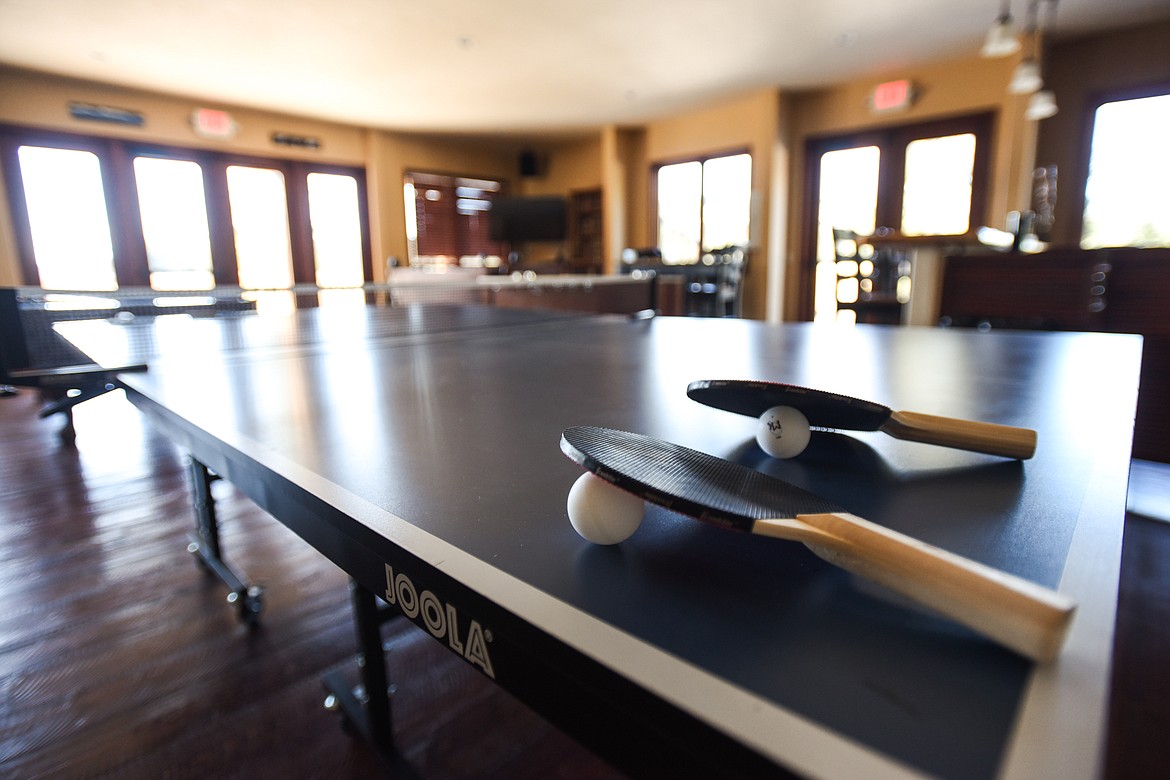 The game room inside the events center features a ping pong table, a pool table, foosball and other games and entertainment options at Dog Creek Lodge & Nordic Center in Olney on Wednesday. (Casey Kreider/Daily Inter Lake)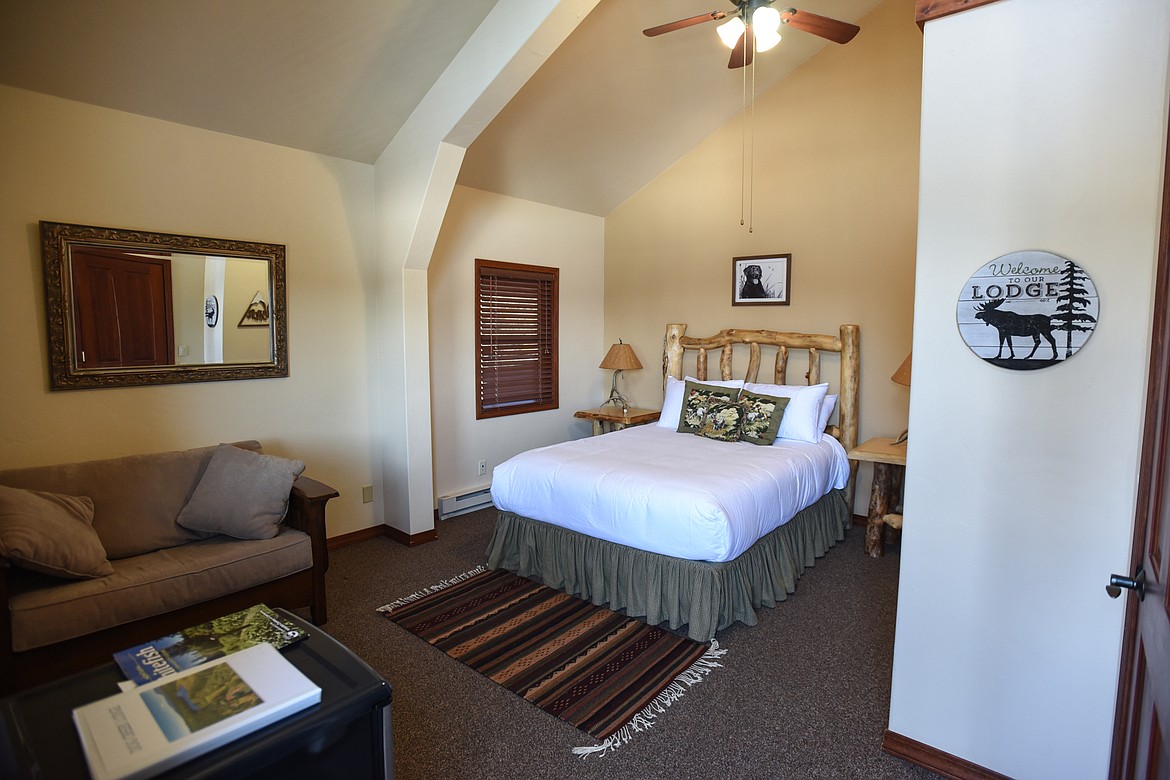 One of several rooms to rent in the guest lodge at Dog Creek Lodge & Nordic Center in Olney on Wednesday. (Casey Kreider/Daily Inter Lake)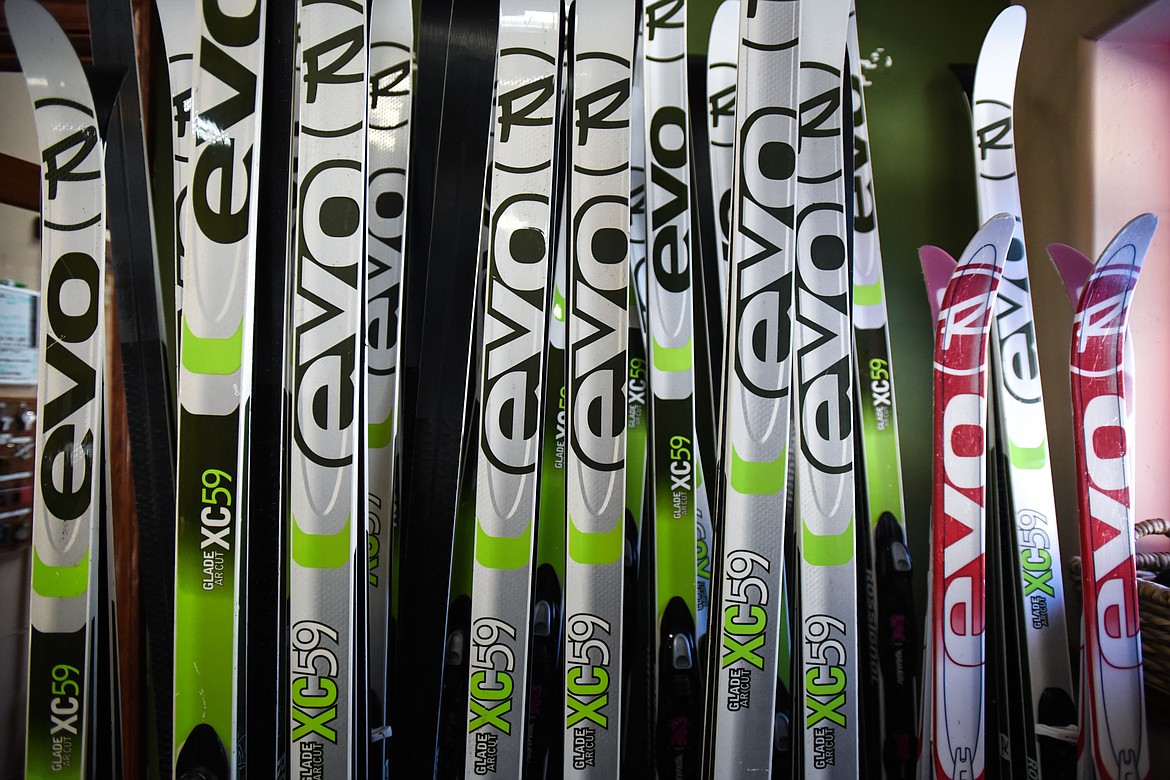 Cross-country skis and gear are available to rent to hit the trails at Dog Creek Lodge & Nordic Center in Olney on Wednesday. (Casey Kreider/Daily Inter Lake)
Previous
Next
by
BRET ANNE SERBIN
Daily Inter Lake
|
March 21, 2021 12:00 AM
Deborah Haydis is out to prove you can, in fact, teach an old dog new tricks.
That's why Haydis, who took ownership of the Dog Creek Lodge just before the start of the year, is embarking on a series of changes to update the Olney resort and Nordic ski center.
"If you come back here in the fall, it's going to be totally different," promised General Manager Brett Svetlik.
Haydis is the latest in a long string of owners who have each given a different purpose to the 80-acre property north of Dog Lake, home to the Flathead Classic Sled Dog Race most years.
What started as a private residence has since been used as a campground, a gas station and a religious complex for Potter's Field Ministries, the Christian group that founded Mudman Burgers.
It's expanded over the years to include two lodges, an events center, a café and a handful of cabins. Haydis' vision is to fully utilize all of these amenities to establish the remote retreat as a full-service outdoor destination.

Over the course of this year, there are plans to renovate the buildings, expand the café and generally bring the lodge's classic features up to date.
However, Dog Creek's 27 kilometers of groomed Nordic ski trails are the site's biggest draw, and that isn't likely to change.
Svetlik, a longtime groomer and skier at Dog Creek, recognized the appeal of the unparalleled cross-country ski system surrounding the lodge and the variety they offer skiers.
The trails, according to Svetlik, range from "really easy to really challenging." They crisscross varied terrain, from wide-open meadows, to Stillwater State Forest land, to one-of-a-kind cliff rock formations. There are even trails mapped out across the frozen surface of Dog Lake, which was in top shape for skiing this winter, Svetlik said.
Skiing is also popular at Dog Creek Lodge because the Nordic Center offers visitors an experience they're unlikely to find on any other nearby ski trails.
ALL 27 kilometers are groomed fresh every morning—often by Svetlik himself—but Dog Creek also allows nontraditional users to recreate on the trail system. That means snowshoers, fat bikers and, of course, dogs are all allowed on the Dog Creek trails. These guests aren't always welcome at other ski destinations.
"Those are tense issues at other places," Svetlik maintained. Since Dog Creek Lodge's team grooms so religiously, those problems aren't such a concern on their trails.
This approach seems to be working. In fact, Svetlik estimated Dog Creek Lodge sold more trail passes, which go toward the Nordic Center's permit to use state forestland, this season than ever before.
Record pass sales came even as Dog Creek Lodge confronted numerous setbacks throughout the winter, such as a late start to the season and the closure of the Canadian border north of Dog Creek.
Despite the popularity of the trails, Svetlik said those obstacles made a dent in business on the indoor side of the Dog Creek Lodge. He's hopeful the upcoming changes will help balance things out.
THERE'S PLENTY in store in the next few months to draw more diners to the out-of-the-way café.
Dog Creek Lodge closes this week to start a major remodel of the eatery, which is expected to reopen around the end of June. The renovations include adding outdoor dining space and remodeling the interior, so guests have more space to enjoy the expanding menu. In addition to the coffee, pastries and wood-fired pizza currently offered at the café, it will also include produce grown on-site in a hydroponic greenhouse, and, if the liquor license is approved, alcoholic beverages too.
"It's just grown every year," Svetlik observed. He hopes 2021 won't be any different.
Upgrades to the lodging and events center aim to help bring more business to the café and surrounding property. Dog Creek Lodge can house 34 guests in two lodges, plus another 10 or so in cabins during the warmer months.
Groups have the option of renting out the entire property as a package deal, giving them exclusive access to the events center with its spacious hall, two-story deck and game room — all equipped with an indoor-outdoor sound system designed for parties and meetings.
From any of the porches adorning the three buildings, guests can gaze out on Dog Lake, ski trails and the idyllic meadow where Dog Creek Lodge hosts weddings.
From this vantage, it's easy to see how the new owner is combining rustic charm with modern amenities to put Dog Creek Lodge on the map—and not only the one marked with green circles and black diamonds.
To learn more about Dog Creek Lodge, visit: https://www.dogcreeklodge.com
Reporter Bret Anne Serbin may be reached at 758-4459 or bserbin@dailyinterlake.com.
---