Blue Moon matriarch dies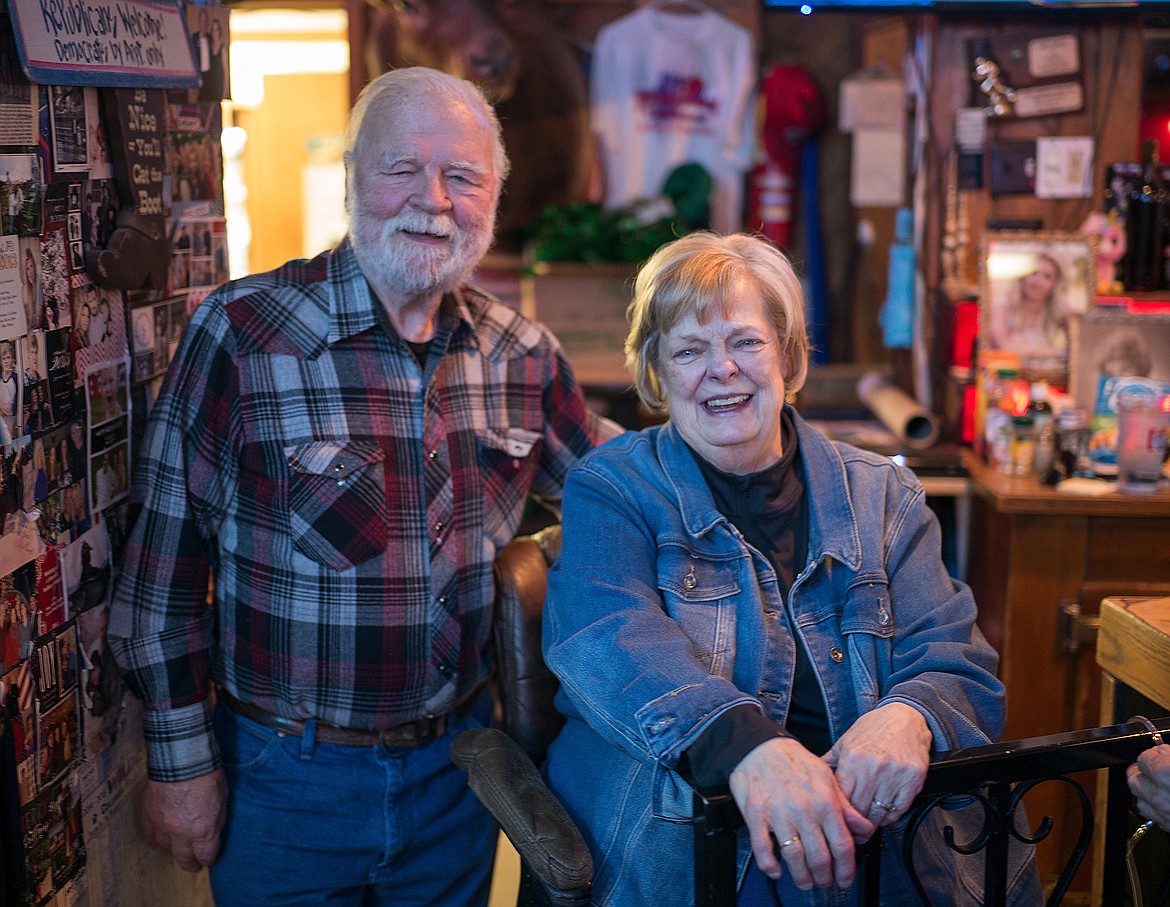 Dick Sapa and his wife Charlotte are pictured at the Blue Moon Nite Club in March 2019. Dick died March 4 at age 78. (Hungry Horse News file)
|
March 26, 2021 11:39 AM
Charlotte Sapa, the matriarch of the Blue Moon Nite Club for nearly 50 years, has died just a few weeks after her husband, Dick, passed away.
Dick Sapa died March 4.
Charlotte and Dick Sapa bought the Blue Moon from Lily Brash in 1972.
When they first took the bar over, the couple worked tirelessly on fixing it up. The front door was a piece of plywood with a padlock on it, Charlotte recalled in a 2019 interview. They lived in a little apartment behind the bar with their three children, Bill, Charlene and Jimmy.
Charlotte could always be found at the end of the bar, a big smile on her face, with a story to tell.
"It is with a heavy heart that we let you know that Charlotte has passed away. We have now lost the matriarch to our family. Charlotte has joined Dick and Jimmy and is looking down on all of us. Whether you have only been to the Blue Moon once or a million times, you always knew Charlotte was there, sitting at the end of the bar on her custom chair and banging her tambourine to the beat of the band. She was the face of the Blue Moon when Dick was behind the scenes and you could count on her to be there. She will be missed terribly. Please pray for our family and hold on to your loved ones," the family posted on the Nite Club's Facebook page on Thursday.
Jimmy, their son, died tragically in 1984 along with friend and fellow baseball player Ray Johnsrud when their car collided with a train.
Even when she was in poor health, Charlotte made it a point to attend Columbia Falls sporting events. She would park her SUV in the parking lot above the football field and cheer from her rig for the Wildcats and her grandchildren playing in the game.
The Sapas were huge supporters of Columbia Falls school and sports events, hosting auctions at the bar for the Glacier Twins and other school functions.
"The Blue Moon is my hob­by, " Charlotte said in a 2002 interview. "I'm here seven nights a week. There isn't any­thing else going on but the Blue Moon."
Charlotte spent her youth in Dev­il's Lake, North Dakota, while Dick called Moorhead, Minnesota home. The couple met in 1961 when she was in Fargo attending Joseph's School of Hair Design, and he was the lead singer and guitarist for a rock 'n' roll band. They were married in 1964.
The Nite Club continues to be operated by son Bill and daughter Charlene. Their grandchildren work there as well.
A service for Charlotte has not yet been announced.
---