Food truck's meat sourced from C-Falls cattle
by
BRET ANNE SERBIN
Daily Inter Lake
|
March 28, 2021 12:00 AM
Wagyu beef is standard fare for upscale steakhouses and exotic restaurants — Flathead Valley food trucks, not so much.
Jim and Luke Cummings are bucking that trend with Wagyu Wagon, the food truck they founded in Columbia Falls last autumn.
The beef for their burgers and brats comes straight from the family's local operation, Lazy K Ranch, where the Cummings have been raising Japanese Wagyu cattle for about a decade.
Wagyu cows were first bred in Japan for their hardiness, a quality that makes them an ideal fit for the harsh conditions in Northwest Montana. As a result, their meat tends to have more marbling than other breeds, giving Wagyu beef a "distinct taste," according to Jim.
"We feel very confident about our product," he said.
The Cummings have had plenty of reason to believe in their beef. Long before they launched Wagyu Wagon, Lazy K products were sold in retail stores and on local restaurant menus. Flathead Fish & Seafood Co., M&S Meats, Beargrass Bistro and Tamarack Brewing Co. have all carried their brand.
As their herd has grown over the years, so, too, has the ranching family's business. They were looking for a way to beef up their sales when they decided on starting a food track last fall.
The mobile format had an obvious appeal since the Lazy K team could use it to bring their fresh beef all around the valley.
"The thing about the food truck, we can go where the business is," Jim said. "We don't have to wait for the customers to come to us."
Wagyu Wagon is scheduled to serve in Columbia Falls, Whitefish, Kalispell and Bigfork this summer. The distinctive red truck can be spotted outside Glacier Lanes bowling alley, at the Whitefish Farmers Market, and during the Bigfork Rodeo. The wagon's first event of the season will be at Keller Williams Realty Northwest Montana on April 22.
Meat-eaters can also book the Wagyu Wagon for private catering events, including weddings, parties, lunches and other gatherings with 100 guests or more.
Manager Lydia Kimball said she and the rest of the team are looking forward to the concessions season kicking off, since Wagyu Wagon opened during an inopportune time in 2020.
"It was an interesting time to start just because events are so uncertain," Kimball said. "That's a food truck's bread and butter."
Nonetheless, she said the mobile nature of a food truck kept Wagyu Wagon busy for the first few months.
The biggest draw, she said, has been Wagyu Wagon's special sauce.
Kimball described the topping, developed by Luke's wife from a traditional family recipe, as a kind of "fancy fry sauce." The sauce is served on the side with burgers and sliders, and it comes on top of brats, the food truck's top-selling item.
It's accompanied by hand-cut fries made fresh every day, and, for anyone who prefers a simpler meal, there are also Wagyu beef hot dogs available. Hot dogs made from this exceptionally high-quality meat can be a rare find, just like the rest of the protein-rich choices on the Wagyu Wagon food truck menu.
"There's a lot that makes it special," Kimball said.
To find Wagyu Wagon's updated schedule, visit https://wagyuwagonmt.com/calendar/ or follow Wagyu Wagon on social media @wagyuwagonmt.
Reporter Bret Anne Serbin may be reached at 758-4459 or bserbin@dailyinterlake.com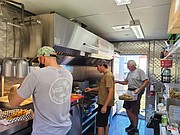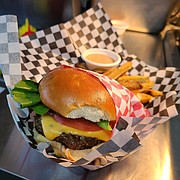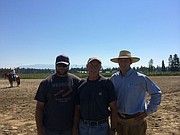 ---