Joan 'JoMama' Lu Newton, 79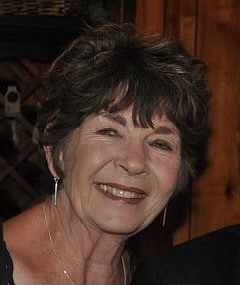 |
March 28, 2021 12:00 AM
Joan Lu Newton, affectionately known as "JoMama" by all who loved her, passed away March 22, 2021, surrounded by her four children.
Jo was born and grew up in the Longmont/Mead area in Colorado.
She graduated from Mead High School where she met the love of her life and husband of 57 years, Roland. Jo and Roland were wed on June 30, 1962. They settled in Boulder, Colorado, where their four children were born. They moved to Whitefish in September 1970, where she would live for the rest of her life.
Jo loved people and made an impression on everyone she met. She wasn't afraid to start conversations, whether at the grocery store or walking in a golf gallery. Jo was an avid golfer and spent many years playing at Whitefish Lake Golf Course with her family and friends. She loved playing golf and instilled the love of the game in all her children and grandchildren. She spent many days at the course playing and watching her children compete. Jo was full of life and joy, saying "yes" to any new adventure. Some of those adventures included: a Harley ride on her 70th birthday, many road trips to Seattle and Colorado to visit family, trips to Vegas with Roland, river rafting and inner tubing with her grandkids, and travels to Europe with her kids.
JoMama had a wonderful life. She was golfing at the age of 79, walking every day and drinking cheap wine. She always had a sparkle in her eye, loved a good belly laugh and had a great sense of humor. She even made the hospital staff laugh with her zingers during her final week. Her contagious joy and laughter will be deeply missed by her family and friends. Jo loved her family more than anything and we were so lucky to have her as ours.
Jo was preceded in death by her husband Roland; parents Anthony and Maxine Becker; and sister Elaine Seewald.
She is survived by her brother Ken Becker (Ann); and her four children: Stacie (Joe) Strong, Chris Newton, Carrie (Jim) Archibald and Greg (Leslie) Newton. She is also survived by her loving grandchildren Kiley (Ben), Seth, Keagan (Kirstin), Jordan (Claire), Sydney, Megan, Charlie; and great-grandchildren Camille, Daniel, and Mollie; and numerous Newton in-laws, nephews and nieces.
In lieu of flowers, please consider donations in Joan's name to the WLGC Junior Golf Foundation or the Whitefish Community Foundation.

A private memorial service took place on Friday, March 26, at St. Charles Borromeo Catholic Church in Whitefish. A celebration of Jo's life will be held at a later date.
Austin Funeral Home is caring for Joan's family.
---