School board candidates remedy campaign sign complaint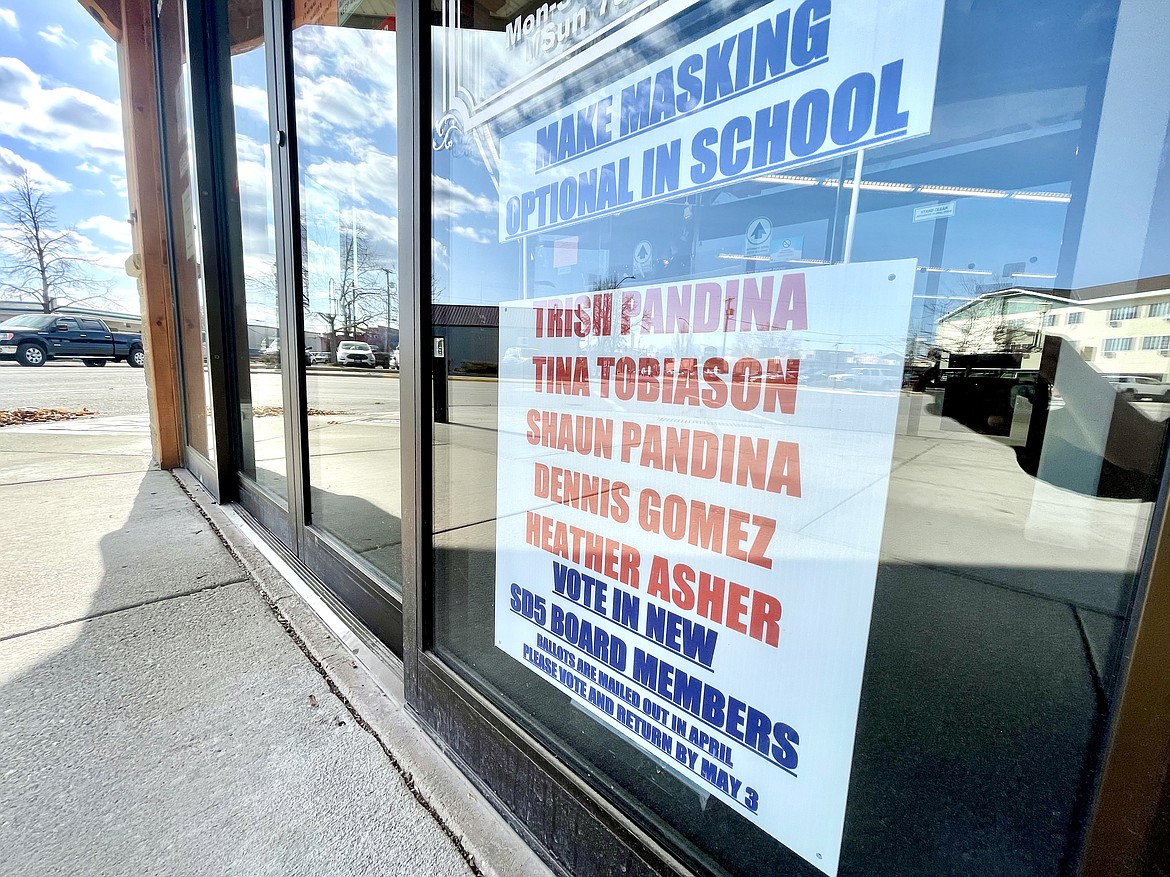 A Kalispell Public School board campaign sign hangs in a door at Sykes Diner and Market in downtown Kalispell on Tuesday. Following a complaint filed with the state Commissioner of Political Practices, the required disclosure information was added to the back of the poster. (Matt Baldwin/Daily Inter Lake)
by
HILARY MATHESON
Daily Inter Lake
|
March 30, 2021 3:37 PM
How school board trustee candidates promote their campaigns came under scrutiny recently after a local concerned citizen filed a complaint with the Montana Commissioner of Political Practices.
The complaint was dismissed by the commissioner on March 24 after the issue was resolved through "prompt remedial action" by the candidates involved.
The initial complaint was over campaign signs displayed around Kalispell that listed the names of five individuals running as candidates for the Kalispell Public Schools Board of Trustees but did not include required disclosure information about who paid for the signs. The commissioner received the complaint filed by Kalispell resident Sara Busse on March 18.
According to Montana law, election communications "must clearly and conspicuously include the attribution 'paid for by' followed by the name and address of the person who made or financed the expenditure for the communication."
To determine who financed the signs, the Commissioner of Political Practices emailed a group named "Vote SD 5 Students are the Future," and on March 22, was contacted by Shaun Pandina, who indicated his wife, Trish, financed the signs in question, and the proper attribution had already been added to the signs in question after an acquaintance mentioned they weren't in compliance, according to the commissioner's campaign finance decision on the matter.
The Pandinas are both running for three-year terms representing the Kalispell Public Schools elementary district.
"This is the first time we've ever run," Shaun Pandina said during a phone call Tuesday, noting that only a few signs had been on display without the attribution before the Pandinas became aware of the disclosure requirement and remedied it.
"We're running for the school board because we really feel strongly that students need to be put first and we don't really see that happening," he said. "I think there's room for improvement."
On learning her complaint was remedied, Busse voiced continued concern about how the candidates would govern if elected.
"I think it's important to note that these people are running under the guise of 'constitutional rights,' and yet, they can't even follow the basic rules for running their own campaign and this surely doesn't speak well for the way they will try to govern our schools," Busse said during a phone call Tuesday. "I'm glad that they got things changed, but they need to be doing things right from the very beginning," she said.
Reporter Hilary Matheson may be reached at 758-4431 or by email at hmatheson@dailyinterlake.com.
---