'Johnny on the Spot' is endearing host at Kalispell restaurant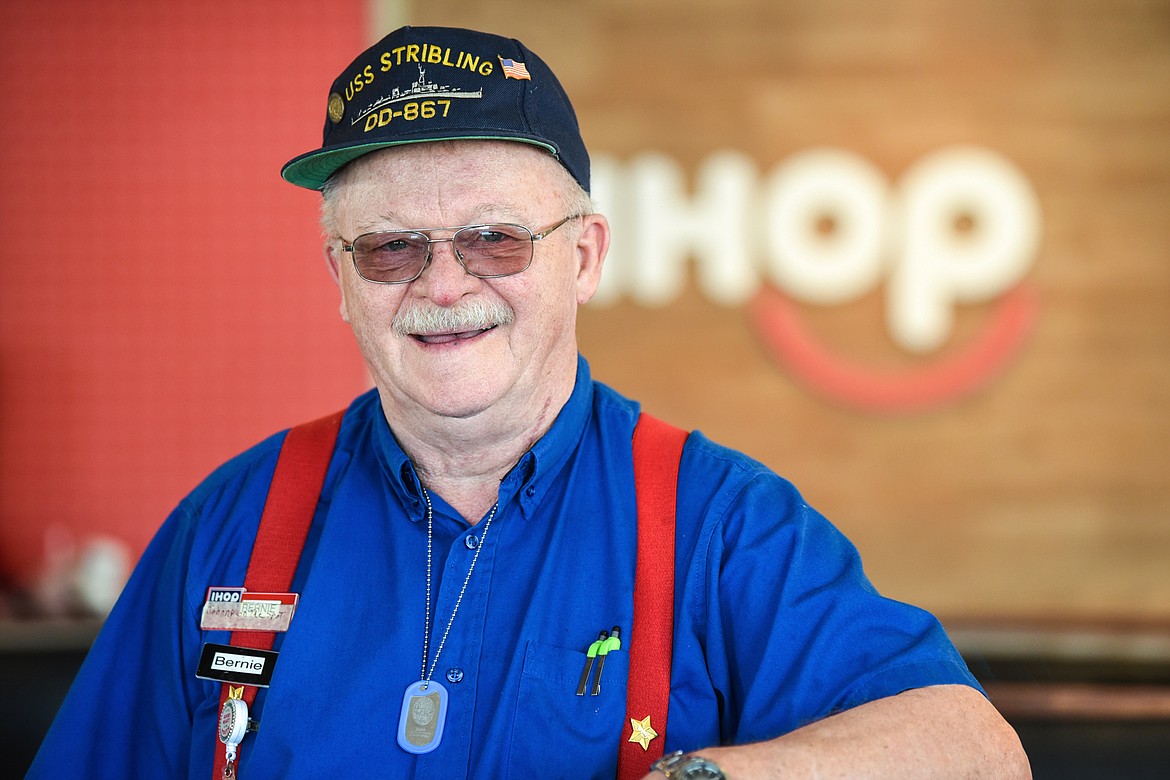 Bernie Pourroy at IHOP in Kalispell on Wednesday, April 21. (Casey Kreider/Daily Inter Lake)
by
BRET ANNE SERBIN
Daily Inter Lake
|
May 3, 2021 12:00 AM
There aren't many resumes like the one Bernie Pourroy has assembled throughout his lifetime.
In 71 years, he's been a U.S. Navy boilerman, a log home builder, and, for the past eight years, a jack-of-all-trades at the Kalispell IHOP restaurant.
Pourroy's attitude is simple: "If you've got a job to go to, go to it and get things done."
If the "Help Wanted" signs around the valley are any indication, workers like Pourroy are a rare breed.
"Our district manager one time said that he would like to clone me 50 times," said Pourroy, whose dedication, positivity and punctuality aren't easy to replicate.
"In all my jobs that I've worked at, I've always been there, waiting for the thing," Pourroy said. "I've been early at every job."
He arrives at 8 a.m. — occasionally 8:30 — to start his 9 a.m. IHOP shift five days a week. During 13 years with F.H. Stoltze Land & Lumber Co., he showed up by 6:30 a.m. for a 7 a.m. start. And even when the workday began at 4 a.m. with Food Services of America, Pourroy was ready to start his delivery route by 3:30.
It's no wonder Pourroy's IHOP name badge is taped over with the handwritten moniker "Johnny on the Spot."
This approach started at an early age, growing up the oldest of 10 siblings on the family farm in Conrad, Montana.
"Everybody looked up to me," Pourroy said.
On the property that had once been his grandfather's homestead, hard work was instilled as a family value.
"I seen how Dad took care of his family, how Grandpa worked to take care of his," he recalled.
Then Pourroy got an extra dose of discipline in 1969 when he enlisted in the Navy a month before graduating high school.
He served for four years on a Navy Destroyer, the USS Stribling, sailing in the boiler room to the Mediterranean and the Caribbean.
"Not bad for a cowboy from Montana," said Pourroy, who still proudly wears his ship's hat when he isn't dressed in his IHOP uniform.
POURROY'S FAMILY life has been almost as exciting as his professional career.
Married three times, he's a father to eight children and stepchildren, plus one adopted child. He's also the grandfather of 20 grandchildren and a great-grandfather to five great-grandchildren, the youngest only 2 months old.
In the midst of this sizable family, there's one connection that clearly stands out. That's Janet, Pourroy's third wife of almost 27 years, who passed away earlier this year.
The couple met in Cut Bank, where Pourroy worked as a custodian and a bus driver while his second wife managed her father's estate.
Pourroy's second marriage ended just around the same time a Cut Bank woman named Janey — who happened to go bowling with Pourroy and his second wife — split from her husband.
"I kind of liked her," Pourroy said, sounding a little sheepish.
More than 26 years after he and the Cut Bank bowler were married in Woodland Park, it appears little has changed. The Navy vet wears a dog tag around his neck with Janet's name chiseled into it.
The Pourroys moved to Kalispell in 1994, where they managed to balance Pourroy's career at IHOP and Janet's disdain for pancakes.
But last year, Janet's health took a turn, and Pourroy started doing double duty at the restaurant and as her caretaker.
She passed away on March 3 at age 66. Pourroy credits the IHOP community — employees and patrons alike — with helping support him through the difficult time.
THOUGH HIS official job title is "host" and "busser," Pourroy said he makes a point to stick around and develop relationships with IHOP diners. "I don't just get their drinks and leave 'em," he said.
In the days after Janet's death, Pourroy said it was a relief to see the familiar faces of those customers he's gotten to know so well over eight years. One longtime visitor even wrote a poem about Pourroy's cheery presence at the restaurant. "Enter IHOP and who will you see?...He's the ambassador host with the most, it's Bernie," the poet wrote.
When Pourroy learned another patron suffered a stroke, he was able to share his expertise with her husband to help the couple navigate in-home caretaking.
This "camaraderie," as Pourroy put it, is what makes the IHOP community so special to him.
In fact, Pourroy said IHOP has been his favorite place to work out of the multitude of employers he's had throughout his life.
Nonetheless, he's looking forward to some well-deserved downtime in about two years, when he plans on finally retiring.
"I can tolerate a lot, and I can put out a lot," Pourroy said.
Still, after about half a century, a coronary triple bypass surgery and enough jobs to singlehandedly run a small community, it might be coming time for the longtime host to finally take a seat.
Reporter Bret Anne Serbin may be reached at 758-4459 or bserbin@dailyinterlake.com.
---