Opponents call for veto of Montana gravel mining bill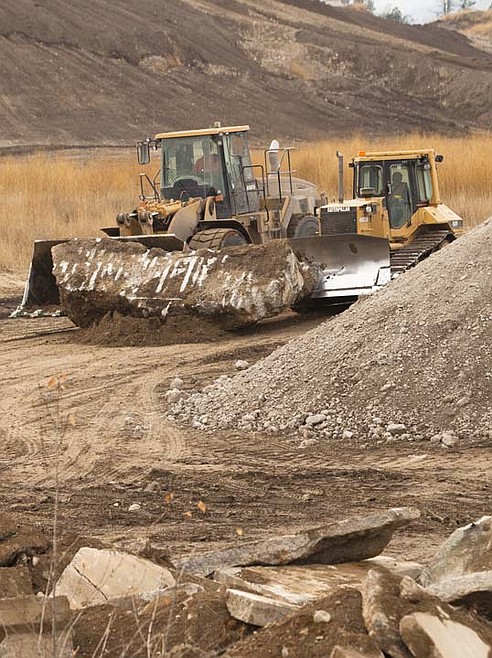 A former gravel mining pit along Whitefish Stage Road is seen in 2011. (Daily Inter Lake)
by
CHAD SOKOL
Daily Inter Lake
|
May 11, 2021 4:41 PM
Environmentalists and neighborhood advocates are calling on Montana Gov. Greg Gianforte to veto a bill that would ease regulations on open-pit gravel mining, saying it could have severe effects on water quality and water rights, and drag down neighboring property values by allowing for more dust and round-the-clock noise disturbances.
House Bill 599, sponsored by state Rep. Steve Gunderson, R-Libby, passed both chambers of the Republican-controlled Legislature on near-party-line votes. The legislative session ended April 29 and the bill was sent to Gianforte on May 4. If he doesn't sign or veto the bill within 10 days of it reaching his desk, it would become law automatically.
The nonprofit Montana Environmental Information Center sent a letter urging Gianforte to veto the bill last week. It was signed by more than a dozen advocates from across the state, including Flathead County residents Linda Newgard and Mayre Flowers with the Montana Smart Growth Coalition.
"This bill would have dramatic impacts on the properties near any open-cut operation — small or large," the letter states. "The large open-cut mining operations are most troubling because of the massive impacts they can have on neighboring land owners, property values, water rights, water quality, dust and noise. HB 599 erases essential tools that the Montana Department of Environmental Quality uses to help protect our rights."
PROPONENTS OF the bill, including representatives of the Montana Contractors Association, have said it would remove red tape and redundancies to speed up the permitting process for open-pit gravel mining, making the final product cheaper for use in roads and other infrastructure.
"It's going to make it easier for contractors, counties, landowners, anybody that needs gravel as a resource for infrastructure," Rob Koelzer, of Schellinger Construction Co., told a Senate committee in March. "It's going to save taxpayers money. It's going to save the state money, and let it get done and still be environmentally responsible."
Schellinger Construction runs four gravel pits in Flathead County, including one in the West Valley area that the company has sought to outfit for asphalt production, fueling opposition from neighbors and leaders of the nearby West Valley School concerned about traffic and pollution.
In their plea to Gianforte, opponents said they understand the need for gravel and don't oppose all open-pit mining. But they noted the bill would eliminate the process whereby the state Department of Environmental Quality reviews how gravel pits would affect sedimentation on neighboring properties.
The bill also would eliminate requirements for fire mitigation and the agency's ability to impose restrictions on noise and visual disturbances. Opponents said that would open the door for gravel mines to operate 24 hours a day, 365 days a year, unfairly disturbing neighbors.
"Proponents argue that the bill is necessary because there are significant differences between dry open-cut operations and ones that impact water. So, it's more than a little concerning that HB 599 allows open-cut operators to decide if a site is dry with little oversight by an independent agency," the opponents wrote.
"DEQ existing permitting obligations require more scrutiny, allowing it to learn more about water resources in an area through its own investigation and that of the neighbors," they wrote. "We know from experience that open-cut operators do not consistently, across the board, provide the DEQ with all the information it needs to make a responsible decision."
THE BILL also would define an "occupied dwelling unit" as "a structure with permanent water and sewer facilities that is used as a home, residence or sleeping place by at least one person who maintains a household that is lived in as a primary residence." The bill would ease permit requirements where there are fewer than 10 such dwellings within a half mile of the project area. Ultimately, opponents said, that means fewer neighbors would be notified when gravel pits are going through the permitting process.
Abigail St. Lawrence, a lobbyist for the Montana Building Industry Association, Montana Trout Unlimited and the Montana Association of Realtors, also testified against the bill in March, saying it would "limit not only housing developments in existence but also land available for development down the road," and strip neighboring landowners of the ability to provide comment during the environmental review process.
Those who wrote to Gianforte share those concerns.
"The role the public plays is critical in bringing important local information to light so the DEQ can make a more balanced decision," their letter states. "Removing DEQ's ability to carefully consider and mitigate these proposals puts regular Montanans at a disadvantage and will have a direct impact on our properties and well-being."
Reporter Chad Sokol can be reached at 758-4439 or csokol@dailyinterlake.com
Recent Headlines
---