Lincoln County commissioner resigns to take new post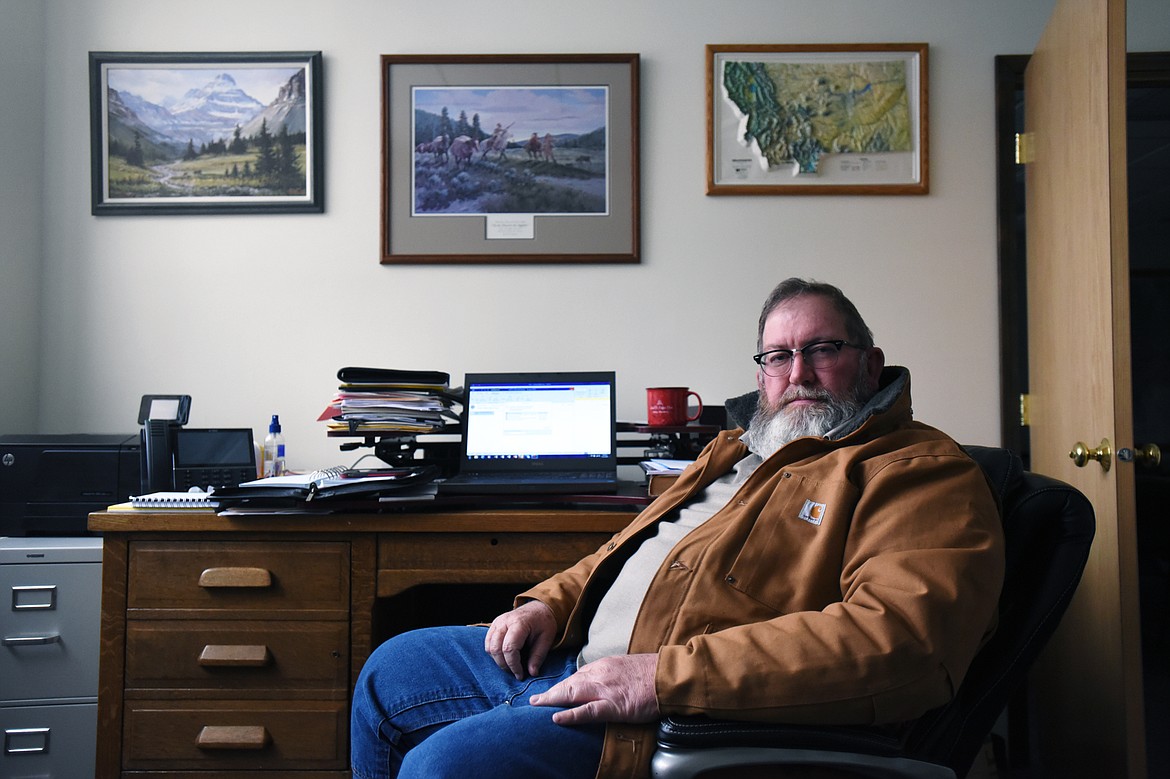 Lincoln County Commissioner Mark Peck is seen in his office in Libby on Tuesday, Nov. 12, 2019. (Casey Kreider/Daily Inter Lake)
by
DERRICK PERKINS
Daily Inter Lake
|
May 18, 2021 12:00 AM
Lincoln County Commissioner Mark Peck is stepping down effective June 4 to take a new role with the Lincoln County Port Authority.
Libby's representative to the Lincoln County Board of Commissioners, Peck described his decision to resign after about six-and-a-half years "a bittersweet thing." Upon his formal departure from the board, he will assume his new duties as a shared stewardship coordinator with the port authority.
"When I weighed the two, I talked to a lot of people and almost to a person they said, 'We think what you can get done in that position outweighs anything you might get done as a county commissioner,'" Peck said.
His new role will see him operating as a nexus between public agencies and private companies in reducing fuels and improving forest resiliency in the area. The recently completed Montana Forest Action Plan identified Lincoln County as the most vulnerable in the state to wildfire as well as insect and disease infestation. Peck, who worked as Flathead County Office of Emergency Services director for a time before moving to Libby, will focus on reducing those risks, particularly in the area considered the wildlife urban interface, or the border between the county's forests and population centers.
"You don't do something for six-and-a-half years, in the community you grew up in and have a lot of affection for, you don't walk away from that lightly," Peck said. "I think I'm stepping into something that has the potential to do a lot of good things from a public health standpoint, public safety standpoint and economically. … And do it in an environmentally sound way."
Implementing what is known as the Kootenai Shared Stewardship Initiative may lead to enticing industry back to Lincoln County. In a press release, state Department of Natural Resource Conservation officials said Peck will "oversee the potential development of wood products manufacturing capacity at the port authority to meet forest restoration goals."
While Peck declined to go into specifics, he said reducing fuels in an environmentally responsible manner likely will necessitate a mill or processing plant. Otherwise, thinning the forest near homes and private property would require burning — and release carbon into the atmosphere.
It's a reverse of the typical situation, where a forest serves a mill or production facility, he said. In this case, to manage the forest, Lincoln County will need a manufacturing base.
"We're closer than we've been in decades," he said in regards to bringing new industry to the area, which traditionally boasts a higher unemployment rate than the state as a whole.
"There are some things in the works," he said. "When it happens, it's going to happen very quickly, but we're dealing with private companies and I don't want to divulge their [plans]."
Officials crafted the stewardship initiative in cooperation with private entities. Stimson Lumber Company, along with the DNRC, U.S. Forest Service and Natural Resources Conservation Services collaborated, among others.
Beyond a potential boost to the local economy, Peck said officials want to avoid a situation where wildfires rage through the region's communities. The county is listed as in the 97th and 98th percentile of all western counties for fire risk to private structures and critical infrastructure, like communication sites and highways.
The Republican central committee will submit three qualified individuals to Peck's soon-to-be former colleagues for consideration. The person selected to fill Peck's shoes will hold the seat until the next general election.
Peck said he had no suggestions for a replacement, saying he was "going to keep my nose" out of it.
Although he is making the move after a contentious year on the board of commissioners, one spent weathering the ups and downs of the pandemic, Peck said his decision to depart was not borne out of the resulting strife in public discourse.
"It's pretty exciting," he said of the new role. "I'm fired up about it. It's where my passion is."
Recent Headlines
---