Daily service returns on Empire Builder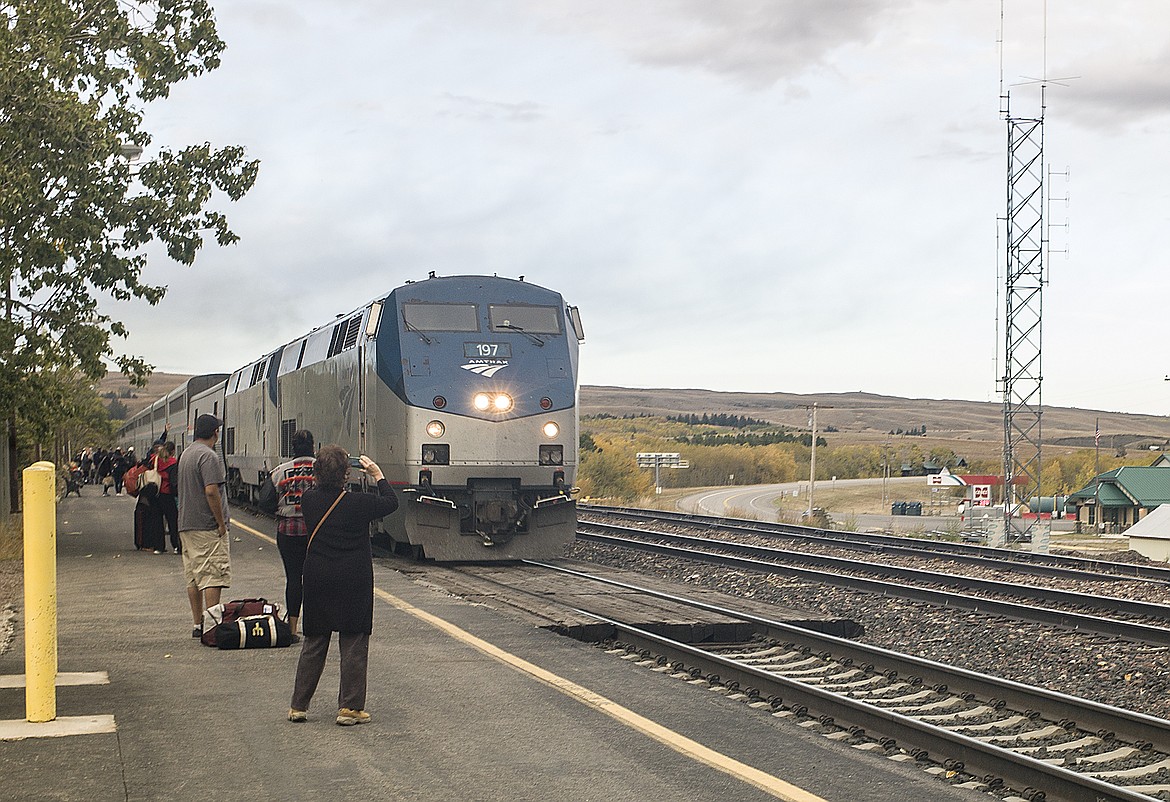 The Empire Builder rolls into the station at East Glacier in this file photo. (Daily Inter Lake)
by
CHAD SOKOL
Daily Inter Lake
|
May 24, 2021 3:20 PM
Amtrak resumed daily service on its long-distance passenger routes Monday, including the Empire Builder that connects Montana's Hi-Line communities and brings tourists to Whitefish.
Amtrak cut service on most of its long-distance routes to just three days a week in October as the pandemic caused a precipitous drop in ridership and ticket revenue. The resumption of daily service is the result of a bill introduced by U.S. Sen. Jon Tester, D-Mont., which provides up to $166 million for the carrier to reinstate furloughed employees and return to normal operations.
"Montanans from Wolf Point to Libby rely on the Empire Builder to visit family and friends, conduct business and stay connected with the rest of the country, and these cuts were an unacceptable attack on our frontier communities," Tester said in a statement Monday. "Today is a great day for thousands who live and work on the Hi-Line."
Montana Sen. Steve Daines and Rep. Matt Rosendale, both Republicans, voted against the Amtrak measure as it was wrapped up in the $1.9 trillion American Rescue Plan, which included pandemic relief as well as other spending measures. During a Senate hearing in October, though, Daines said daily service on the Empire Builder is "essential to providing Montanans access to health care" and "critical to our local economy" by accommodating tourism.
Amtrak furloughed roughly 2,000 employees last fall but the number of employees unable to work fluctuated. In February, Tester's office said the bill would affect 1,250 furloughed employees nationwide.
On its way from Chicago to Seattle to Portland and back, the Empire Builder serves a dozen communities in northern Montana, including Wolf Point, Glasgow, Malta, Havre, Shelby, Cut Bank, Browning, East Glacier Park, Essex, West Glacier, Whitefish and Libby.
Whitefish is by far the busiest of those stops, with more than 55,000 passengers boarding or disembarking there in a typical year.
"Whitefish depends on the reliable service — and economic boost — that the Empire Builder route brings, and we are thrilled that service is returning to seven days a week," Whitefish Mayor John Muhfeld said in a statement. "With travel season right around the corner, this is just the shot in the arm our economy needed as we work to build back after the pandemic."
Kevin Gartland, executive director of the Whitefish Chamber of Commerce, added, "The Empire Builder has played an important role in our community's development as an internationally known destination resort, and — in fact — the Great Northern Railroad is the reason that our town was founded nearly 120 years ago."
Assistant editor Chad Sokol may be reached at 406-758-4439 or csokol@dailyinterlake.com.
Recent Headlines
---