Shelter urges: 'Don't kit-nap kittens'
by
BRET ANNE SERBIN
Daily Inter Lake
|
May 25, 2021 12:00 AM
Spring is the time of year when cats give birth to new litters, and many of them end up at the Flathead County Animal Shelter.
But bringing kittens to the shelter could cause more harm than good, even if they appear to have been abandoned.
Animal shelters across the country are urging: "Don't kit-nap kittens."
New cat mothers rarely abandon their litters, even if it appears otherwise to the casual observer. In many cases, the mother is simply hiding nearby. When people make the mistake of bringing such a litter into the shelter, they unintentionally create problems for the newborns.
Cliff Bennett, director of the Flathead County shelter, said litters of kittens that appear alone are often well cared for by mother cats. Although the mom might be out of sight when people stumble upon her litter, often she's simply waiting for the intruder to give her space to carry out her parental duties.
When people take those kittens to the shelter, they prematurely separate them from their mother.
Kittens that don't have access to their mother require round-the-clock bottle-feeding, a demanding task the Flathead County Animal Shelter isn't equipped to handle, Bennett said.
"Of course, we'd love to care for them," he said.
Shelter employees go home at 5 p.m. each night. Many already care for animals during their time off. If they can't find another organization or volunteer to feed kittens at the shelter after hours, the young felines might have to wait to be fed until the shelter opens the next morning.
"We hope they make it," Bennett said.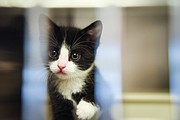 Anyone who notices a litter of kittens without a mother should wait at least a day before taking them in. Bennett recommended keeping an eye out to see if the mother cat shows up.
If a day goes by and the kittens still appear unattended, people should call the shelter for guidance before attempting to rescue them, Bennett said. A step-by-step guide for handling the situation can be found at flathead.mt.gov/animal.
Bennett said the shelter has accepted more than 300 cats in the past year, although there is no county ordinance requiring the intake of felines. Over the next couple months, he said, the shelter probably will take in another dozen litters of kittens that aren't in need of rescuing.
"If we can head off one or two of those 12, that's a gain," he said.
The shelter can be reached at 406-752-1310. It's located at 225 Cemetery Road in Kalispell, but visitation is currently by appointment only.
Reporter Bret Anne Serbin may be reached at 406-758-4459 or bserbin@dailyinterlake.com.
Recent Headlines
---