Developer's plans include restaurant atop old silos in Kalispell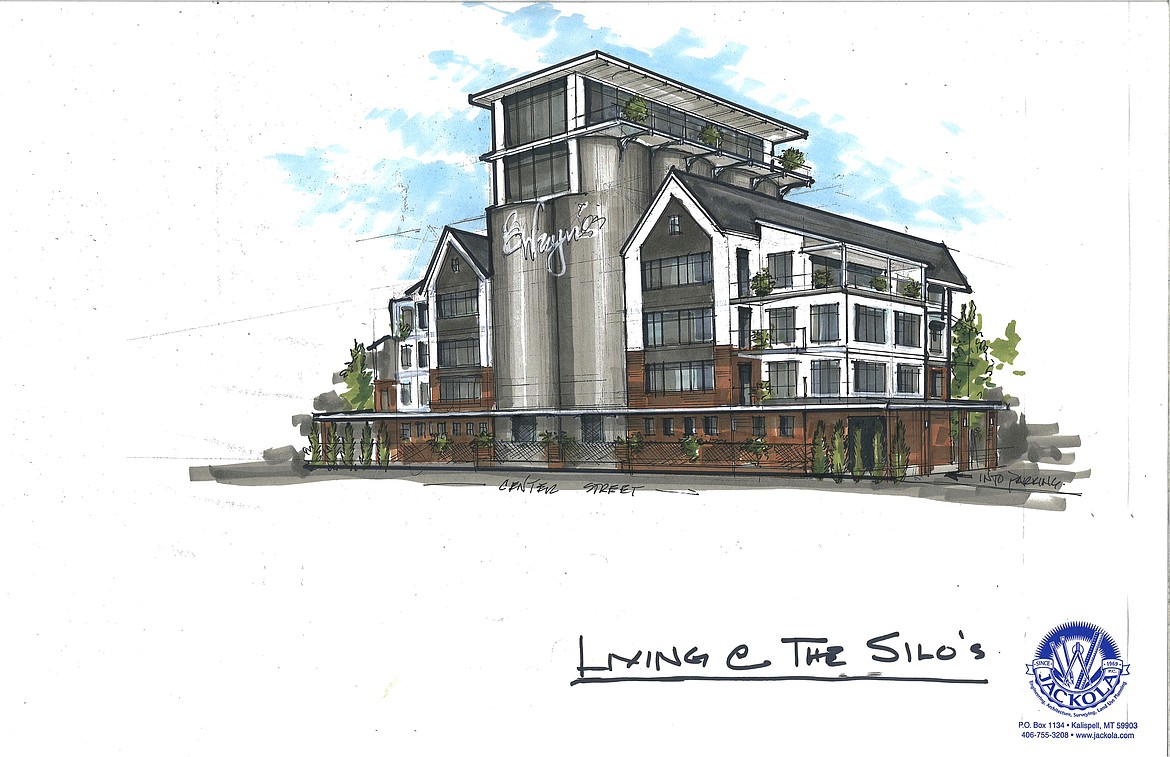 An artist's rendering shows developer Mick Ruis' vision for a mixed-use project at a former CHS Inc. grain elevator property in Kalispell. Ruis wants to build a bar and restaurant atop the old silos and more than 200 residential units on the surrounding property. (Courtesy of Mick Ruis)
by
BRET ANNE SERBIN
Daily Inter Lake
|
May 29, 2021 12:00 AM
A Flathead Valley developer plans to transform a property in Kalispell occupied by defunct grain silos into a mixed-use residential and commercial area featuring roughly 230 apartments, bars, restaurants, a hotel, retail space and parking.
It's all part of Mick Ruis' vision to help revitalize the valley's downtown areas and build 500 housing units over the next two and a half years.
In Kalispell, Ruis is in the process of purchasing the property at Fifth Avenue West and Center Street from CHS Inc., which stopped using the 100-year-old infrastructure in 2019 when the company relocated to the new Glacier Rail Park northeast of downtown. He expects to close the sale on June 3.
Ruis wants to build a bar and restaurant atop two of the old grain elevators and about 230 residential units on the surrounding property. The four-story apartment buildings would come in a variety of layouts, mostly two-bedroom units, he said.
The complex also would offer ground-level covered parking for tenants.
Ruis has contracted with Jackola Engineering to get the project off the ground. He said construction should start this year and he hopes to finish the project on a short timeline, noting he bought a few warehouses to stockpile supplies that have become hard to find amid the COVID-19 pandemic.
"We're going to have everything stocked up," he said. "We'll be ready to rock and roll to get that project finished by the end of 2022."
THE AMBITIOUS Kalispell redevelopment joins Ruis' ongoing effort on Nucleus Avenue in Columbia Falls, where he is building 48 apartments atop a retail space, a 30-room hotel, and a restaurant and sports bar.
Ruis said his team is ahead of schedule on that project. They had planned to wait until 2022 to build the hotel and restaurant but got a head start on the second phase of construction this year.
Ruis said he has two additional projects in the works elsewhere in the valley, which together would add another 280 housing units.
But there's nothing quite like the Kalispell grain silo site.
From the top floor of the restaurant 100 feet high, Ruis said it will be possible to gaze out across almost the entire valley.
"How cool is that to be an attraction in the city in Kalispell? It's really, really fun," he said.
Ruis said the location drew him to the property. "That part of the town can really stand to have this type of [development] … to tie both sides of town together to make them equal," he said.
The Kalispell Parkline Trail, which is finally under construction after about a decade of planning, runs right along Ruis' new property.
"I think it's the coolest concept, that walking trail," he said. "You can walk 10 miles and you don't have to worry about getting run over."
He added the project represents both public and private efforts.
"The city [of Kalispell] has just been incredibly awesome for us to work with right now," he said. "They're wanting this built, we're wanting to build it, and people are needing this built. It all works in together."
Reporter Bret Anne Serbin may be reached at 406-758-4459 or bserbin@dailyinterlake.com.
Recent Headlines
---