Car crashes into Midway Mini Mart; no one injured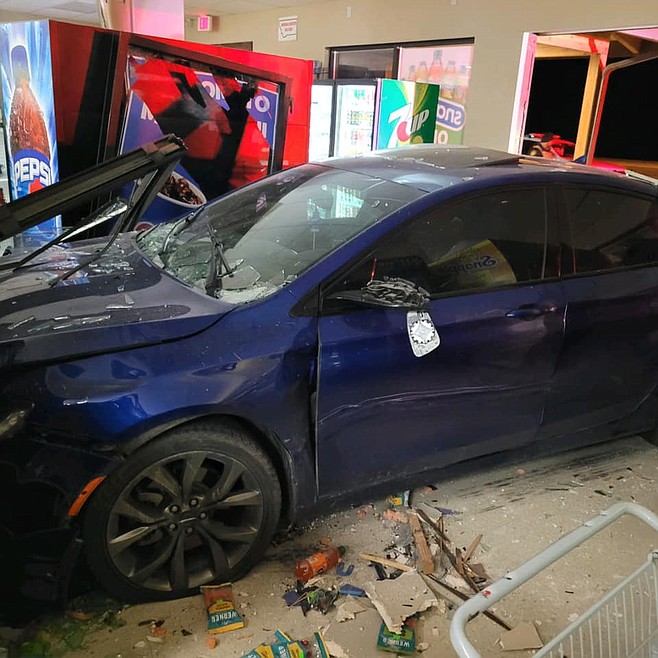 A vehicle allegedly driven by Shawn Allan Norby blasted through Midway Mini Mart Saturday evening at a high rate of speed, causing extensive damage to the convenience store in Happy Valley. No one was injured. Norby was arrested and felony charges of criminal endangerment and reckless driving are pending. (Courtesy photo)
by
Daily Inter Lake
|
November 1, 2021 2:14 PM
No one was injured when a vehicle going at a high rate of speed plowed into the Midway Mini Mart along U.S. 93 in Happy Valley Saturday evening.
The driver, Shawn Allan Norby, 40, of Kalispell, was arrested and charges of felony criminal endangerment and reckless driving are pending, according to the Flathead County Sheriff's Office.
Store owner Vic Workman said his son, Riley Workman, and one other employee were working when the crash occurred at 9:45 p.m. Saturday. There were six other customers in the convenience store at the time.
"We were extremely lucky," Workman said. "If he had veered another two feet to the left he would have hit the propane tanks."
Workman said authorities estimated Norby was driving between 60 and 70 mph when he hit the store. The vehicle drove all the way into the store, causing items on shelves to spill. According to Workman, Norby allegedly had argued with his girlfriend, who was a passenger in the car, and then jumped the highway median and veered into the Mini Mart.
"I called Stat Restoration and they were here by 8 a.m. Sunday and worked tirelessly so we could reopen Monday morning," Workman said.
He estimated the damage at upwards of $30,000.
"That's all just stuff," Workman said about the damaged building and goods. "As long as no one got hurt, that's the main thing."
Recent Headlines
---