Construction underway for Pioneer League stadium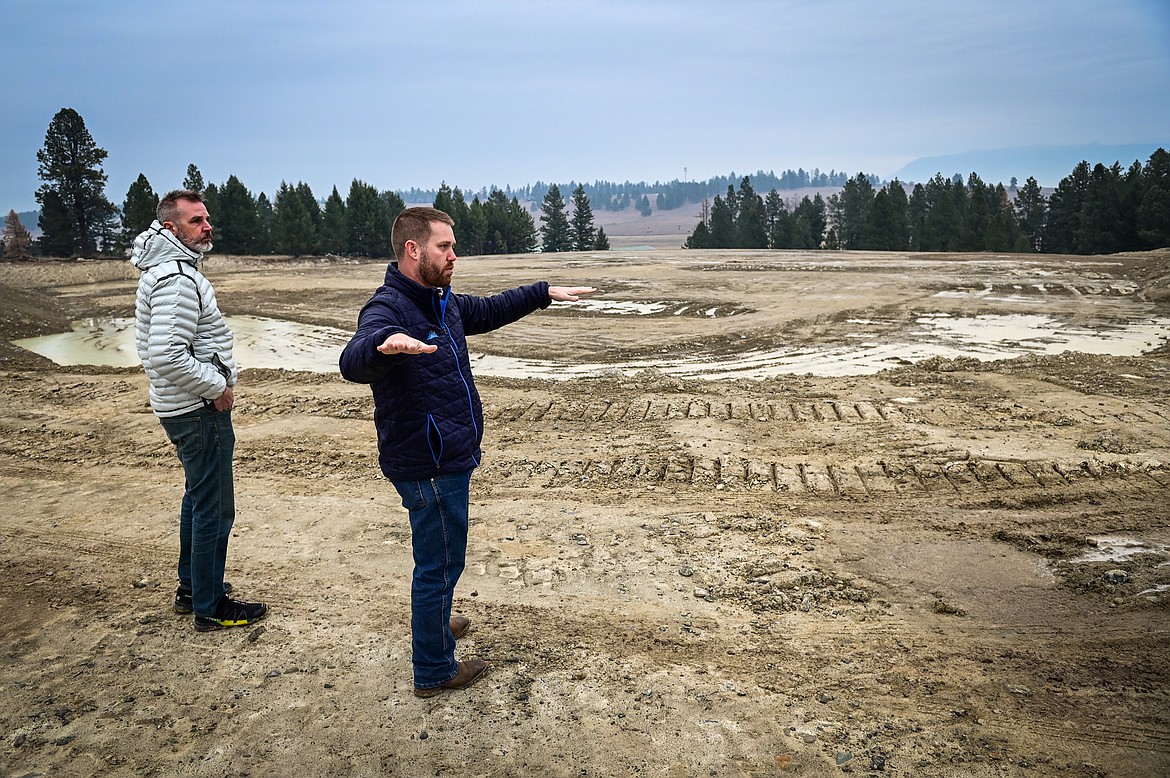 Erik Moore and Chris Kelly, with Ridge Run Baseball, stand atop a berm overlooking the development of a baseball stadium for a new Pioneer League team along U.S. 93 between Kalispell and Whitefish on Wednesday, Nov. 3. (Casey Kreider/Daily Inter Lake)
There's a general manager, a manager and also a couple of players in place for Kalispell's fledgling Pioneer Baseball team.
And on the other side of a ridge that runs above the Raceway Park road, there are the makings of a diamond.
It wasn't shining on an overcast Wednesday, when team vice president Chris Kelly and his general manager, Erik Moore, showed off the site. Puddles dotted the ground, but you could imagine amphitheater seating, a left field line pointing toward Whitefish Mountain and a batter's eye over which you can see Bad Rock Canyon.
Kelly said he and his family — Marty Kelly, his father, would be president of Ridge Run Baseball LLC — found the spot through an acquaintance of an acquaintance.
"We came up here and saw it and sort of instantly envisioned a baseball field," Chris Kelly said of the spot, northwest of Majestic Valley Arena and above the old Thornton Raceway Park.
"It was late June. This is moving pretty quick," Chris added.
While he talked, construction vehicles moved dirt down what would be the right field line, building out a berm. Semi trucks came and went. The excavation is almost complete; the laying in of concrete footings and more — the vertical building phase — should start very soon and continue through the winter.
By the time the league begins its 2022 season in mid-May, Kelly plans to have everything completed: club houses, an all-turf/all-weather playing surface, lights and 2,500 permanent seats.
"Right field has a little bit of a jet stream," he noted. "So it's going to be a little deeper, and maybe a little bit taller. It will also be sized to have a temporary football field down the first-base line."
JOINING THE Pioneer League means finding players, and Kelly and Moore have two so far — pitcher Pierce Smith and outfielder/first baseman Griffin Keller. Now a "Partner League," the PL has no major league affiliations and draws no players from the slimmed-down annual amateur draft.
The league seems ready-made for athletes overlooked in the draft or underused by colleges. Keller hit 18 home runs this past spring at NAIA Gwinnett College in Georgia; Smith threw just one inning as a senior at Ole MIss in 2019, but he's 6-foot-5, 220 pounds and left-handed.
There's a manager; NIck Hogan, a former Georgia State University center fielder and assistant who has coached high school baseball in the Peach State for the past seven years.
There's a nickname, though Kelly is waiting to unveil it.
"We're shooting for mid-December for a launch event for the nickname, logo, branding," he said. "Possibly even some hats ready to go under the Christmas tree. That's coming up quick, but we're looking to get that all going, and to start taking some orders for season tickets.
"We get asked everywhere we go: 'Are season tickets available?' "
Moore noted that 15 Pioneer League players received MLB development contracts this past season. He also allows that his baseball background is limited to coaching youth.
"I've known the Kelly family for almost 20 years," he said. "I got to know them because I was the manager of the Big Mountain Club at Whitefish Resort for 18 years."
The Salt Lake City native came to Montana in February 2002. Before that he played professional beach volleyball for a time.
"I'm more of an operational guy that loves baseball," Moore said. "It was a pretty simple decision for me, with my love of baseball and wanting to build something new. After building up the Big Mountain Club and seeing this possibility, to bring something bigger to the community, I wanted to jump at it."
KELLY REMAINS impressed with the support not just from the Flathead Valley community, but from the league. In the summer he visited the newly rebranded Missoula Paddleheads and was surprised to learn their manager is Michael Schlact. He and Schlact had played years of youth baseball together in Georgia.
The ballpark, which may or may not have naming rights, will be a multi-use facility with comfortable seating, grass berms and an all-weather playing surface — including the pitcher's mound.
"Everything will be synthetic," he said.
Beyond that, Kelly tries not to overthink a tight construction schedule.
"I'm concerned every night," he said. "There's not a night or a morning that goes by that I'm not concerned. But I'm pretty happy and pretty confident in the construction team. Great contractors, great sub-contractors. Everybody's really bought in and is excited about seeing baseball next spring."
Reporter Fritz Neighbor may be reached at fneighbor@dailyinterlake.com.
Recent Headlines
---