Kids' Covid shots available at Flathead clinic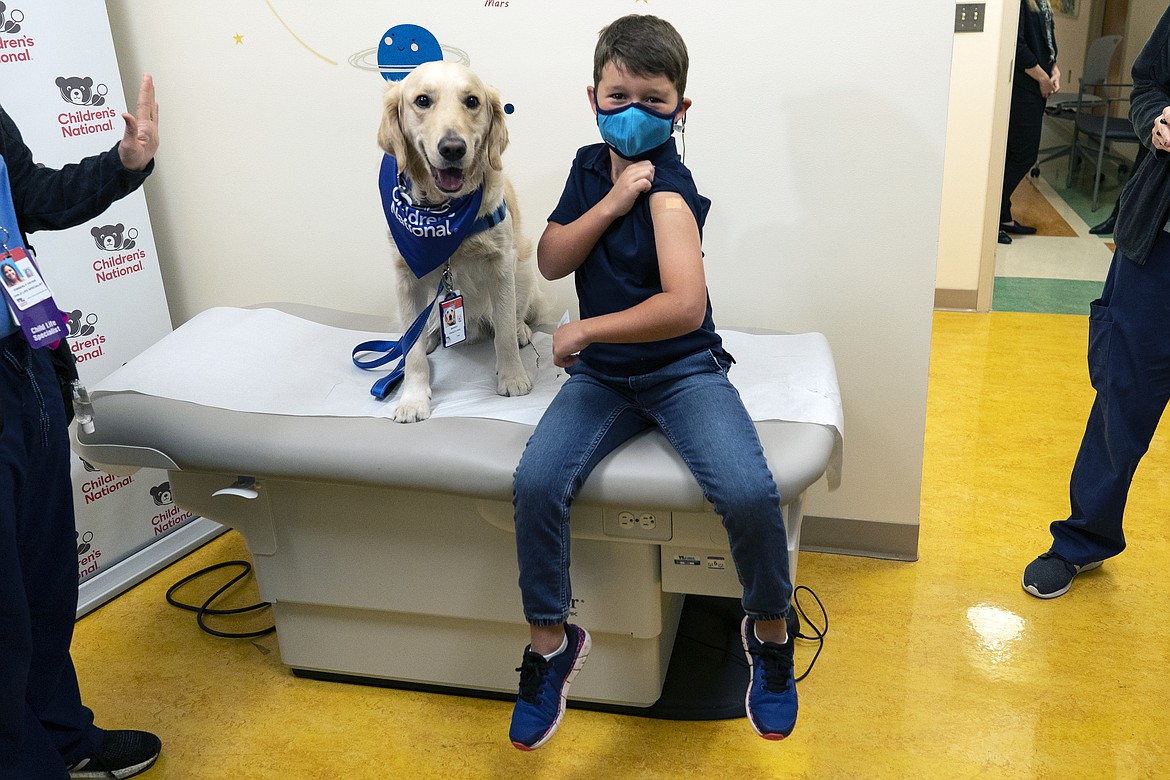 Carter Giglio, 8, joined by service dog Barney of Hero Dogs, shows off the bandaid over his injection site after being vaccinated, Wednesday, Nov. 3, 2021, at Children's National Hospital in Washington.
by
Daily Inter Lake and Associated Press
|
November 4, 2021 2:00 PM
The Flathead City-County Health Department will begin administering Covid-19 vaccinations for children ages 5 to 11 next week.
The vaccination clinics will be at the heath department on Wednesday afternoons by appointment only starting Nov. 10. Vaccinations will continue to be offered for people aged 12 and older on Tuesdays at the Flathead County Fairgrounds. 
Kid-sized doses of the Pfizer-BioNTech vaccine cleared two final hurdles Tuesday — a recommendation from CDC advisers, followed by a green light from Dr. Rochelle Walensky, director of the Centers for Disease Control and Prevention.
The vaccine — one-third the dose given to older children and adults and administered with kid-sized needles — requires two doses three weeks apart, plus two more weeks for full protection. That means children who get vaccinated before Thanksgiving will be covered by Christmas.
A Pfizer study of 2,268 children found the vaccine was almost 91% effective at preventing symptomatic Covid infections. The FDA examined 3,100 vaccinated kids in concluding the shots are safe.
According to state data, children ages 9 and younger account for 5.6% of all confirmed Covid cases in Flathead County, and less than 1% of hospitalizations in the county.
About 32% of children in Flathead County ages 12-17 have already received at least one Covid shot. The state average for that age group is 40%.
The Flathead County vaccination rate ticks up among older age groups. For example, 44% of Flathead residents aged 40-49 have received the Covid shot. That compares to 65% of county residents in their 60s, and nearly 80% for those 70 and older.
The overall rate of people who are fully vaccinated in Flathead County is 46%, trailing the state average of 55%.
Joe Russell, Health Officer of the Flathead City-County Health Department, expressed excitement about the vaccine distribution expanding into pediatric populations.
"Youth vaccinations are more conducive to smaller clinic settings rather than mass vaccinations, which is why we've decided to move forward with our in-house appointments," he said. "Our department has always played a supporting role in providing safe and effective vaccines to children, and the Covid vaccine is no different. Our staff will work hard to provide vaccine to this newly eligible population as efficiently as possible."
Vaccination appointments with the county health department can be made online at www.flatheadhealth.org/make-an-appointment/. This scheduling site is updated regularly to reflect staffing and vaccine availability. If there are no appointments available, people should continue to check back to schedule an appointment when one becomes available. 
The health department notes that the Covid vaccine may be available at various other locations as well. Walgreens planned to start kids' vaccinations Saturday and said parents could sign up online or by calling 1-800-Walgreens.
Individuals may also visit vaccinefinder.org and type in their ZIP code to find the nearest locations to receive a vaccine.
---