Land protection specialist works to protect 'special places'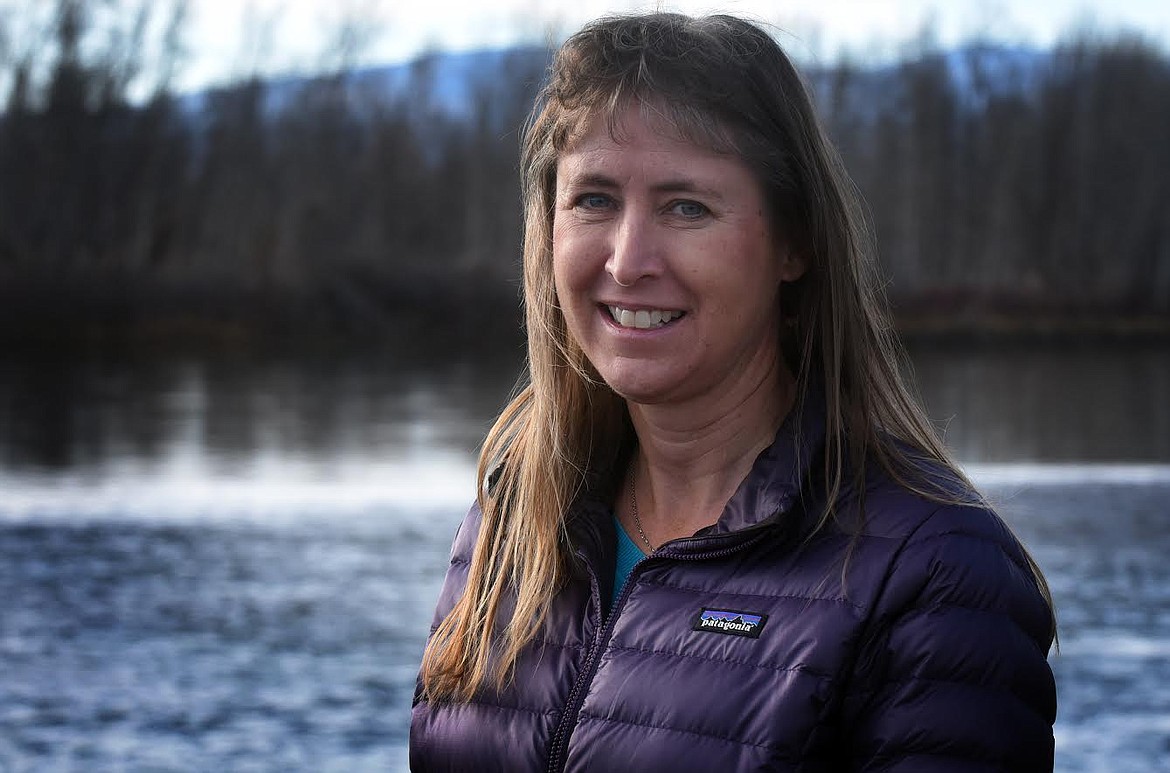 Laura Katzman's work with the Flathead Land Trust has helped secure public access to thousands of acres in the Flathead Valley. (Scott Shindledecker/Daily Inter Lake)
by
SCOTT SHINDLEDECKER
Daily Inter Lake
|
November 8, 2021 12:00 AM
When nature and wildlife enthusiasts enjoy public access in the Flathead Valley, Laura Katzman is one of the people they can thank.
Katzman has worked with Flathead Land Trust since 2010. In her role as a land protection specialist she works with private landowners who have an interest in land and water conservation as well as preserving access to the public.
"When we work on conservation easements we always work with the landowners to help them achieve their goals with their land," Katzman said. "We're not trying to take private land. It's all about what the landowner wants."
Katzman works with Executive Director Paul Travis and fellow Land Protection Specialist Ryan Hunter to protect what she calls "the special places in the valley."
Some of their projects include Somers Beach, West Valley wetlands, Flathead Lake's North Shore and Smith Lake.
Another project, the proposed Bad Rock Canyon Wildlife Management Area, will be voted on Nov. 15 by the Montana Land Board.
"A lot of people want to conserve land here and when it works, it's a wonderful feeling," Katzman said. "Some want to do conservation easements, which protects the land, but also allows the landowner to maintain control. Others have donated their land that have created additions to protected areas where fish and wildlife thrive."
THE WISCONSIN native's journey to the Flathead began when she came to Montana State University to get a master's degree in fish and wildlife management in 1995. She then worked as a fish biologist for Montana Fish, Wildlife and Parks as well as the U.S. Forest Service.
She worked in Troy and Thompson Falls with those agencies. It was in Sanders County where her work with the Avista Corp. on a mitigation project in 2005 led to the development of the Bull River Wildlife Management Area.
"That really sparked my interest in land preservation," Katzman said.
Along the way, Katzman met Chris Downs, who is a longtime fisheries biologist in Glacier National Park.
When they began a family, she took time off to help raise their children. Today, their son is a senior and their daughter a sophomore at Glacier High School.
When Downs got a job with the park, the family moved to the Flathead Valley in 2008.
"A year later there was a job opening and a friend in FWP thought I should apply. I didn't get it, but then another opening popped up soon after and I got the job," Katzman said. "It started as a part-time job and now I work about 35 hours a week."
Katzman's focus is on the Flathead River to Lake Initiative project area.
"It has been meeting for 20 years and we've developed partnerships with Flathead Audubon, the Confederated Salish and Kootenai Tribe, Fish, Wildlife and Parks and others," she said. "The project area is critical to fish and wildlife and for people who are living in the valley near the river, we love working with them to protect those areas."
Katzman and her Flathead Land Trust co-workers are busy with a number of new projects, including the planned Bigfork Community Trails project. It will protect 236 acres of forestland and build more than 4 miles of publicly accessible trails, a short distance from downtown Bigfork.
There are also projects along the Stillwater River near the Ray Kuhns Wildlife Management Area and another in the Mission Valley area. Those two would conserve about 1,000 acres.
KATZMAN ALSO has become active in helping develop bike and bird tours with Flathead Audubon and a bird education program with Evergreen Junior High.
"The bike tours have really become popular," Katzman said. "People get to see a lot they may not see from their vehicle and the school project is pretty neat, too. We've been able to take the kids to different places in the valley to see the wide variety of birds which live here as well as when waterfowl is migrating. Covid has slowed some of the development on those, but they are coming around and we want to expand the programs in schools, so that's exciting."
Katzman and her family enjoy the typical outdoors activities the valley has to offer and she appreciates being able to work with "some really neat people."
"Our hope is to continue to protect the special places in the Flathead Valley," Katzman said. "The rich farmland, fish and wildlife and the things people come here for."
For more information about the Flathead Land Trust, visit flatheadlandtrust.org or call 406-752-8293.
Reporter Scott Shindledecker may be reached at 758-4441 or sshindledecker@dailyinterlake.com.
---