Ralph Brian Peck, 74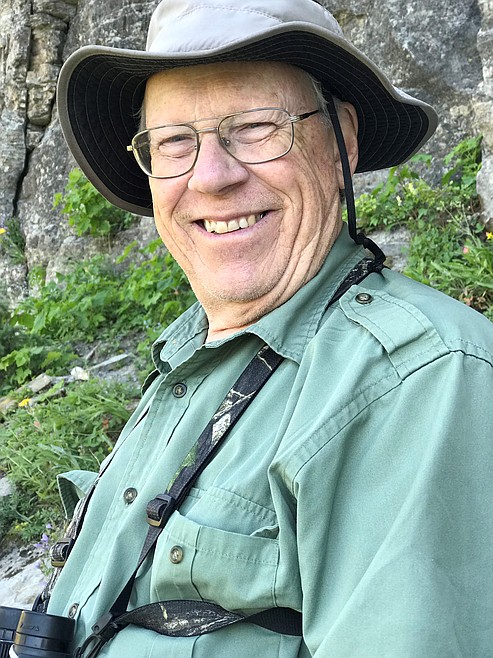 |
November 12, 2021 12:00 AM
Brian Peck passed away at home with support from hospice on Nov. 7, 2021, after a short battle with cancer.
He was born on Nov. 3, 1947, into a New England family with roots dating back to the Mayflower.
He is survived by his spouse Linda of Columbia Falls, sister Marilyn (Bob) Meyers, brother Bruce, niece Lisa (Mike) Hiliadis and their children Bonnie (Drew) and Caleb (JoAnne), all of Massachusetts, as well as many cousins around the country. He also leaves behind his cats whom he loved to photograph and play with.
Brian dedicated his life to the protection of all animals wild and free, as well as domestic animals. His indefatigable enthusiasm, wide breadth of knowledge garnered from many years on the ground in the natural world, and his
irrepressible sense of humor were the hallmarks of his mission. Tolerance, mutual respect and caring were the heart of his message to everyone he met. Brian's big grin, and full bodied laugh never failed to bring laughter to everyone he encountered and befriended. He truly strove to connect people with nature in ways that were meaningful to them.
On a personal level, Brian was kind, funny, encouraging and helpful. He treasured his friendships and loved his adopted state of Montana. Most people who met him as a stranger walked away as a friend after a conversation with him.
He served in the Army stateside in the early 1970s and had a deep respect for all veterans, particularly those who saw active combat during a war. He is deeply loved and will be so missed by all of us who knew and loved him.
An informal celebration of Brian's inspirational "follow your heart" life will be held on Monday, Nov. 15, at Columbia Mortuary in Columbia Falls from 2 to 4 p.m. Please bring your stories to share about Brian. COVID precautions and masks are recommended — thank you!
Donations in his honor can be made to Swan View Coalition (www.swanview.org); or Flathead Spay and Neuter Task Force (www.flatheadspayneuter.org) or Vital Ground Foundation (www.vitalground.org) or Wolves of the Rockies https://www.wolvesoftherockies.org) or https://www.flatheadaudubon.org
Columbia Mortuary in Columbia Falls is caring for the family.
---