Antibody infusions a 'game-changer' in fight against Covid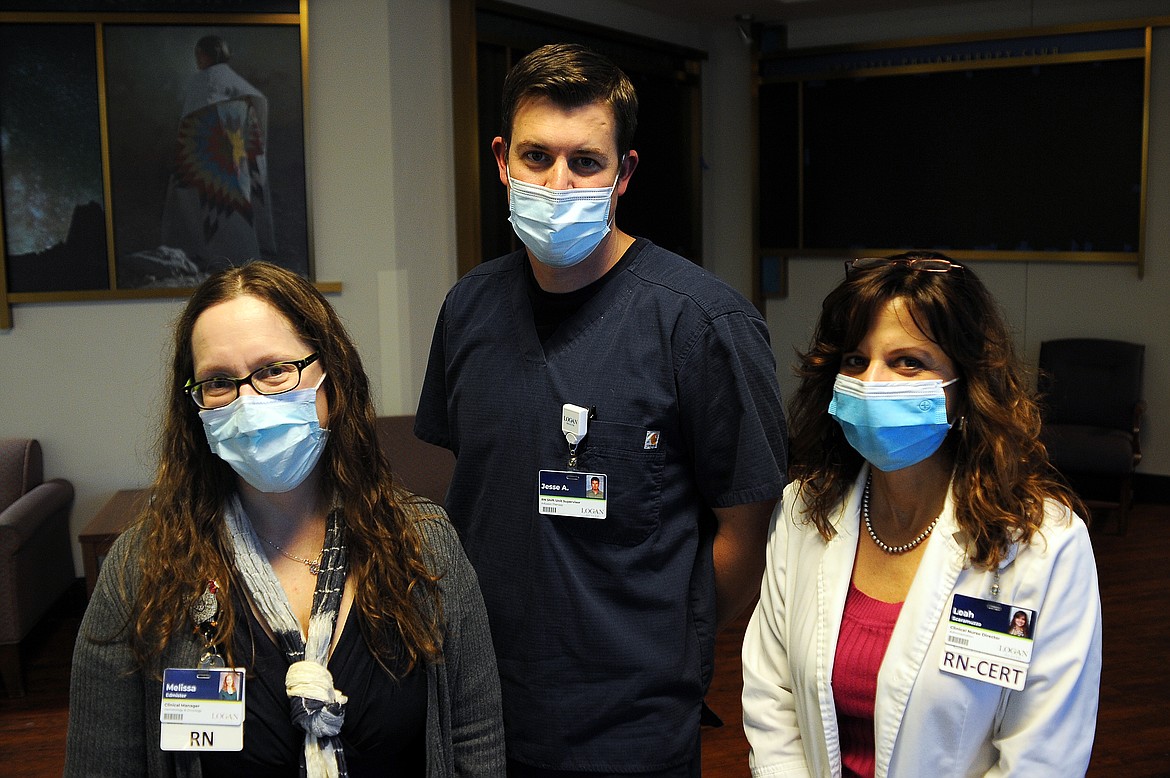 From left, Melissa Edmister, Jesse Arneson and Leah Scaramuzzo at Logan Health Medical Center on Nov. 9, 2021. (Matt Baldwin/Daily Inter Lake)
by
MATT BALDWIN
Daily Inter Lake
|
November 14, 2021 1:00 AM
The first wave of Covid-19 peaked in the Flathead Valley exactly a year ago this week. Active cases in the county climbed to nearly 2,500 — the highest of the entire pandemic — and statewide hospitalizations and deaths were rising at an alarming rate.
While vaccinations were still being developed at that time, promising research on how to treat Covid was emerging. A trio with Logan Health's infusion therapy team in Kalispell took notice and were particularly hopeful about clinical trials using monoclonal antibody treatments to treat mild to moderate Covid symptoms in compromised patients.
"An initial study we saw showed the hospitalization rate drop from 13% to 3%," explained Jesse Arneson, the infusion supervisor at Logan Health. "If you can improve rates of that measure in the high-risk population we are dealing with, it looked like it was going to be worth at least trying it."
Arneson teamed up with Leah Scaramuzzo, Logan Health's oncology clinical development director, and Melissa Edmister, the clinical manager of oncology, infusion and vascular access, to quickly put the wheels in motion. The team pored over research on antibody therapy, filed emergency authorization paperwork to obtain the drug Bamlanivimab and gathered necessary medical equipment to set up a treatment center.
"We went through the entire facility and just begged and borrowed," Edmister recalled. "We put it up so quickly that we didn't have a space for it, so we closed out a hallway and turned it into an infusion area within a week."
The first patient was treated on Nov. 20, 2020, "and that patient is still alive today," Arneson said proudly.
ACCORDING TO a Logan Health fact sheet, monoclonal antibodies provide passive immunity by giving the body antibodies to protect itself. Treatment can help limit the amount of virus in the body, which then helps symptoms to remain milder and improve sooner.
In short, it helps keep vulnerable Covid patients out of the hospital.
"The population we are treating are people who are older, and people who have comorbidities," Edmister said. "They are the ones that when they get in the hospital they have these really terrible stays. They are the ones who could perish from it."
Keeping these patients out of the hospital also means that physicians and nurses are able to take better care of people who are in the hospital — a point of particular concern today as hospital bed capacity in Flathead County regularly approaches or exceeds capacity. A state report on Nov. 8 showed Flathead County with 95% of all hospital beds filled. The week prior it was overcapacity.
But without Logan Health's monoclonal antibody program, Scaramuzzo is certain the current Covid hospitalization surge would be much worse.
"All of us are convinced that this was a game-changer for us," she said.
While Logan Health was an early adopter and remains the only facility in the region to offer this treatment, it has since become more widely available. Monoclonal antibody treatment is now available in 41 Montana counties, with state-sponsored clinics now open in Butte and Missoula.
Other hospitals have looked to Logan Health as a case study and the team has shared its data and outcomes with other providers.
THE ANTIBODY program has adapted over the last year with changing virus variants and with how the drug is administered.
Today, the clinic administers Regeneron — authorized for emergency use by the FDA — using subcutaneous injections, as opposed to intravenous infusions. Using injections takes less time and allows the clinic to treat up to 25 patients a day, compared to about 10 with IV infusions.
"We're rolling now," said Arneson.
High-risk patients 12 and older who have Covid can be considered for treatment, but they must obtain a doctor's order first. The treatment is also authorized as a preventative for certain people who have been exposed to someone with Covid, such as a spouse.
Qualifying Covid patients receive one dose, which is four subcutaneous injections of Regeneron to the abdomen or arm, all given at the same time. It takes only a few minutes to administer the drug and one hour of post-administration observation.
As of last week, the clinic had treated more than 1,700 patients between the ages of 12 and 103. Allergic reactions can happen during and after an antibody infusion, but Arneson said only a couple of Logan Health patients have experienced an adverse reaction that was quickly managed.
On average, most people start feeling better within 24 hours of treatment, although some perk up within minutes.
"Some of the patients are feeling better by the time they walk out the door. We can watch them change," added Edmister, who noted that one patient came to the clinic in a wheelchair but was able to walk out following treatment.
ARNESON, EDMISTER and Scaramuzzo describe the last year as an exhausting grind — with the infusion team essentially working two jobs at once keeping up with Covid treatments and their other patients.
"This team did not go to bed if they were done treating their Covid infusion patients," Scaramuzzo said. "They went and did their other job. But we knew it was the right thing to do. So we made sacrifices. Our families did not see us."
Despite the exhaustion, she said the success stories and thank you notes keep them going. She recalled one man who was among the first to receive the treatment.
"He was all teared up," she said. "We didn't know that much about Covid at that time. He was so thankful and appreciative that we were there for him. Those are the stories that keep you doing it."
"We're tired," added Arneson, "but we feel like it's making a difference. The reward has been worth the sacrifice."
People with questions about monoclonal antibody therapy can call the Logan Health nursing hotline at (406) 890-7272 or the Combat COVID Monoclonal Antibodies Call Center at 1-877-332-6585.
Matt Baldwin can be reached at mbaldwin@dailyinterlake.com or 406-758-4447.
Recent Headlines
---