Covid shots among Flathead kids off to slow start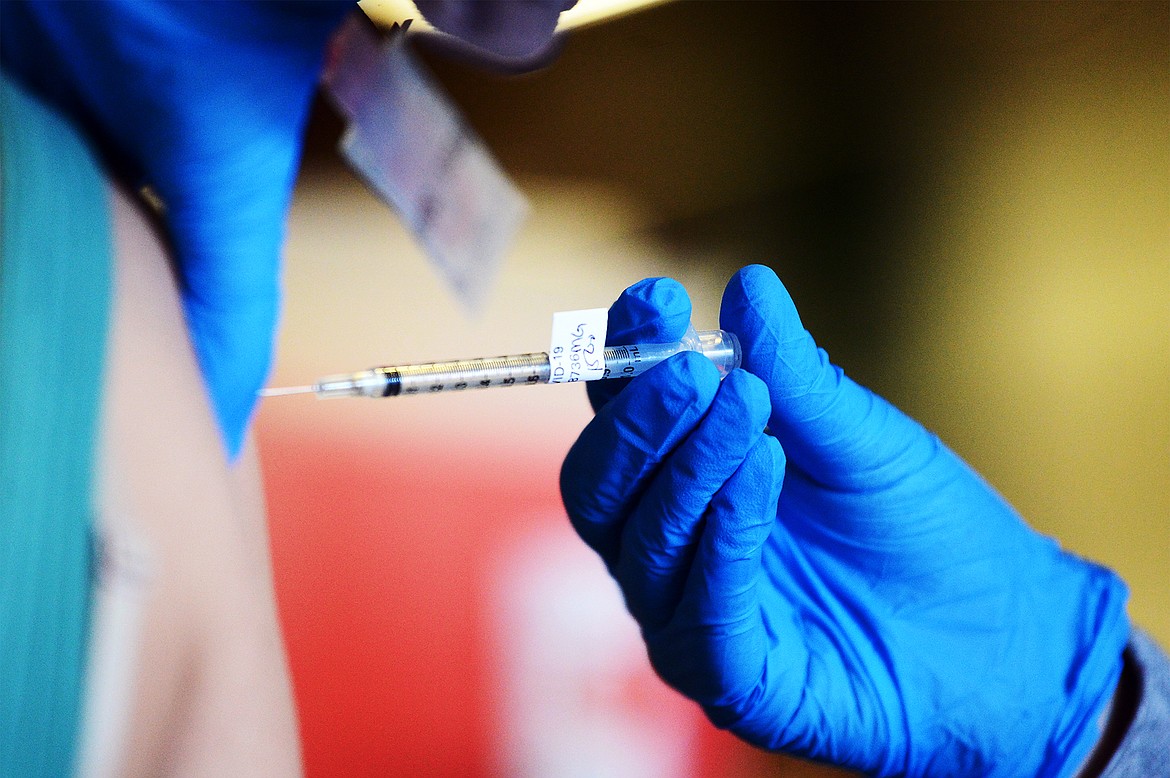 A second dose of the Pfizer Covid-19 vaccine is administered during the last vaccination clinic at the Flathead County Fairgrounds in this June 22, 2021, file photo. (Casey Kreider/Daily Inter Lake)
by
MATT BALDWIN
Daily Inter Lake
|
November 18, 2021 5:00 PM
Just 1% of children ages 5 to 11 in Flathead County received a Covid-19 vaccination in the first week the shot was available to that age group, new state data shows. Statewide, about 3% of the youngest demographic eligible for the shot has received a dose.
Missoula County leads the state with 13% of kids 5 to 11 getting their first dose, followed by Deer Lodge County at 10% and Gallatin County at 7%.
According to the White House, about 10% of 5- to 11-year olds in the U.S. — or about 2.6 million children in that age group — have already received their first Covid dose.
About 32% of children ages 12-17 in Flathead County have received at least one dose of the vaccine, compared to the state rate of 41% in that age group.
The vaccination rate in the county ticks up with each age group. About 47% of residents in their 40s are vaccinated, 52% in their 50s, 64% in their 60s and 74% in their 70s.
Flathead City-County Health Officer Joe Russell said there has been a recent demand for booster shots at the county heath department's Covid vaccine clinic.
"Our schedule is packed," Russell told the health board at its meeting Thursday.
RUSSELL NOTED that Covid cases in Flathead County are trending down from the recent peak last month. According to county data, the 10-day average of new cases per day has dropped from 74 in October to about 61 this month.
"That's a good sign," Russell told the health board. "Let's hope it stays that way."
Russell, however, was alarmed by the rate of so-called breakthrough cases among the vaccinated population in the county. He said that roughly one in four positive cases are among people who are vaccinated, describing the delta variant as being more "sticky."
Still, those who are vaccinated are not getting as sick and are less likely to be hospitalized or die from the virus. Russell pointed out that of the 38 patients hospitalized for Covid at Logan Health Medical Center on Thursday, only six were vaccinated.
Health board member Dr. Pete Heyboer reiterated that point.
"If you are not vaccinated, you have a way higher chance of having a serious complication … being hospitalized in the ICU, intubated or death. "Having spent a week in the ICU taking care of patients, I can verify that."
Russell advised people to get tested for Covid in advance of holiday gatherings.
The county health department is offering BinaxNOW Antigen Self-Tests free of charge while supplies last. People can contact the department to pick up a test.
"The holidays are a time when many families come together, and we want to provide our community with the resources needed to celebrate safely," Russell said in a press release. "Early testing and vaccination are two of the most effective methods at preventing the spread of Covid. Let's all do our part to keep our loved ones safe this season."
The county's Covid vaccine clinics occur by appointment only. Tuesday clinics are for individuals 12 and older, from 9 a.m. to 4 p.m., at the Flathead County Fairgrounds. Wednesday clinics are limited to individuals aged 5 to 11, from 1 to 4 p.m., at the Health Department.
---