Two Flathead Valley soccer players helped UM have a banner year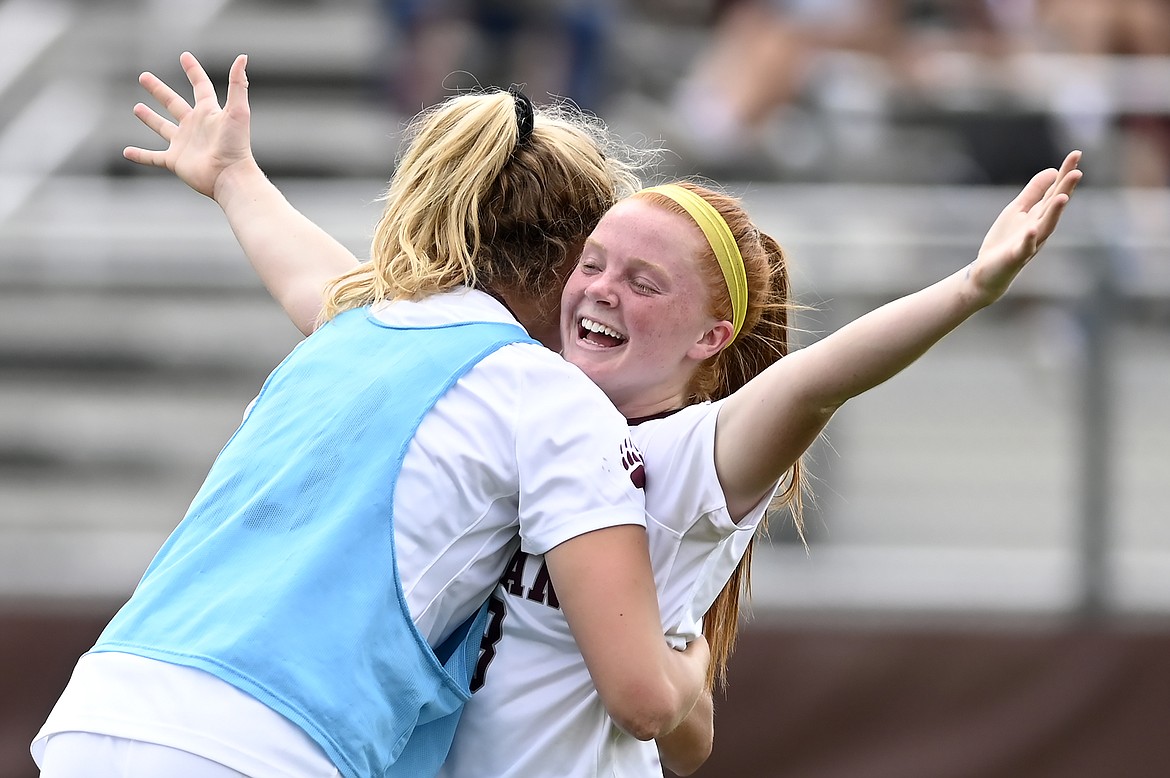 Montana's Skyleigh Thompson celebrates a 1-0 victory over Boise State at the South Campus Stadium in Missoula on Sunday, Sept. 12, 2021. (Tommy Martino/University of Montana)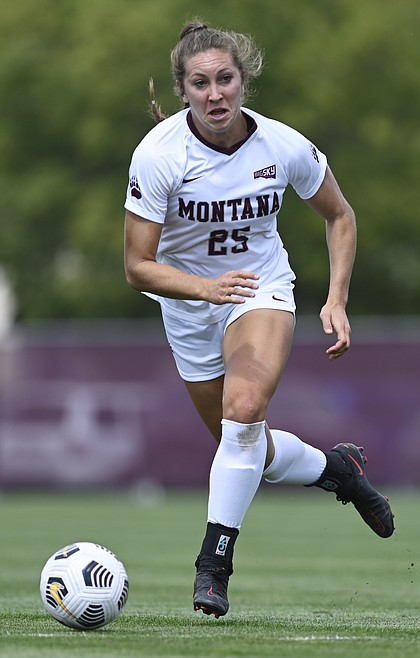 Montana's Josie Windauer moves the ball up the field against the Portland Pirates on Sunday, Aug. 22, 2021. The Grizzlies fell to the Portland Pilots 1-0 at the South Campus Stadium in Missoula. (Tommy Martino/University of Montana)
Previous
Next
by
FRITZ NEIGHBOR
Daily Inter Lake
|
November 18, 2021 10:10 PM
It's been a whirlwind 2021 for Flathead Valley soccer products Josie Windauer and Skyleigh Thompson, who saw Montana's soccer season end Saturday with a 3-0 loss to Washington State in the NCAA tournament.
The trip to Pullman, Wash., wasn't as fruitful as they would have liked, but for Windauer, out of Columbia Falls, it was her 25th match since the start of Montana's truncated spring season on March 7. Thompson, meanwhile, played a lot — 41 minutes a game — as a true freshman out of Flathead High.
Montana coach Chris Citowicki praised both players in a post-season press conference Monday.
"If you watched her play against Washington State, you got a glimpse of the Josie Windauer we need week-in and week-out," said the fourth-year coach. "Holding up the ball extremely well — that's one of the most physical teams we've been up against. They have giant, mammoth, Amazon women defending, and Josie (a 5-foot-9 sophomore) could handle them as if it wasn't a problem at all. And that's the physical presence she needs all the time."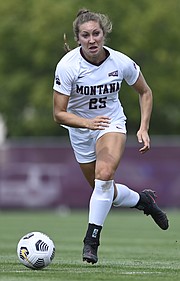 The 5'5" Thompson surprised many, including herself, by playing in every match and getting 10 starts.
"Seeing her in camps and in the buildup of the recruiting process, you could see she had a knack for scoring goals," Citowicki said. "Her level of athleticism was ridiculous this year, and she has the freshman innocence of, 'I don't care who I'm playing against, I'm just running around not thinking just kicking a soccer ball,' and she just got better and better."
Montana went 9-2-0 during the spring season, then 13-6-1 this fall. Two trips to the NCAAs; 31 matches. Success breeds success, but it's remarkable what the Grizzlies did from September on, considering top scorer Alexa Coyle elected to go pro this summer and keeper Claire Howard graduated.
It helps to have leaders coming back like Taylor Hansen and Taylor Stoeger, though Hansen would tell Citowicki later that after their first post-spring team meeting — when he singled her out for a leadership role — she went home and threw up.
It helps to have Camillia Xu ready to continue Howard's record-setting ways in goal.
And it helps to have depth. Windauer played 18 minutes in a 1-0 loss to South Carolina in the NCAAs in April; she played 25 minutes against Wazzu. She made four starts this fall, scored one goal and averaged 21 minutes a game while playing time fluctuated.
"I played a good number of minutes, depending on the game," Windauer said. "I definitely got my time, and had a chance to prove myself when I got out there.
"I think the case is we have such a strong team, and at my position there's a lot of good players and competition, it goes up and down. A lot of it depends on who has a good week of practice. Coach is going to play whoever he feels is doing the best that week, and you just take the minutes and make the best of them."
Thompson scored three goals this season while also seeing her time fluctuate.
"She overcomplicated things at the start of the year," Citowicki said. "We talked about where she needs to be in terms of her defensive shape, where she needs to tuck into certain sports to take certain players away. She would think way too in-depth about it, and that would hold her back. She had to learn how we play her and once she did that, she was great.
"This is just the beginning of Skyleigh. It's only going to get better from here."
"I was really surprised," Thompson said. "I set my expectations low and … my focus was to work hard and improve and be thankful with whatever time I got.
"It was a little bit of a shock, because no matter how much you try to prepare yourself, the game is so much different at this level. One of the things was my defensive shaping."
That was then. In a blink the two, who make up half the four Montanans on the Griz roster, were on the pitch in Pullman.
"It was wild," Windauer said. "South Carolina, because of Covid, was a pretty mellow atmosphere. Intense on the field, but there was not that game-like setting. Playing at Washington State was a whole new experience.
"I found that game pretty encouraging. I thrive in settings like that, with the band and the noise and playing big teams.That last game was a confidence booster for me. I wish I could have made more chances. At the same time, we have next year."
"It was an unbelievable experience," Thompson added. "The band, the crowd…. It was such a great experience. To be in that game for so long, I'm excited about where this team can go the next three easons, and hopefully get past that first round in the NCAA tournament."
Citowicki echoes this, saying: "It's time to stop losing in the opening round."
The team will start lifting soon, then get Christmas break and come back in late January with new goals. Six seniors/fifth-year players were on this team.
"Great group of girls leaving," Windauer said. "There are some big roles that are going to have to be filled, and yeah, it's going to be competitive. I think we've got the depth to keep this going."
More than anything, it was encouraging to have a normal-(ish) season. While Thompson's senior high school season happened, the Griz had nothing to do in the fall of 2020 and then no fans at games this past spring.
"This season was new," Windauer said. "Playing in a normal structure season was new for a lot of us — for the freshmen, the sophomores, and some of the juniors just because of the Covid. Not all of us had experienced it yet, and it was just cool to see everybody. Training sessions, practices, it was completely different from last fall, and last spring.
"It was fun seeing everyone's reactions to all the new things."
---