Vikings get another crack at Falcons in Class B chipper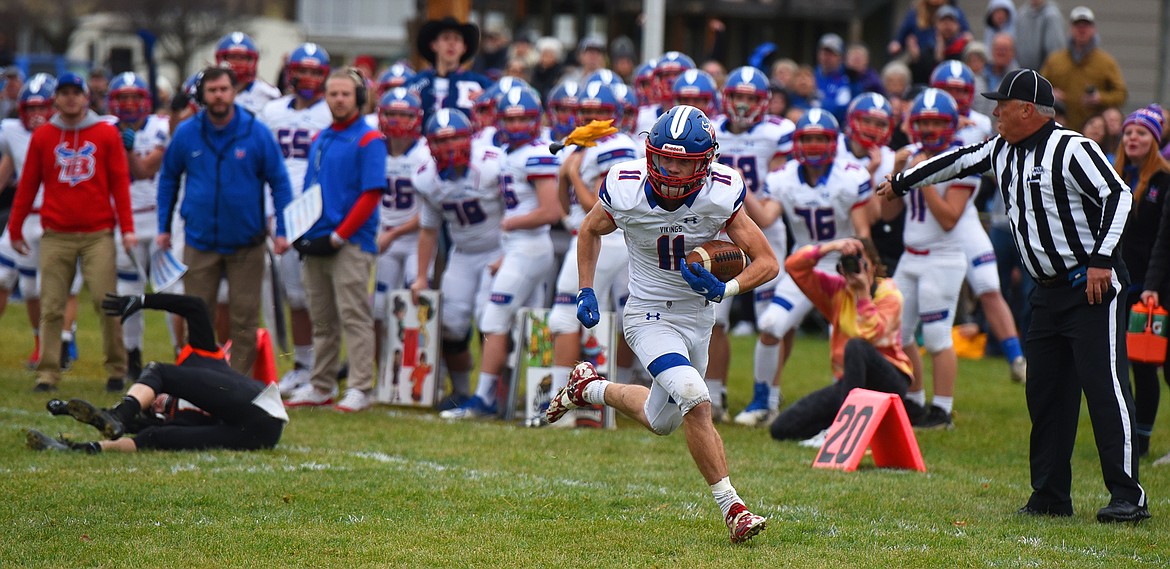 Bigfork's George Bucklin breaks free for a big gain down the sideline in the first quarter of the Class B state semifinal in Eureka Saturday. (Jeremy Weber/Daily Inter Lake)
by
FRITZ NEIGHBOR
Daily Inter Lake
|
November 19, 2021 10:37 PM
The 62-26 loss on Oct. 21 doesn't look good for the Bigfork Vikings, who get a rematch with the Florence Falcons today, for the State B football championship.
Looking better is the fact that Bigfork beat Townsend 20-15 in the playoffs, and the Bulldogs gave the Falcons their toughest game to date, before falling 20-14.
Vikings' coach Jim Benn can take some encouragement from that, right?
"Yes and no," he said. "We get to play them again; that's all that really matters.
"They're very well-coached and very athletic, and we have to play our best. It's safe to say we didn't last time."
Florence hosts the game, which will kick off at 1 p.m. about 20 miles away from the 120th Cat-Griz game in Missoula. The Falcons haven't played for a state football title since falling to Columbus in 8-man in 1980; they won the 1977 8-man crown.
Bigfork is back in the chipper for the first time since taking the 2010 State B crown over Fairfield.
The Vikings have a potent running attack led by Levi Taylor, Joe Farrier and George Bucklin, and a much-improved passing attack with Patrick Wallen. Isak Epperly and Nick Walker have combined for 10 receiving touchdowns.
"We're good at what we do," Benn said. "We can move the ball on people."
Florence balances a vaunted passing attack with running back Tristan Pyette.
"I will tell you this is the best passing offense I've seen in Class B, and I've been around Class B since the 1980s," Benn said. "Some teams run the spread offense to maybe hide a receiver. Florence has guys chomping at the bit to get on the field, and the four that are out there, are dudes."
Blake Shoupe, Luke Maki, Caden Zaluski and Levi Posey are the main targets, though Pyette is dangerous out of the backfield. Quarterback Patrick Duchien has 32 TD passes but is also a capable runner.
Bigfork has great size, but Florence negates some of that on defense with a 280-pound Division I prospect named Ethan Abbott.
Benn could wax superlative about the Falcons all day. Last year his team split two games against Class A competition, beating Polson and losing to Lewistown; he rates Florence, a 33-14 winner a year ago, as better.
"We played them tougher last year, because we had less turnovers than they did," Benn said. "They were still very explosive.
"You basically have to decide if you want to cover the pass and give up big runs, or apply pressure and give up big passes. Offensively we need to put our defense in good situations, because (in October) we helped create opportunities for them."
Florence came up with three turnovers, recovered an onside kick and faked a field goal last time. The Vikings can ill afford that again, but they've proven to be road-tested: They won at
Glasgow, Townsend and Eureka (a 7-3 semifinal victory) in the playoffs.
"Scrappy would be a good way to describe us at this point," Benn said. "We've had to do things the hard way. We've been kind of relentless about wanting to spend more time with each other.
"I'm just really proud of this group of kids. They have been so resilient. Great heart. I'm pretty privileged to be their coach."
---