Bergen ignites Griz, who snap 4-game skid against Cats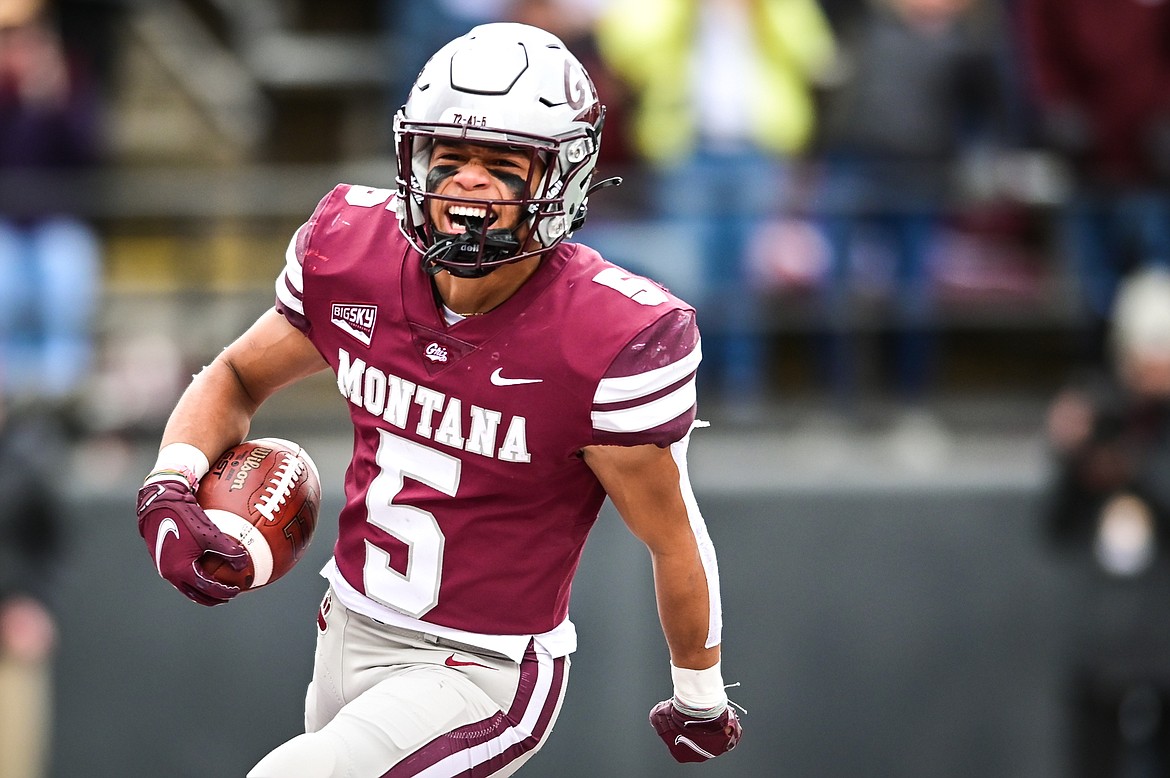 Montana running back Junior Bergen (5) celebrates after a 74-yard touchdown reception in the first quarter against Montana State during the 120th Brawl of the Wild at Washington-Grizzly Stadium on Saturday, Nov. 20. (Casey Kreider/Daily Inter Lake)
by
FRITZ NEIGHBOR
Daily Inter Lake
|
November 20, 2021 10:58 PM
MISSOULA — Montana's first play from scrimmage went nowhere.
The second play — hoo boy.
Cam Humphrey's 74-yard touchdown pass to Junior Bergen set the tone for the Montana Grizzlies, who went on to soundly beat Montana State 29-10 in the 120th Cat-Griz game Saturday.
A Washington-Grizzly Stadium record crowd of 26,856 erupted when Humphrey found Bergen, who motioned out of the backfield, up the seam. The true freshman out of Billings Senior — and last December, an MSU signee — caught the ball in-stride and outran Bobcat standout Ty Okada to the end zone.
Forty-eight seconds had elapsed, and the Griz (9-2, 6-2 in the Big Sky) had the lead for good.
"Coach (Timm) Rosenbach did a great job dialing that one up," Humphrey said. "We were hoping they were going to jump into cover-2, and they did. When I saw that I knew all I needed to do was put it there and let him make the play. And Junior did the rest."
"I don't think early scores generally swing a game," added Montana coach Bobby Hauck, whose club snapped the Bobcats' four-game streak in this intrastate rivalry. "It beats the hell out of being down 7-nothing."
Special teams and defense — really good defense — did the rest.
The Bobcats managed just 204 yards, with 82 coming on a meaningless touchdown drive that ended with Nate Stewart's TD catch with 12 seconds left in the game. One of the top running teams in the FCS managed just 96 yards on the ground. Montana State also tried to fake a field goal and that turned into a touchdown for the Grizzlies' Justin Ford.
Montana State's defense was a positive after Bergen's TD, and especially after halftime. Humphrey had 213 passing yards at intermission, and under heavy pressure the second half completed 2 of 5 passes, with an interception.
The Grizzlies, who likely clinched a first-round bye into the Football Championship Subdivision playoffs (ESPNU will air its selection show Sunday at 10:30 a.m.), maintained excellent field position by shutting down the Bobcat run game and getting three dynamic punt returns from, you guessed it, Bergen.
Recruited to MSU by Jeff Choate, Bergen decommitted after Choate bolted for an assistant's job with the (4-6) Texas Longhorns. Bergen announced last April he was coming to UM, and when fall camp opened he was at receiver. Injuries forced UM to use him at running back, where he made several starts.
He was back at receiver Saturday. Bergen carried one time against the Cats, for 6 yards, and caught three passes for 82. Add in punt returns of 22, 21 and 31 yards, setting up Kevin Macias for two of his five field goals, and you have a game-changer.
"Having Junior back there, we wanted somebody who could catch it, and somebody who could do something with it," Hauck said. "The punt return unit did a great job today. I don't know what he averaged, but it was a lot. They had a hard time getting him down."
Having better luck tackling were the Grizzlies. Glacier High product Patrick O'Connell had 11 stops, including 1.5 sacks. Townsend's Jace Lewis had nine stops, and fellow linebacker Marcus Welnel had eight, including a sack.
MSU quarterback Matt McKay threw for 108 yards and tore off a 30-yard run to set up a first-quarter field goal. But the Grizzlies had four sacks and nine tackles for loss.
Montana State won the turnover battle 2-0, and it didn't matter.
Which brings us to Humphrey's second interception, thrown under a heavy rush directly to MSU linebacker Troy Andersen at UM's 31. MSU went nowhere, then lined up for a 37-yard field goal.
It was a fake, but the Grizzlies' Lewis flew in and knocked the ball away from holder Bryce Leighton. Ford, who saw his 8-game interception streak end, picked it up and raced 56 yards. Montana led 26-3 at 2:29 of the third quarter.
"Trying to create momentum," first-year Bobcat coach Brent Vigen said of the fake. "We'd just turned them over and then went backwards. We weren't doing anything offensively to seize the momentum. I thought we'd have an opportunity with that.
"I'll have to go back and look at it but obviously they made a play and turned it around. And that was about the end of it, right there."
MSU (9-2, 7-1 in the Big Sky) saw its nine-game winning streak end; Sacramento State (9-2, 8-0) sits alone atop the conference. But the Bobcats, ranked No. 3 in the FCS coming in, should get a home playoff game this coming weekend.
"I know we all wanted this so bad, especially for this senior class," McKay said. "It's a tough feeling. We're not done yet, though."
Neither are the seventh-ranked Grizzlies. Hauck envisions a top-four seed.
"I love this football team. I don't want this season to end," said Hauck, who's now 7-5 coaching in this rivalry. "Obviously it will come to an end at some point, hopefully we can extend it for a long time. But I'm very happy for our seniors."
Recent Headlines
---