Board rebukes accusation of 'rogue' health officer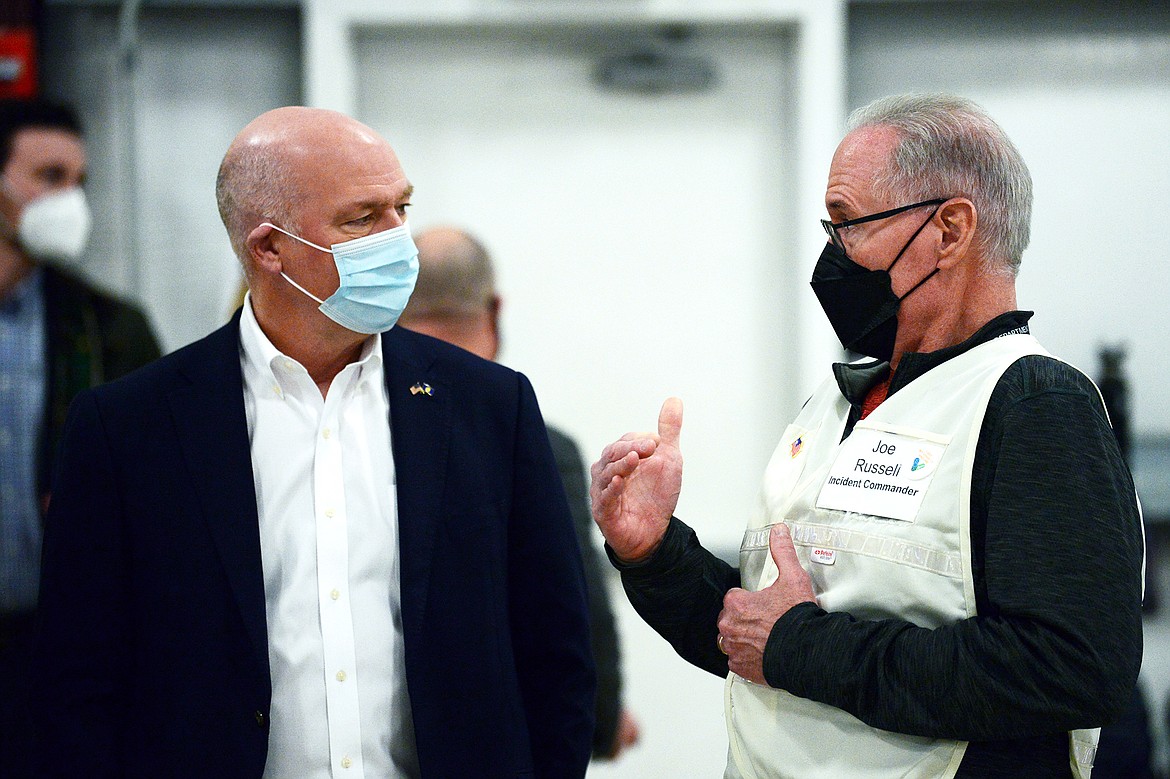 Montana Gov. Greg Gianforte speaks with Flathead County Health Officer Joe Russell during a tour of a Covid-19 vaccination clinic at the Flathead County Fairgrounds in Kalispell in this Feb. 12, 2021, file photo. (Casey Kreider/Daily Inter Lake)
by
MATT BALDWIN
Daily Inter Lake
|
November 20, 2021 12:00 AM
The Flathead City-County Board of Health on Thursday voted to update its by-laws to reflect a new interlocal agreement that gives Whitefish and Columbia Falls representation on the board, as well as to adhere to new laws passed by the state Legislature that subjects emergency decisions by local health boards and health officers to approval by elected officials.
The action item passed with near unanimous approval following a lengthy discussion about whether the bylaws should include further language that reins in the authority of the county health officer.
Ultimately the board brushed aside that suggestion from board member Dr. Annie Bukacek, and rebuked her accusation that the health officer was acting outside of his authority in issuing recommendations about Covid-19 safety measures.
Bukacek — the lone dissenting vote against the bylaws updates — suggested that Flathead County Health Officer Joe Russell had been acting "rogue" over the last year, making decisions without board input. She said the bylaws should give the board more authority to control the health officer's day-to-day actions.
"Since Joe has come on, I have brought up more than once that he is doing things without us even knowing," Bukacek told the board at Thursday's meeting, mentioning recommendations he had provided to local school districts.
"We've become a rubber-stamping board. The only thing that we could potentially have that is meaningful is some amount of supervision over the health officer," she said.
An exchange between Bukacek and Russell became heated as Russell defended his scope of authority, particularly when Bukacek questioned his power with quarantining and isolation — an authority that is granted by state law. Bukacek specifically asked why asymptomatic people were being quarantined.
"You isolate sick people and you quarantine exposed people," Russell explained. "This is an age-old public health principle. Does anyone want to contest that? I've been doing this for 35 years."
Board member Dr. Pete Heyboer added that quarantine measures aren't a new authority for the health officer, and that they're not exclusive to the Covid-19 pandemic.
"We have been quarantining asymptomatic people for a long time," Heyboer said, pointing to tuberculosis and other infectious disease. "There are many other environmental or bacterial transmitted illness where people have to be quarantined."
Russell also turned back unfounded accusations that he had mandated mask rules at a local school.
"Did not do that. Full stop. Did not happen." he said forcefully. "[The school board] made their own decision. I talked to the superintendent. They asked for input. I said 'this is a decision you are going to have to make,' and left it at that.
"I make decisions every day that are based in my authorities in [Montana law], and I will continue to make them," Russell said, noting that the health board's bylaws state that the officer's decisions can't contradict the board.
Ultimately, the board rejected the idea that they should be tasked with "micromanaging" the health officer.
"Joe has a job description that he has to follow," Flathead County Commissioner Pam Holmquist said. "And some of the job description is to make recommendations. That's part of his job."
ALSO AT Thursday's meeting, the board voted to send a letter supporting a grant application submitted by the Greater Valley Health Center, formerly the Flathead Community Health Center.
In June, the Flathead Community Health Center, established in 2007 as a division of the Flathead City-County Health Department, spun off operate as a private nonprofit in an effort to improve efficiency. The center serves roughly 8,000 Flathead Valley residents, and provides medical, dental, behavioral health and substance abuse treatment.
Holmquist commented that the center is an important safety net for the community, and that she supports its efforts.
The board approved sending the letter, with Bukacek as the sole vote against.
The board also OK'd a cooperative agreement between Montana Department of Public Health and Human Services and the county Board of Health. Russell explained that the agreement was an annual process for the board.
Matt Baldwin can be reached at 406-758-4447 or mbaldwin@dailyinterlake.com
---