Griz defense ready to measure up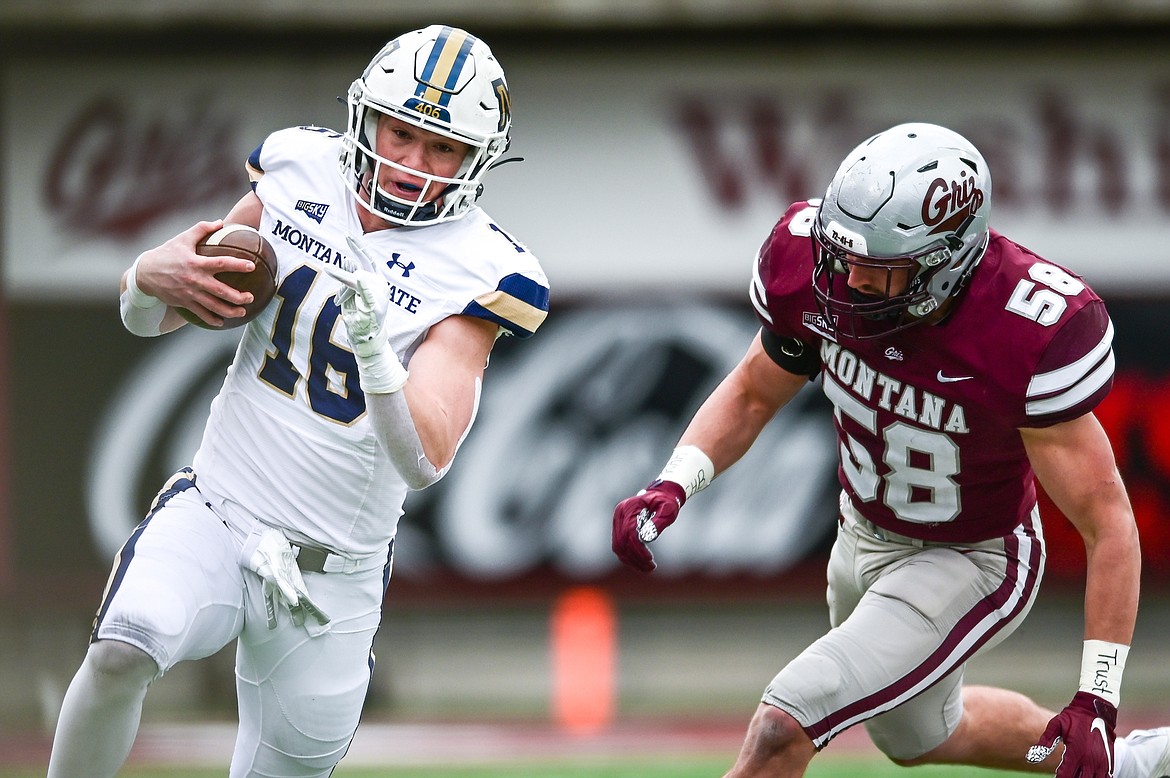 Montana State quarterback Tommy Mellott (16) tries to get past Montana linebacker Patrick O'Connell (58) during the 120th Brawl of the Wild at Washington-Grizzly Stadium on Saturday, Nov. 20. (Casey Kreider/Daily Inter Lake)
by
FRITZ NEIGHBOR
Daily Inter Lake
|
November 20, 2021 10:55 PM
MISSOULA — Two years ago the Montana State Bobcats ran all over the Grizzlies, piling up 382 rushing yards in a 48-14 win.
Saturday, in the 120th Cat-Griz game, or "Brawl of the Wild," or "Divide War," the Cats netted 96 yards on the ground and the Grizzlies prevailed, 29-10.
Montana's base defense is a 3-3-5, but the Griz often went with four down linemen and held Isaiah Ifanse (19 carries, 50 yards) and Co. in check.
Montana coach Bobby Hauck wasn't quite willing to put a "best-ever" tab on defensive coordinator Kent Baer's gang, but it was on the tip of his tongue.
"It gets thrown around a lot, in the sports world in particular," Hauck said. "But I'd be hard-pressed to name a Montana defense that was ever as good as this one. It may not be close. This is a great defense. They play together, they have great understanding, and they play kind of mean."
Ifanse came in as the Big Sky Conference top rusher, though he was knocked out of the Bobcats' 20-13 win over Idaho last week. He and Elijah Elliott both played after being questionable, but found little running room.
"The hope was (Ifanse) was going to have carries for 2 and 3 and 4 (yards) that would ultimately lead to some bigger opportunities," MSU coach Brent Vigen said. "He's a guy we just didn't get in the flow today.
"We had way too many three-and-outs (six)," added Vigen, whose club punted nine times. "But again, a fair amount of credit goes to Montana, just being the aggressor. My guess is that on first and second down, they were the more physical team, too. Third and long situations were going to be difficult today, we knew we couldn't get into them, and we did all too often."
Montana had nine tackles for loss. Patrick O'Connell, the junior linebacker out of Glacier High, ran his season totals to 13 sacks and 19 TFLs. Eureka's Garrett Graves chased down MSU's dangerous running QB, Tommy Mellott, for a 5-yard loss in the first half.
Just two examples of a defense that was on point.
"They're good tacklers, good coverage guys, they get off blocks, run to the ball," Hauck said. "It was a really nice complete effort today."
Happy return
The last time Justin Ford saw the ball put on the ground, it was against Dixie State, and he bobbled it, then tried a lateral that went (illegally) forward.
Saturday he scooped up a fumble forced by teammate Jace Lewis and went 56 yards for a game-clinching, third-quarter touchdown. Safety Gavin Robertson deserves credit for delivering a crunching block on the play. Credit also goes to the fundamentals.
"Last time against Dixie State, I picked it up with one hand and kind of missed the ball," Ford, whose 8-game interception streak ended, though he broke up two passes. "So this time I got both hands on it."
Speaking of returns
Junior Bergen hadn't returned a punt for the Grizzlies before Saturday; then he returned four for a total of 75 yards against the Bobcats.
"We were in position to make tackles," Vigen offered afterward. "That's my immediate thought, and we just didn't bring him down."
Bergen's 163 all-purpose yards (82 receiving) give him 681 on the year; just like that he's the team leader, overtaking Malik Flowers (639) and Mitch Roberts (634).
It was noted at the post-game press conferences that Bergen, a true freshman, had signed with the Bobcats last December, then switched allegiances when MSU coach Rob Choate left for Texas.
"Well, we don't really think of it that way," Hauck said of the possible recruiting coup. "But now that you've asked the question: I"m glad he figured it out. I like having him on our side."
Vigen's last question was about his conversations with Bergen upon the coach's hiring in February.
"I'm going to leave that alone," he said.
Trio of QBs
Griz quarterback Cam Humphrey was sacked five times Saturday, and knocked to the turf just as many times. He eventually gave way to backups Kris Brown and Robbie Patterson, but Humphrey's nifty feet kept plays alive in the first half, when Montana dominated possession.
"I knew I was going to have to stand in there," said the senior. "When you stand in the pocket you're bound to take some shots. I was ready for that. I knew that I needed to do that, to get us to move the ball down the field. I feel like I did a pretty good job of that today."
Montana's lead in the series, which was skipped in 2020 because of Covid-19, is now 73-42-5. The Bobcats had won the last four.
"Surreal for sure," Humphrey said of the win. "I've been here a handful of years now and it's unfortunate it hasn't gone our way in the past. So to see it go our way, and in a dominant fashion like it was, was really exciting. Couldn't draw it up any better."
QUICK KICKS
Montana State used linebacker Troy Andersen, formerly an all-Big Sky running back and quarterback, on offense for a series in the fourth quarter. … When the game ended the Griz grabbed the Great Divide Trophy, carried it to their sideline and sang the school fight song, twice. … Griz place kicker Kevin "Money" Macias went 5-for-5 on field goals, and is now 18-for-22 on the year. … Ford's touchdown was his second this season and the sixth for the Griz defense.
Recent Headlines
---