Marion Morrison Muller, 91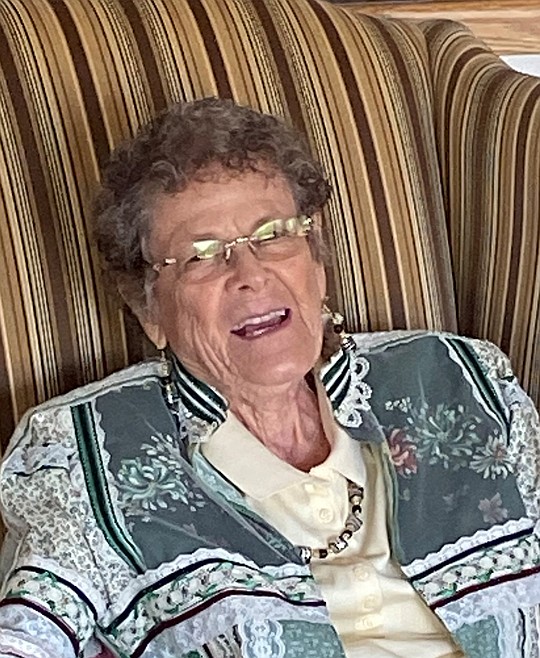 |
November 21, 2021 12:00 AM
Marion Morrison Muller passed on Oct. 10, 2021, while surrounded by her loving family.
She began her journey through life with her parents, pastor James D. Morrison and Marion R. Wilder, on Oct. 29, 1929 in Rochester, New York.
She married Robert "Bob" Muller, then a medical student, in 1952. They lived in Michigan, Idaho, Montana (1958-1981) and Arizona (1981-2021). She ran Bob's radiology billing office before their retirement to Sun City, Arizona.
Marion and Bob loved the outdoors and were quite the team. Family memories surrounding her include: the yellow Jeep that ferried kids all over Kalispell; she was a superb seamstress, sewing dresses for her daughters for Rainbow for Girls as well as may other occasions, plus she crafted personalized Christmas stockings covered in memories of the year for family members; hunting with Bob; fishing in Alaska, Idaho, Arizona, Ashley Lake and Canada; float trips in Idaho and the Grand Canyon; flying coast to coast in planes Bob owned or built; golf at Buffalo Hill and Arizona; searching for Henry the basset hound, only to find him on a neighbor's couch; Betsy the beagle; the riding mower rolling out of the Jeep on Meridan Road; decorating the moose head for Christmas; hockey night after skiing while eating Moose's Pizza; reading with her as a young child; stealing lemon drops from her suitcase and Disneyland Big Band weekend.
She came from the entertaining era and was the perfect hostess. She loved food and was a gourmet cook. Family dinners consisted of everything from venison to hot dogs. Her entertaining often extended beyond dinners to gatherings with friends. Christmas often included friends.
Marion was a strong advocate for the growth and education of her children, grandchildren and great-grandchildren. Throughout her life she cheered for them at recitals, athletic events, and educational advancement. She would stay in touch when they were far away and leveraged their support in her later years. Her honesty and love were timeless as she built relationships with them throughout their lives. She cherished time with each of them. She found tremendous delight in being a humble motherly figure and wasn't shy about sharing the love or laughter that they brought. She was encouraging through challenges, gently gave tough love when needed, and support through her lifetime. She encouraged formal education beyond high school for each and was a longstanding member of P.E.O.
She was courageous in both life and death.
She was preceded in death by her brother George Morrison (1977), husband Bob (2009), and her sister Mary Faucher (2017).
She is inurned with Bob at Hansen Desert Hills Memorial Cemetery in Scottsdale, Arizona.
Marion is survived by her brother Jamie Morrison and sister Patsy Bloomgren; her children, Diane Muller, Rick Muller, (Susanne Sherba), and Barbara Morrow (Brad); four grandchildren, Kelsey Fulton (Rich), Molly Schulte (Rob), Robert Morrow and Betsy Morrow; and five great-grandchildren Margaret, Michael, Markie, Mac and Leona. She adored her family and will be greatly missed.
Interested parties may view her service at https://vimeo.com/630247667.
---