Whitefish Handcrafted Spirits finds a welcome home in Evergreen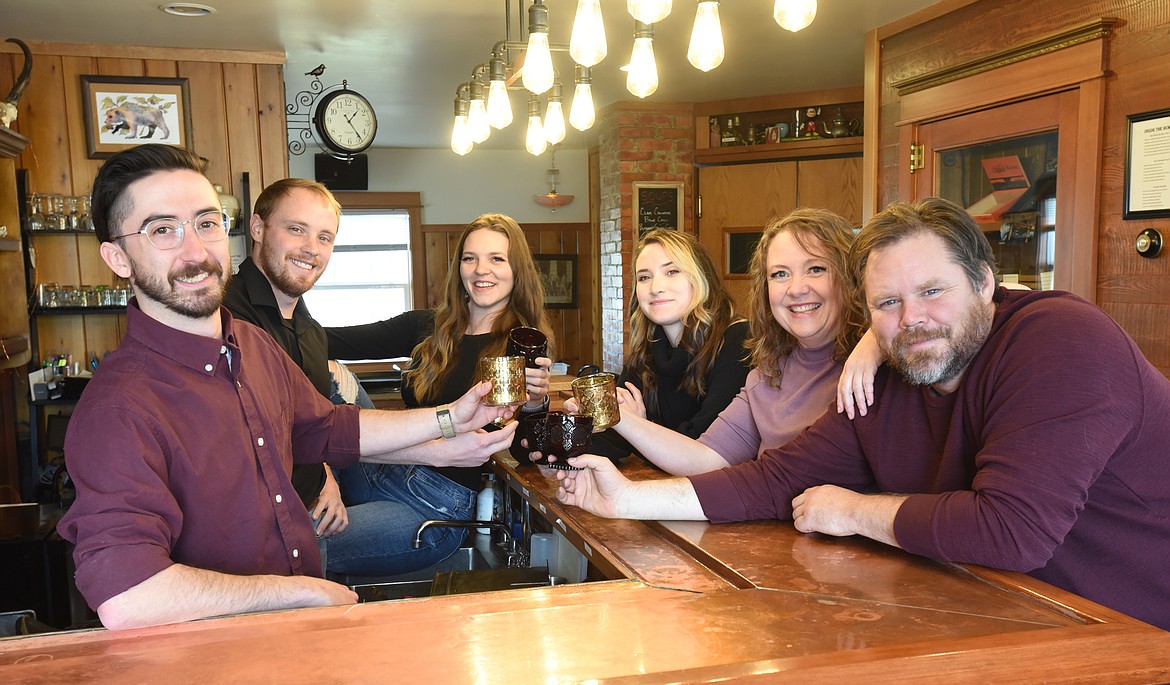 The crew of Whitefish Handcrafted Spirits, counterclockwise, are Clint Courtney, Matt Sefcak, Jasmyn Stratton, Rebecca Hafferman, Danette Sefcak and Tom Sefcak. (Scott Shindledecker/Daily Inter Lake)
by
SCOTT SHINDLEDECKER
Daily Inter Lake
|
November 22, 2021 12:00 AM
In Evergreen, a popular distillery created in Whitefish years ago has found a home.
Whitefish Handcrafted Spirits, owned by Tom and Danette Sefcak, may have had its birth in the Whitefish, but Evergreen has proven to be a better fit.
"We love the way we've been welcomed by the Evergreen community," Danette said. "We're grateful and we really feel like we're part of the community."
The Sefcaks vacationed in the region many years ago and quickly realized it would be a better home than where they lived in California.
They opened their Whitefish location in 2016 before moving to Evergreen in 2017.
"Now we're the highest rated restaurant in the Kalispell area," Danette said. "I feel like we've made it, so it's very gratifying to be where we are now."
Owing to the business name, specialty spirits are a major focus of the operation, but its food has taken the popularity to another level.
Google reviews by locals and visitors seem to be universal in appreciation for the varied menu and flavorful drinks that are distilled in house.
"This summer was overwhelming," Danette said. "Word got out and with the great reviews we were getting on Google, Yelp and Facebook, we were slammed."
The restaurant is open from noon to 8 p.m. Thursday through Sunday. Danette said the hours of operation have allowed them to have a life as well as the time to distill their liquors.
The summer of 2019 was the breaking point. For 16 weeks, the eatery was open seven days a week.
"We were working 13 hours a day and there were times I felt like crying," Danette said. "We said no more.
"We fell into a trap of seven days a week," she said. "We went to five days a week, then back to seven. It wasn't worth it. We may be leaving money on the table, but we'll never go back to seven days."
RUNNING A distillery is like a whole separate business, Danette said.
"The food is meant to pay the bills, but the restaurant was taking away from our focus on the distillery," she said. "We're 100% scratch from grain to the bottle and there are a lot of logistics involved, such as ordering supplies.
"Now we have time to run the distillery and time to ourselves," Danette said.
The Covid-19 pandemic forced the business to pivot toward making hand sanitizer in 2020 when the product was in great demand.
"We were growing our inventory, so making sanitizer for assisted living facilities and nursing homes helped us get through 2020," Danette said. "Now, we're just catching up with our inventory. We used to be able to get a shipment of 10 pallets of bottles at one time; now it's just one."
The distillery ships its spirits to liquor stores all over Montana.
It also has a new item ready to hit the shelves soon — canned cocktails.
"The cans are designed and made," Danette said. "We bought a chilling machine from Germany and Advanced Refrigeration (an Evergreen business) has helped us get it working. We've got our Co2 from Norco (another Evergreen business), so those local partnerships have been rewarding."
The spirits that have been extremely popular are "Highline Rye" and "Christmas Orange," a rumless spice.
"We're extremely proud of "Highline Rum," Danette said. Disneyland's Club 33 chose it as one of the liquors it serves. That's a pretty good feather in our cap."
Club 33 members pay a $25,000 initiation fee and $10,000 annually.
Fans of the restaurant's cuisine also have high marks for their food selections.
"I love a lot of different foods and much of what we serve is inspired by what we've had in our travels," Danette said. "We try to make it food you wouldn't normally find here and it's made with love. It's my passion and part of our mission — to have people in who feel welcome, warm and loved."
CIGAR LOVERS will also find a home at the establishment. Tom is a cigar aficionado and during rare occasions when there was down time while he worked in the Bakken oil fields, he and some co-workers smoked cigars on the front porch of a house where they lived.
"We created the Polar Bear Club and it was a great way to decompress," Tom said. "We'd smoke long cigars on nice and short ones on the cold days. Now, it's a hobby, but we offer 24 different types of cigars and even varieties Clint Eastwood smoked in his spaghetti Westerns."
Whitefish Handcrafted Spirits is also working with Glacier Symphony as they celebrate Maestro Zoltek's 25th anniversary with the orchestra. Money raised from the sale of Whitefish Rock Creek vodka will support the symphony.
For more information on Whitefish Handcrafted Spirits, see their Facebook page, call 406-890-2300 or visit whitefishspirits.com.
Reporter Scott Shindledecker may be reached at 758-4441 or sshindledecker@dailyinterlake.com.
---