Big Sky Notes: Playoff-bound EWU Eagles seeing red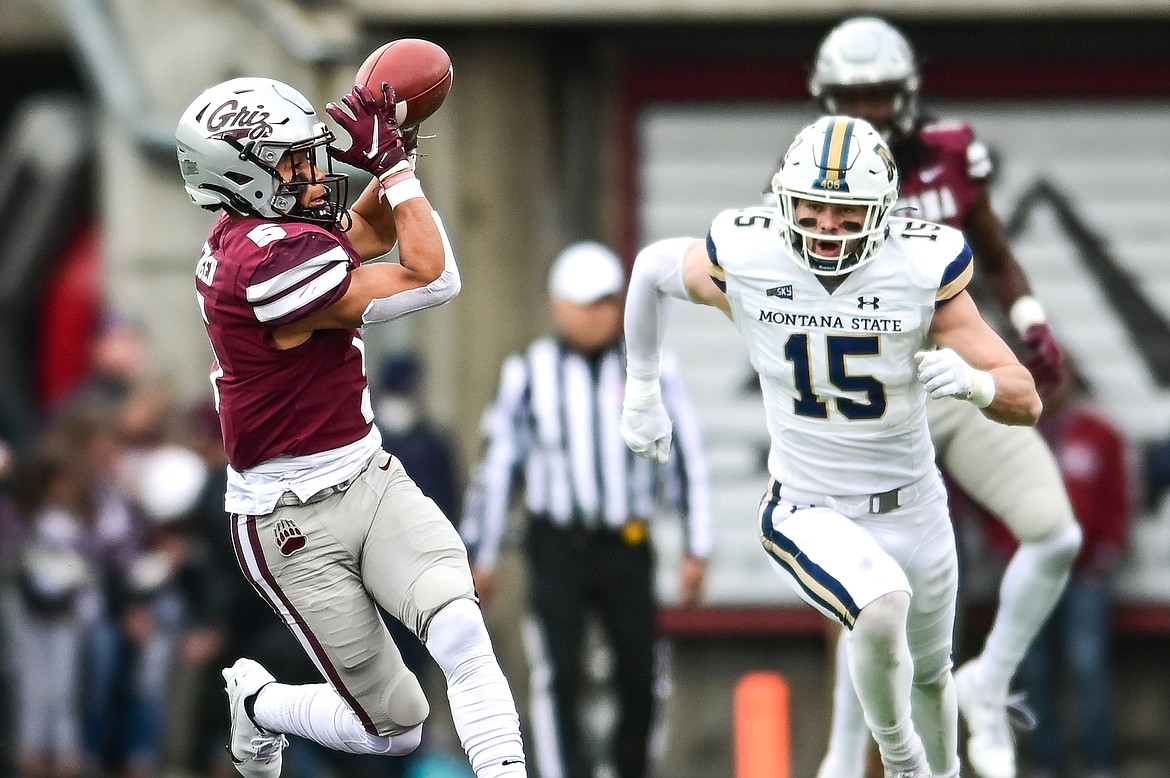 Montana running back Junior Bergen (5) catches a 74-yard touchdown pass in the first quarter against Montana State during the 120th Brawl of the Wild at Washington-Grizzly Stadium on Saturday, Nov. 20. (Casey Kreider/Daily Inter Lake)
by
FRITZ NEIGHBOR
Daily Inter Lake
|
November 23, 2021 10:40 PM
It's Football Championship Subdivision playoff time, and the Eastern Washington Eagles are seeing red.
The Eagles will be home Saturday to play Northern Iowa on their red Roos Field turf, but at least one squad member feels snubbed: all-Big Sky receiver Talolo Limu-Jones.
On Sunday the Eagles' Twitter account (@EWUFootball) posted an interview in which Limu-Jones voiced disappointment on Eastern not landing one of the top eight seeds when three other Big Sky teams — Montana, Montana State and Sacramento State, all 9-2 like EWU — did.
"I wasn't surprised by the first four (seeds)," he said. "But like the second four? It's like, 'Come on, we deserve to get one of those seeds.'"
Limu-Jones questioned the schedule strength of league champion Sacramento State.
"You can look at their record and see who they played and didn't play, and see who we played," he said of the Hornets. "Congrats to them on winning it all, including the 'ship, but personally I don't feel like they played anybody hard."
His thoughts turned to the Montana Grizzlies, who lost to EWU 34-28 on Roos Field in Oct. 2, then to Sac State 28-21 two weeks later (and credit the Missoulian's Frank Gogola for finding the interview). If the Eagles beat UNI, they'll be in Washington-Grizzly Stadium on Dec. 3.
"It's going to be cool because we have to win this week, and then we get to travel down to go see them," he said of the Griz. "They put them above us. ... We beat them on ESPN2. They have to see us again, and I'm pretty sure they don't want to."
Montana has won five straight since the Sac State loss; Sac State has won nine straight since a 42-30 loss at Cal. The Hornets' other loss came 34-16 at home to Northern Iowa on Sept. 11, in a game where they had six turnovers.
Eastern, meanwhile, won two straight after back-to-back home losses to Weber State and Montana State.
Some of this may have mattered to the FCS playoff committee. It doesn't matter to Limu-Jones.
"They shouldn't have snubbed us," he said.
Wondrous Walk-ons
Now that the dust has cleared on Montana's 29-10 win over Montana State in the 120th Cat-Griz game, we can revisit the fact that the Grizzlies, once again, have found a fortune in walk-ons.
This goes especially at linebacker, where starters Marcus Welnel (Helena), Jace Lewis (Townsend) and Patrick O'Connell (Kalispell) all were walk-ons, as were backups Braxton Hill (Anaconda) and Levi Janacaro (Missoula Big Sky).
O'Connell's journey from two-sport athlete at Division II University of Mary (N.D.) to all-Big Sky linebacker is pretty well-documented. The Glacier High graduate showed up for winter conditioning in 2019 and ended up leading the Griz in sacks that fall.
He and Janacaro are AA kids who might be expected to shine; Lewis and Hill came from the Class B ranks, which is fitting for Bobby Hauck, a graduate of Big Timber whose brother Tim is an all-time Grizzly great.
"I've always had an affinity for walk-ons," the coach said. "Small-town Montana kids are the foundation of this program. It's always exciting to me to see them get out there and have a chance to make plays."
O'Connell had a team-high 11 tackles Saturday, followed by Lewis with 9 and Welnel with 8. The trio ranks 2-3-4 in season tackles behind safety Robby Hauck, and O'Connell's overall stats are pretty astounding: 91 stops, 19.5 tackles for loss, 13 sacks, five quarterback hits, three fumbles forced and one recovered (for a touchdown).
Hurt, and Hurting Themselves
The Bobcats had a hard time for Montana's defense Saturday (and vice-versa), and some of the issue may have been due to the loss of right tackle TJ Sessions with a leg injury. Freshman Rush Reimer replaced the senior.
First-year MSU coach Brent Vigen had nothing but positives for Reimer, but added: "That's a less than ideal situation, losing TJ. But we're at that part of the season where that's just part of the deal. Guys need to step up."
Also hurting MSU were back-to-back false starts on its first drive, after reaching Montana's 4-yard line (the Cats settled for a field goal) and an offsides penalty that negated an interception by MSU's Troy Andersen (the Big Sky defensive player of the year got a pick later);
"You can't have that," Vigen said. "This is a game where we knew full well we couldn't make a lot of mistakes, and we made enough of them."
There was also spotty punt coverage, which Vigen partly blamed on punts that didn't have the desired height, giving Griz return man Junior Bergen more room.
"That happened a little too often, but again we had to punt way too much," Vigen said.
Not a Classic
Any thought that Sac State might falter on the road Saturday went away pretty early in the Causeway Classic against UC Davis, when the Hornets drove to a touchdown — an 11-yard jet sweep by Isaiah Gable — on their first possession.
Freshman running back Camer Stattebo put the Hornets up 17-0 with a 37-yard burst. He had 69 rushing yards. Quarterback Jake Dunniway (a 2017 redshirt at Davis) was 13 for 19 passing for 194 yards. Fellow QB Asher O'Hare ran for 62 yards and a score. The Hornets led 27-0 and won 27-7.
Sac State has had some close road wins (23-21 at Idaho State, 27-24 at Northern Colorado) along with a solid 28-21 win at Montana. The Hornets were facing the No. 2 rushing offense in the league, but held Davis to 73 rushing yards while gaining 192.
"We came out and took the ball, and scored first," coach Troy Taylor told the State Hornet, a student newspaper. "Usually when we do that we're in pretty good shape."
Infamous Potato Bowl
When Pocatello's Idaho State Journal broke the news Saturday morning that Rob Phenicie was out as ISU's football coach after five seasons, it meant that afternoon's game featured two soon to be unemployed HCs.
The University of Idaho gave Paul Petrino his walking papers earlier in the week; he went 34-66 in nine seasons with the Vandals, including a 14-0 win at Idaho State Saturday.
Phenicie, Hauck's offensive coordinator at Montana from 2003-09 and later at UNLV, went 16-35 with the Bengals, including a 9-23 mark in Big Sky games and a 4-24 record on the road.
Signed to a two-year extension in January, Phenicie will be paid $168,875 next season. He moved up from OC when Mike Kramer retired in 2017 after back-to-back 2-9 seasons.
Phenice was 4-7 his first year and then in 2018 had the Bengals on the cusp of the FCS playoffs before dropping games to Cal Poly and No. 3 Weber State. The ending up 6-5; it was the Bengals' first winning season since going 8-4 in 2003. Then they were 3-9 in 2019 and 1-10 this year.
"I know I had to be a better head coach," Phenicie told the ISJ. "I can't be upset at the decision because your record is your record. Bottom line is you need to win games."
Phenicie's offensive coordinator was former Griz standout receiver Mike Ferriter, and his DC was former MSU standout linebacker Roger Cooper.
QUICK KICKS: UM's Hill was credited with a quarterback hit Saturday. … Montana kicker Kevin Macias, who got no mention in the Big Sky honors teams, is 18 for 22 on field goals this season. … Petrino had one winning season at Idaho, when the Vandals went 9-4 as an FBS and won the Famous Idaho Potato Bowl. … Montana's Cat-Griz victory was its first over a team with a winning record this season.
Recent Headlines
---