Aluma Glass makes move to Evergreen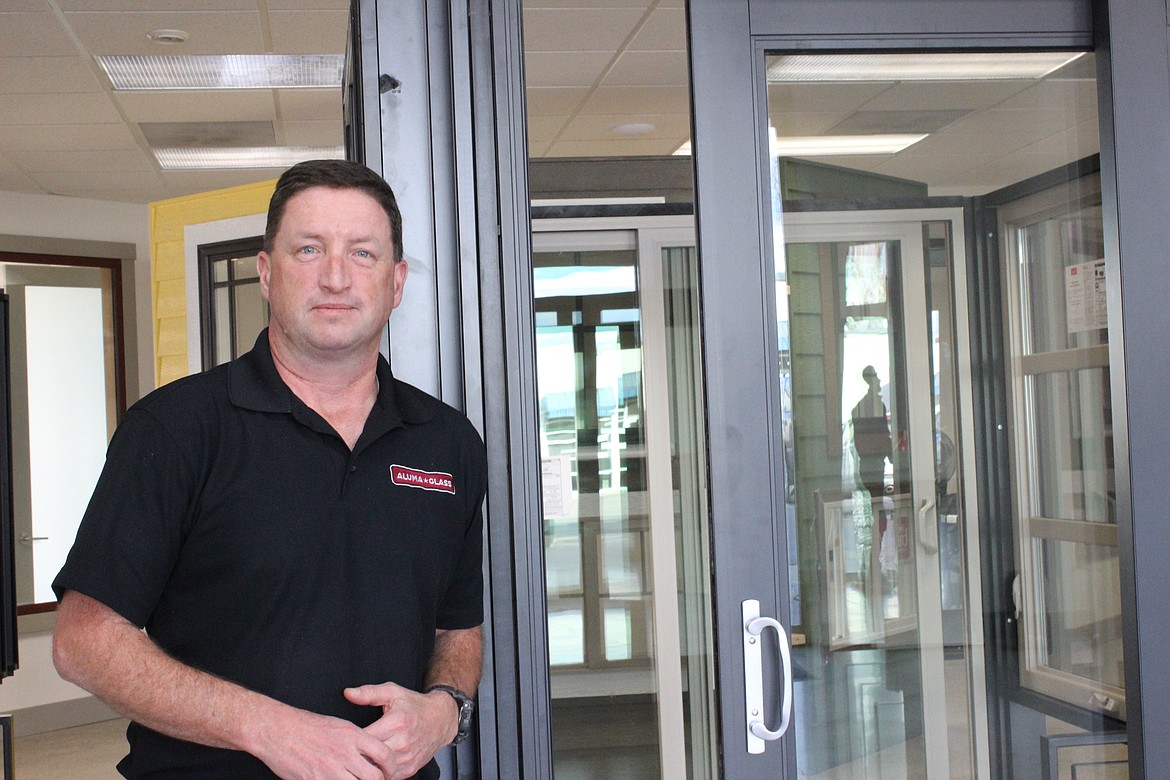 Aluma Glass General Manager Chris Parson in the company's new showroom in Evergreen. (Taylor Inman/Daily Inter Lake)
by
TAYLOR INMAN
Daily Inter Lake
|
November 23, 2021 12:00 AM
Kalispell's oldest glass company has moved locations for the first time in its 50-plus year history. Aluma Glass is making their new home in Evergreen and it offers the business a little extra elbow room, plus more to grow.
As living in the Flathead Valley gets more popular, so does Aluma Glass. They sell and install windows, doors and special glass products. General Manager Chris Parson said the company fell under new leadership in 2014 and since then they have grown alongside the valley.
"Certainly in the last few years, we have felt that consistent flow of jobs and projects coming through that doesn't seem to ever break — it just seems to be this constant flow of work. Where often, we'd see slow periods like now (during November) we'd usually start to wane. But we haven't seen that, the past few years it's been pretty steady," Parson said. "And in the summer, way more than just steady,"
Parson said the company has doubled its staff from 2014 and could probably hire even more people. Aluma Glass has been so busy that its old location in downtown Kalispell started feeling a little cramped. Parson said it became challenging for employees to move around inventory and for deliveries to be dropped off.
"There wasn't enough space there to maneuver all of our vehicles and all the trucks that bring in our glass and things, so that was probably the biggest factor," Parson said. "Seeing a space like this that was able to offer us more room for not only office space, but also managing windows coming in and out, and products coming in and out."
The new location also allows them to have a showroom for their products for the first time. Parson said being on the property allows them to build another inventory warehouse as well. He said they have been keeping up, but it has oftentimes been difficult to keep up with customers' demands for certain products, so that's what they are focusing on next.
"I think we're continuing to look at where the market is going," he said. "But, more than just the contractors, we're listening to the community. When they call in, what are they asking for? What are we seeing, where can we start to get a few more things in? Because, with the fast pace we've had for the past couple of years or so, it's been just to keep up, and we're still kind of at that mode where we're keeping up, but also listening and figuring out where we can grow."
PARSON SAID all of the new business and demand for new products is not an issue, but lately, getting products in at all has been. He said dealing with supply chain issues has been their biggest burden.
"It just keeps getting pushed back, whether it's product from in-country or out-of-country, it doesn't seem to matter right now. Where products would get pushed back before, it would be 6 weeks and now it's 10 to 12 weeks, what used to be 7 to 8 weeks is now 15 to 16 weeks. It does start to impact things a little bit," he said.
Supply chain issues are being felt across many industries due to interruptions from the Covid-19 pandemic. Parson said he has also noticed an uptick in glass that gets delivered broken.
"It feels like more than in the past we've had problems with glass showing up broken or damaged in some way, which forces us to reorder it and then you get pushed back, and you have to wait six more weeks, and that is happening more. Hopefully it doesn't get any worse, it doesn't seem to be, but it's something we're definitely dealing with. It's not every week, but it seems like every couple of weeks there's a product going back," he said.
Despite dealing with these issues, Parson said they do their best to make sure customers receive their products on time.
Aluma Glass is happy to be among other similar businesses in their area of Evergreen. The new location is at 112 Cooperative Way nearby Kalispell Glass, Dakota Supply Group and Lilienthal Insulation Company. Parson said he believes customers find its new location is also easier to access.
"For some, it was obviously more convenient to go downtown, but for many, especially many of our contractors that we work with, I think they find this much easier to get to, much more accessible," he said.
Aluma Glass still owns its previous building and has plans to lease it to a business looking to move downtown.
"That gives another opportunity to downtown and kind of fits that area well, so that's cool, that's a benefit of downtown," Parson said.
Parson said as long as they don't see any trends in the market that could indicate a slow down, Aluma Glass will continue plans to grow and expand its operation.
Reporter Taylor Inman may be reached at tinman@dailyinterlake.com.
---