Sykes continues its beloved community Thanksgiving dinner tradition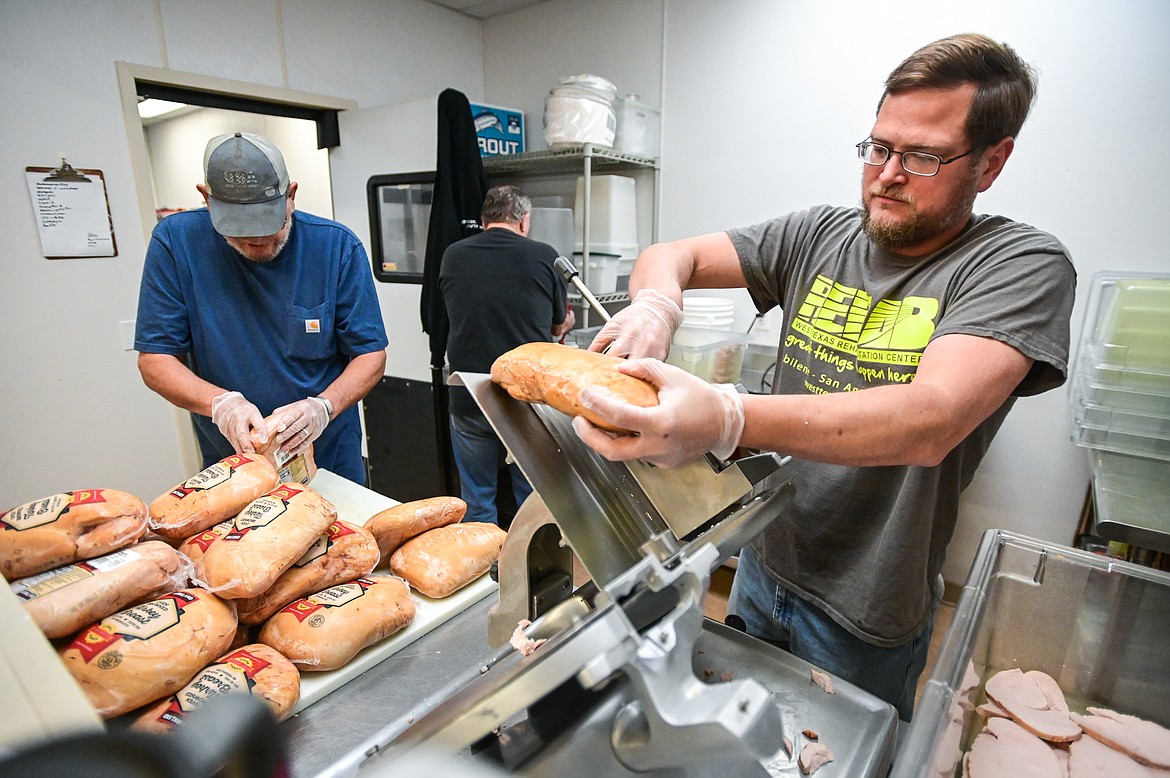 From left, volunteers Monty McIlhargey, Phil Anderson and Erik Anderson slice turkey in preparation for the Thanksgiving dinner at Syke's Diner on Tuesday, Nov. 23. (Casey Kreider/Daily Inter Lake)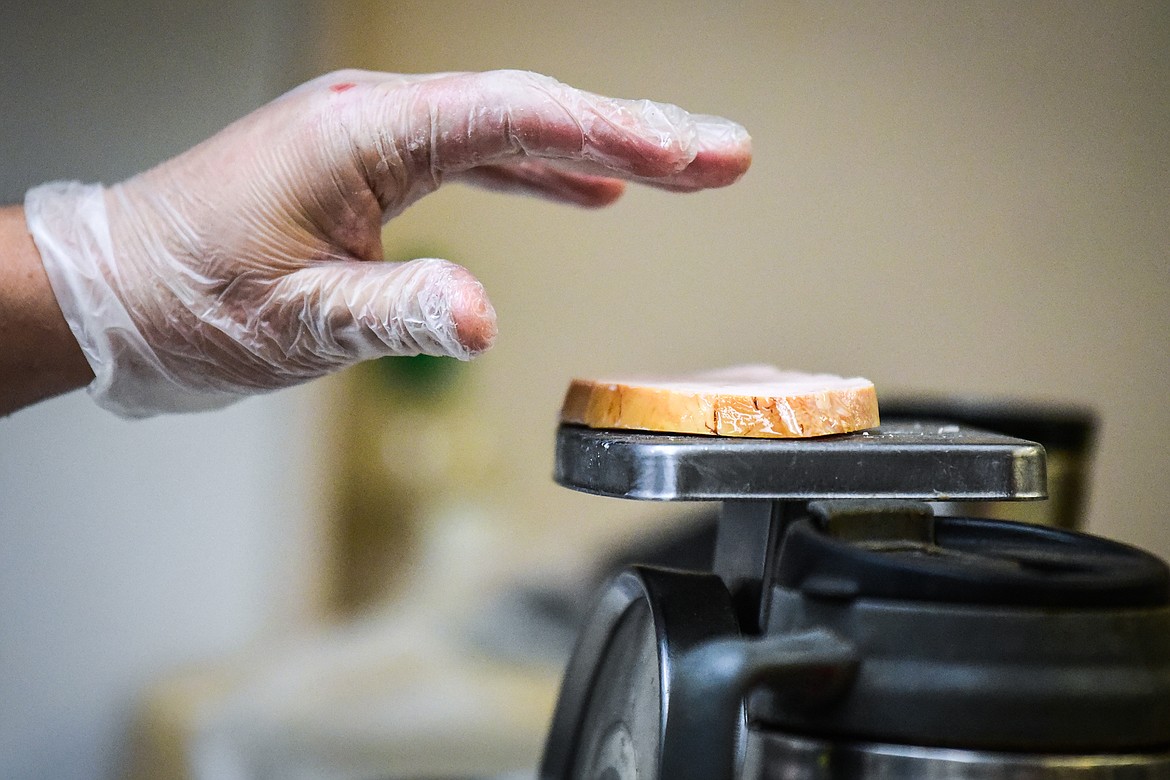 Erik Anderson weighs slices of turkey in preparation for the Thanksgiving dinner at Syke's Diner on Tuesday, Nov. 23. (Casey Kreider/Daily Inter Lake)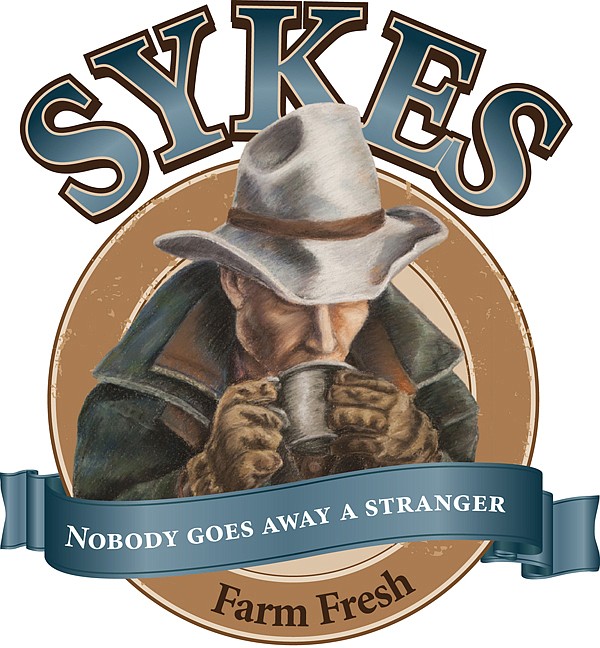 Previous
Next
by
CAROL MARINO
Daily Inter Lake
|
November 25, 2021 12:00 AM
Thanksgiving wouldn't be the same in Kalispell if Sykes Diner didn't invite the community to come in for its traditional holiday dinner free of charge.
The restaurant, after all, has been doing just that for nearly 40 years.
People from all walks of life and all ages enjoy Sykes' Thanksgiving Day community celebration of fellowship and old-fashioned home cooking. Each year, guests are served a meal of roasted turkey breast, ham, stuffing, mashed potatoes, green beans and rolls, along with Sykes' famous 10 cent coffee and beverages. The 90 pies are compliments of Valley, Glacier and First Interstate banks.
Not only does Sykes expect to serve between 800 and 1,100 people dinner from 11 a.m. to 2 p.m. today, either dine in or take out, but volunteers will be out delivering up to 250 meals.
According to Sykes' General Manager Pam Haase, her husband, Chef Rick Haase, spends from $3,000 to $5,000 each year on Sykes' Thanksgiving dinner. Thanks to the generosity of the community, about half of the money is recouped in donations. Rick also donates his time in preparing the meal, which takes about two days and consists of 300 pounds of both turkey breast and ham and 350 pounds of potatoes. For the last eight years (excluding 2020 when the pandemic forced the event to be canceled) Rick has been in the kitchen by 6 a.m. on Thanksgiving Day. Pam also lends a helping hand. At the end of the day any leftovers are delivered to the Flathead Food Bank.
FOR MORE than 115 years the iconic Sykes has staked claim on the corner of Second Avenue West and Second Street in downtown Kalispell.
The beloved market was owned by Doug and Judy Wise for over 60 years from 1945 to 2008; the diner was added in 1976 and the pharmacy in 1981. After the Wises sold the business in 2008 to Mike McFarland, who fought to maintain its financial viability, it then went through a period of uncertainty as prospective buyers declined interest in keeping the market or restaurant, and the popular gathering spot was shuttered for two years.
Much to the community's relief, it was purchased by local businessman and Semitool founder Ray Thompson in 2010. He wanted to preserve its original purpose and character as a place folks could sit down to visit with friends and neighbors, while enjoying a homecooked meal and a cup or two of Sykes' coffee.
And every year, since the Wises owned the business and since Ray Thompson remodeled and reopened it, the community has been invited to come in for its free Thanksgiving dinner. There's really nothing else quite like that in the Flathead Valley.
"It's a great community event and it's truly the community who puts it on," said Mike Thompson, the son of owner Ray Thompson and a 1982 graduate of Flathead High School. "Most of the staff takes the day off, so it's all volunteers for the most part — some of them have volunteered for the last 10 years — and they enjoy doing it."
"We want to thank this great community for giving their time to help out and share their kindness along the way," Pam said.
EVER SINCE Sykes reopened in 2010, Mike has organized all 130 to 140 volunteers for Thanksgiving, while also spearheading the delivery of meals throughout town. For the last three years, Kris Sell also has helped coordinate the effort.
Each year after the meals are put together and boxed up, Thompson organizes 15 to 20 teams of volunteers and gives them delivery routes.
"We deliver to the homebound, the elderly, those with limited mobility," Thompson said. "Each team has about eight meals to deliver, so they have time — and I encourage them to — visit a bit. That's what Sykes is all about, that personal contact."
Indeed, Sykes' motto, and Doug Wise's oft-said line, is written right on the outside of the diner — "Nobody goes away a stranger."
Sykes has come a long way in its lifetime, first under the loving care and hard work of Doug and Judy Wise, and then after Ray Thompson bought it.
According to an article published Oct. 1, 2010, in the Daily Inter Lake, Thompson put Semitool's facilities manager Dave Jolly in charge of a complete renovation of the building and hired Jayson Peters, a Flathead Valley native who, like his wife, had been coming to Sykes since they were kids, to establish and manage the new restaurant. The totally remodeled and naturally lighted building was back open in time to once again serve its free Thanksgiving dinner in 2010.
In a nod of respect to Doug Wise, who would be at work by 4:30 every morning and Judy, who would be in by 7 a.m., Thompson kept a small square of well-worn flooring by the kitchen near the couple's favorite table where they could often be seen jumping up to serve their customers.
"For a lot of people, Sykes' Thanksgiving dinner is the first good meal they've had in a long, long time," Mike Thompson said. "We see a lot of transient customers and people living on the street. But it's also for the regulars who just enjoy coming in and maybe throw some money in the can. And it's for those who don't have anyone else to share a meal with on Thanksgiving and they come for the fellowship."
For the Thompsons (Ray's wife Ladiene plays piano daily at Sykes) and the Haases, the rewards are great.
"Seeing all those happy faces and people glad to be together is everything," Pam said. It's a family atmosphere. People feel loved. They feel welcome, and we're happy to see them."
Community editor Carol Marino may be reached at 406-758-4440 or community@dailyinterlake.com.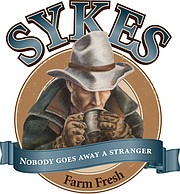 ---