Small businesses prepare for long holiday season
Nicole Bisom and her daughter Paisley shop for toys at Imagination Station in Kalispell on Wednesday, Nov. 24. (Casey Kreider/Daily Inter Lake)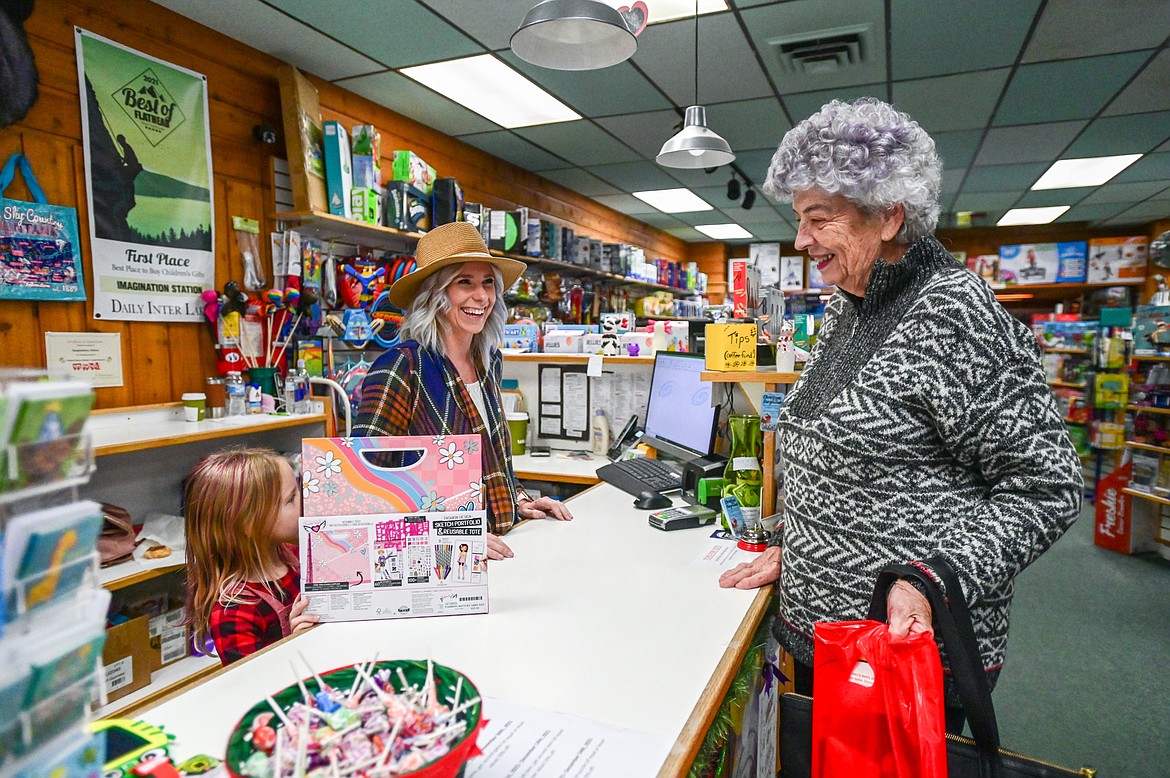 Myrella Harsh, right, chats with Katie Morrison and her daughter Kinley after making a purchase at Imagination Station in Kalispell on Wednesday, Nov. 24. (Casey Kreider/Daily Inter Lake)
Previous
Next
by
BRET ANNE SERBIN
Daily Inter Lake
|
November 26, 2021 1:00 AM
Small Business Saturday is back after a hiatus due to Covid-19 last year, but like the shift seen with other traditional holiday shopping events such as Black Friday, the focus is now on the entire season instead of a single day.
Shopping trends are in flux this season, and Flathead Valley business owners are changing with the times. For many stores, that means busy days all season long, and not a traditional stampede of shoppers directly after Thanksgiving.
"For us, it's a really good symbolic kick-off weekend," said Jon Lupton at Snappy Sports Senter in Evergreen. "It's not a doorbuster for us."
Snappy's is one of various local retailers adapting to a longer holiday shopping season, as large retailers have by and large foregone traditional in-store Black Friday sales. Many large corporations have started offering early Black Friday deals, particularly for online shoppers. Smaller stores like Snappy's have to adjust accordingly.
"For us, being a small local retailer, it's so hard to compete with the sensationalism that comes from the box stores," Lupton said.
Instead of trying to compete, Snappy's will be running business as usual. The store will open for its normal hours from Friday onward, although Lupton said the outdoor supplier is putting emphasis on marketing to encourage local shopping.
Fortunately, Lupton said, the Flathead community already seems supportive of the movement to shop locally.
"The Flathead Valley treats their local businesses very well. They tend to do that year-round," Lupton said. "It's nice to have that support. It's nice there's kind of a national movement to shop local."
A MAJOR part of that movement is Small Business Saturday, an initiative started by American Express to encourage shoppers to visit retailers close to home to check off their holiday gift lists.
This year, the Kalispell Chamber of Commerce is extending Small Business Saturday into Small Business Season to reflect the evolving trends in commercial behavior.
Small Business Season will feature promotions for local businesses from Nov. 28 until Christmas Day.
"It has been for years Small Business Saturday, but really with the way folks shop these days, so many places turn it into a season," pointed out Jenn Cronk, the administrative services manager for the Kalispell Chamber of Commerce. "What better way to take Small Business Saturday and expand it to highlight our small and local businesses in our community to make it about the shopping season that really is what occurs."
One of the goals of the seasonal approach is to remind shoppers to look beyond material gifts for less conventional purchases such as experiences and gift certificates to local restaurants.
Cronk said she hopes the promotion sheds light on the variety of businesses in the valley.
"There are wonderful, wonderful places to find virtually everything you need right here in town," she said.
ANOTHER ELEMENT of the campaign is helping member businesses plan for the season with scheduled promotions during multiple weeks.
Navigating that uncertainty is one of the biggest challenges facing entrepreneurs like Denise Magstadt, owner of Imagination Station in Kalispell and Whitefish, as the holiday season looms.
"I don't know if we're going to get slammed or if it's going to be steady eddy," Magstadt said. "I don't know what to expect."
Despite the unpredictability, Magstadt said, "we're prepared."
She said rumors about snags such as severe product shortages have been overblown, at least at her toy stores.
"That's not affecting us at all," she said. "I have a really good selection."
THE WHITEFISH Chamber of Commerce also is promoting a Small Business Season that extends to the Christmas Stroll on Dec. 10.
Chamber Executive Director Kevin Gartland noted in the organization's latest newsletter that Small Business Saturday "is our answer to 'Black Friday,' when customers storm the doors of the big box stores in search of bargains, only to be disappointed.
"If you shop in Whitefish, you won't be disappointed," Gartland said. "You won't find hectic crowds, pushing and shoving to get at that $29.99 Ronco frying pan, but you will find one-of-a-kind gifts, great bargains, friendly storekeepers and personalized service ... and enjoy beautiful downtown Whitefish in all its holiday finery."
Reporter Bret Anne Serbin may be reached at 406-758-4459 or bserbin@dailyinterlake.com.
Recent Headlines
---