FVCC hires hospital executive to lead foundation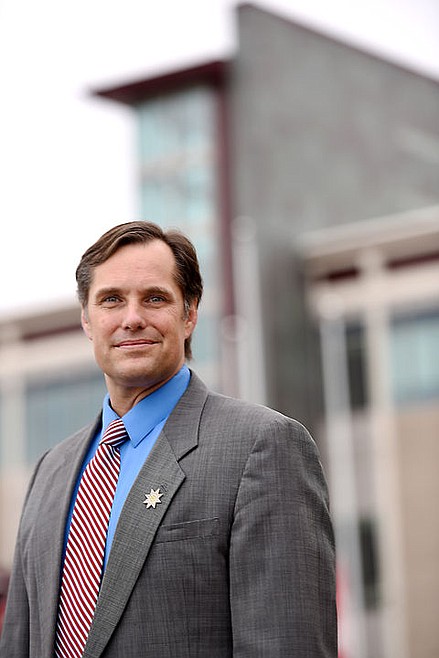 Tagen Vine is pictured at Logan Health Medical Center in this file photo.
by
MATT BALDWIN
Daily Inter Lake
|
November 28, 2021 12:00 AM
Flathead Valley Community College has hired a familiar face to lead the college's nonprofit fundraising arm.
Tagen Vine will take over as executive director of the Foundation at FVCC starting in mid-December. He previously was on the executive leadership team at Logan Health, serving as president of the Logan Health Foundation for 16 years.
Vine replaces Shannon Schumacher, who left the FVCC foundation in June. Colleen Unterreiner has been filling in as interim executive director since then.
The FVCC Foundation was established in 1976 with the goal of supporting scholarships, programs and learning facilities at the college.
FVCC President Jane Karas said Vine's hiring has generated lot of buzz on the Kalispell campus.
"We're very excited about having Tagen come on," Karas told the Inter Lake. "He brings a wealth of knowledge, has a great personality and will be a great fit for the college."
Karas said the college and Logan Health have collaborated quite a bit in the past, and that she looks forward to Vine building on that relationship.
"We work so closely in so many ways," Karas said.
"It's a win win for everybody."
LOGAN HEALTH leadership announced Vine's departure earlier this month, and praised his success at the hospital during his tenure.
"Tagen has led many successful fundraising efforts and we will always be appreciative of his work with the foundation and our valued volunteers," Logan Health CEO Craig Lambrecht said in a letter to foundation supporters.
In the letter, Vine reflected on his time at the hospital and the more than $48 million in donations.
"I could not be more proud of our accomplishments … It's been an honor to help lay this groundwork," he said.
Lambrecht said a search for a new executive director is underway, and that Allison Meilicke, director of Logan Health's ambassador program, will lead the foundation in the interim.
VINE TAKES the helm at the FVCC foundation following the college's successful ONE Campaign that raised $18 million over 18 months to build the Paul D. Wachholz College Center. The 50,000-square-foot center will include a gymnasium, reception hall, exhibition gallery and outdoor amphitheater, in addition to 1,000-seat performance hall.
An additional effort to generate another $3 million in donations for the center in underway after the college decided to expand the size of the performance hall.
The center is expected to be completed in January.
Karas said the foundation will also continue to focus on scholarship and grant opportunities, noting that about 70% of FVCC students receive some type of financial assistance. In 2020, the FVCC Foundation awarded 1,195 scholarships totaling $1.2 million.
According to the college's website, the FVCC foundation has $24 million in total assets.
For more information about the FVCC Foundation, ONE Encore Campaign or alumni activities, visit www.fvcc.edu/p/foundation/
Recent Headlines
---