Save yourself the hassle, shop local this season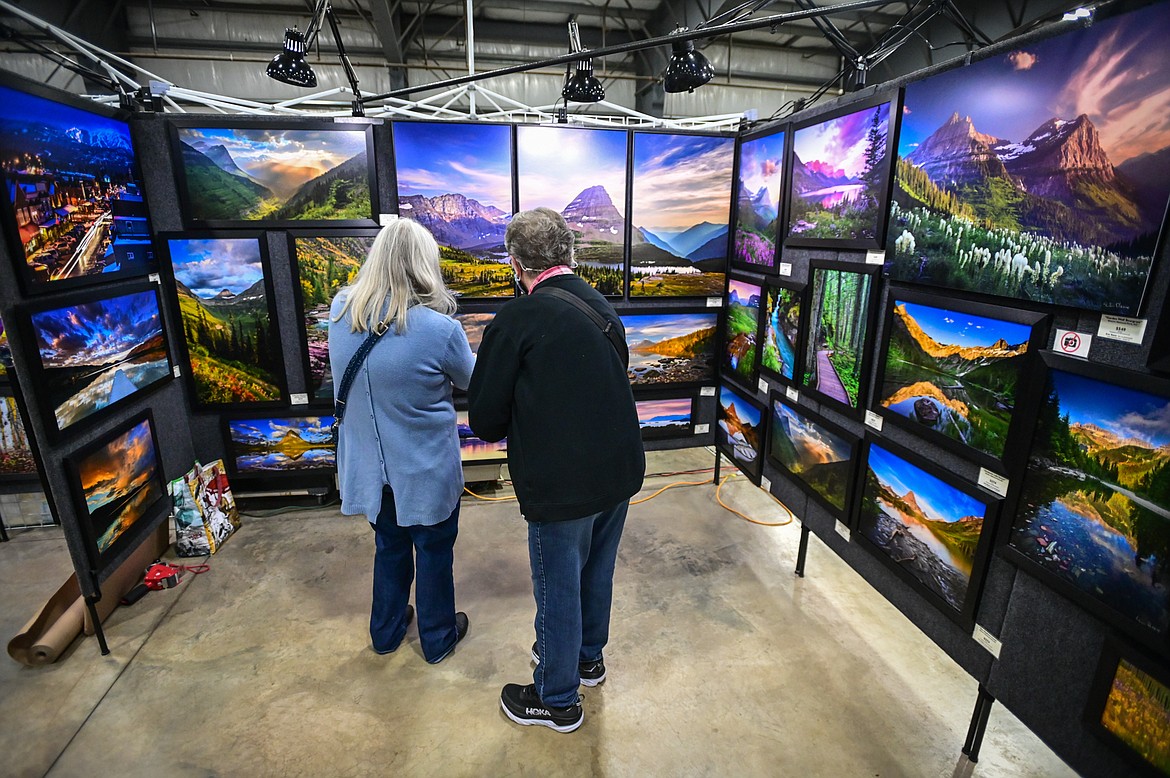 Shoppers browse at Eric Reese's Fine Art Photography stand at the Artists and Craftsmen of the Flathead's 40th annual Christmas show at the Flathead County Fairgrounds on Friday, Nov. 26. (Casey Kreider/Daily Inter Lake)
by
Daily Inter Lake
|
November 28, 2021 12:00 AM
Lingering supply-chain woes and worldwide shipping delays continue to hamstring many national retailers and e-commerce sites heading into the Christmas shopping season. Tack on the reality of less enticing "doorbuster" deals because of record inflation and you have a recipe for a gift-buying migraine.
Luckily, the independent, brick-and-mortar businesses that are the heart of the valley's economy are well-positioned to meet the challenge and quell your wish-list worries.
Commerce experts are predicting a substantial jolt in spending this season due to a combination of rising wages and savings. According to the National Retail Federation, holiday sales could grow as much as 10.5% this year.
The U.S. jobless rate is a levels not seen in half a century, paychecks are bigger and people are ready to spend. That's great news, given everything businesses both big and small have been through over the last two years.
Yet, experts suggest that a pesky shortage of shipping containers and delivery drivers could stymie some of the Yuletide enthusiasm, especially for online shoppers. According to Adobe Analytics, which tracks online retail sales, the number of "out of stock" notices at e-commerce sites was up a whopping 325% in October, compared with the same month in 2019. That trend could continue.
And even if the item is in stock, shoppers can expect delivery sticker shock due to fuel costs, along with shipping deadlines that are earlier than ever. (Seriously, get your packages in the mail this week.)
Thankfully, there's an easy way to avoid late-arriving gifts and out-of-stock notifications — head down to any of the valley's many locally owned small businesses and see what's actually on the shelf. These business owners have worked hard to overcome supply-chain setbacks and hiring challenges, and you're sure to be greeted with a friendly face and top-notch customer service. Meanwhile, your shopping bag will be filled in an instant — no added delivery fees or annoying shipping delays.
While the Small Business Saturday weekend has traditionally been the kickoff to shopping small, many local businesses have adapted alongside big retailers to stretch the deals out over the entire season, making it more convenient than ever to go local.
This year, the Kalispell Chamber of Commerce is extending Small Business Saturday into "Small Business Season" to reflect the evolving trends. Promotions for Kalispell's local businesses will run from now until Christmas Day. Similarly, the Whitefish Chamber is extending its holiday shopping promotions through the Christmas Stroll on Dec. 10.
And don't overlook the many local bazaars and craftsman shows slated over the next few weeks, where you're sure to find a variety of Montana-made, one-of-a-kind creations. (The Artists and Craftsmen of the Flathead show at the fairgrounds ends today.)
'Tis the season to think local, shop small and support our small businesses and all they do to benefit the valley.
Recent Headlines
---