Night of Lights ready to shine in Columbia Falls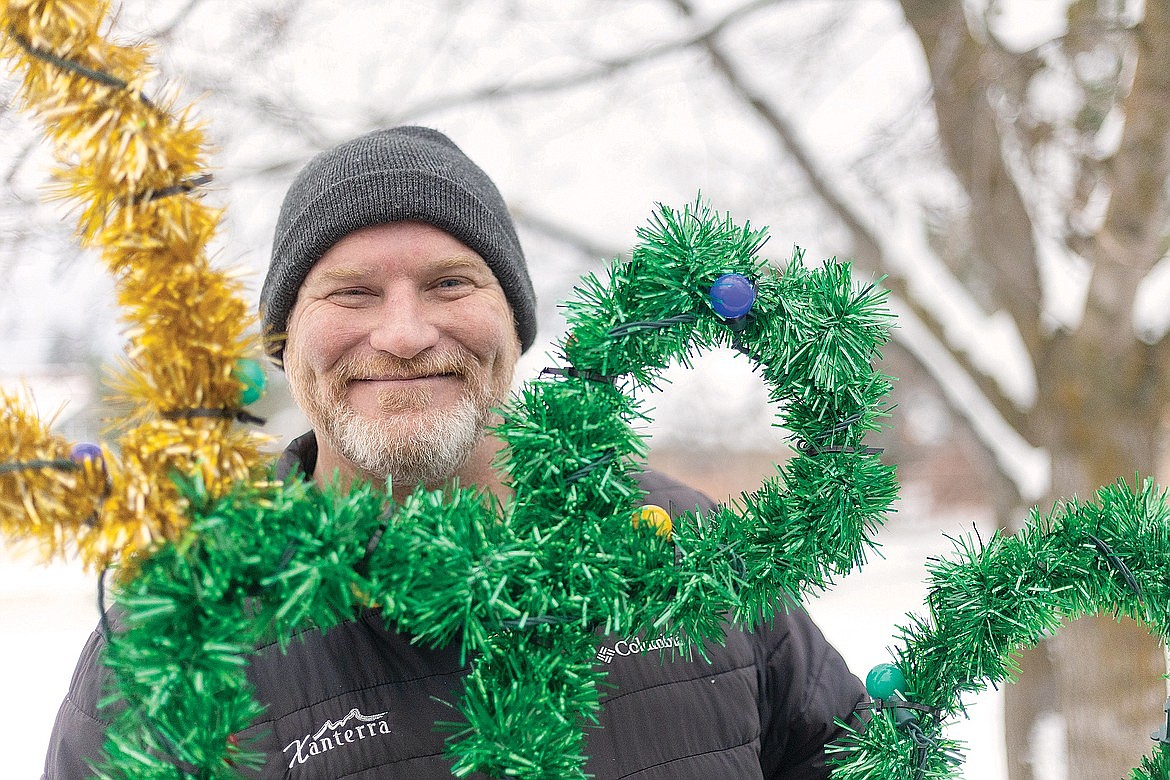 Columbia Falls Lion Club member Dave Eglsaer helps put up the new Christmas decorations on light poles in Columbia Falls. The Lions rewired many of the lights, though folks this year will see some decorations without lights on Nucleus Avenue because the poles don't have 110-volt power. The Lions Club is working with the Montana Department of Transportation on a solution. (Chris Peterson/Hungry Horse News)
by
CHRIS PETERSON
Hungry Horse News
|
November 30, 2021 12:00 AM
After a year's hiatus, the Night of Lights parade will roll down Nucleus Avenue in Columbia Falls on Friday, Dec. 3.
The parade lineup and judging is at 5:15 p.m. and the parade itself starts at 6:30 p.m.
Last year's parade was canceled due to coronavirus concerns.
The Columbia Falls Lions Club is hosting the event this year. Parade entries cost $20 and all of the proceeds go to benefit the North Valley Food Bank.
In addition to Santa, this year there will be parade royalty. O'Brien Byrd and his wife, Melanie will be king and queen, and a prince and princess will be chosen by high school staff. There also will be a host of elves from the elementary schools.
O'Brien was recently named Class A Coach of the Year by the United Soccer Coaches Association.
In addition to individual category awards, there also will be a "roving" trophy for the grand champion float. It will be passed on from year to year, according to Kelly Hamilton of the Lions Club.
The Lions Club, with help from CenturyLink, put up new lights and decorations on the light poles recebtkt and the Glacier Twins hung garland on shops as well. The Lions spent hours redecorating the lights and rewiring many of them.
Some of the lights will not be lit this year on Nucleus Avenue, however. There's a problem with the wiring in some of the poles, said Justun Juelfs, Kalispell area maintenance chief for the Montana Department of Transportation.
MDT took over ownership and maintenance of the poles about 20 years ago, but they also inherited poor wiring, Juelfs noted.
The lights themselves run on 240 volts. Running 110 through them for Christmas lights would be cost-prohibitive. The Lions Club, the city and MDT are still looking for solutions.
One solution might be solar-powered panels that would power the lights. Juelfs said MDT is open to that solution, but they would have to be designed in such a way so they don't fall off and hit someone.
At any rate, the light issue won't be solved this holiday season, so some lights will shine on Nucleus and others will just be pleasant decorations.
To sign up for the parade go to the club's Facebook page, or call Hamilton at 406-471-9299.
The Night of Lights kicks off with two craft fairs at Herzog Bookkeeping from 10:30 a.m. to 7:30 p.m., and the Columbia Falls United Methodist Church from 4:30 to 8 p.m. Enjoy caroling, cocoa and warming fires. Food vendors will be on the streets from 5 to 8 p.m. The Columbia Falls Senior Center will have a chili feed.
Following the evening parade, Santa and Mrs. Claus will greet children on the Glacier Institute lawn (former Whitefish Credit Union) after the parade.
---