Kalispell restricts marijuana sales to industrial areas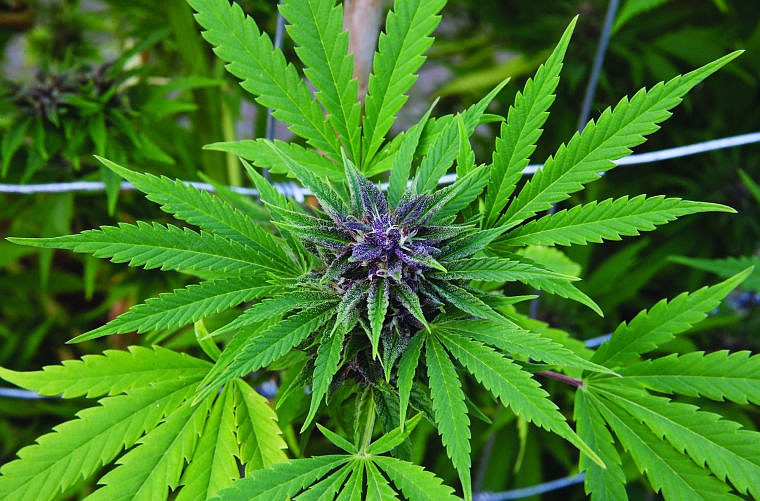 A marijuana plant grows at the River Rock growing facility in Denver in this file photo. (Associated Press)
by
BRET ANNE SERBIN
Daily Inter Lake
|
October 6, 2021 12:00 AM
The Kalispell City Council has opted for a more restrictive approach to recreational marijuana sales in the city.
The council on Monday held its first reading of an ordinance regarding legalized recreational marijuana, a decision that was triggered by a ballot initiative during the November 2020 election. Under state law, the city is required to put its marijuana sales regulations into place before Jan. 1, 2022.
Based on the council's action Monday, those regulations will restrict marijuana businesses to Kalispell's industrial zones. Marijuana dispensaries, cultivation and manufacturing will be an administrative conditionally permitted use in those zones, as long as they are placed more than 300 feet from schools, parks, churches and residential zones.
Limiting marijuana businesses to industrial zones was the most stringent option proposed by the council on Monday.
A proposal earlier in the discussion would have removed the buffer between marijuana businesses and parks, but that amendment was narrowly defeated. Councilors Sid Daoud, Ryan Hunter and Kyle Waterman voted in favor of eliminating that buffer. Councilors Kari Gabriel, Tim Kluesner, Sandy Carlson and Mayor Mark Johnson defeated the amendment.
Mayor Johnson proposed the amendment that contained marijuana businesses in industrial zones—striking business zones-- and it passed thanks to affirmative votes from Councilmembers Kari Gabriel, Tim Kluesner, Sandy Carlson. Councilmembers Sid Daoud and Kyle Waterman voted against the successful amendment.
Ultimately, Mark Johnson, Kari Gabriel, Tim Kluesner, Sandy Carlson and Ryan Hunter voted for the overall ordinance after it was amended to exclude business zones. Sid Daoud and Kyle Waterman cast opposing votes.
THERE WAS more unity among the council during the rest of the meeting on Monday.
The council unanimously approved a new Interlocal Agreement for the Flathead City-County Board of Health.
The new agreement updates an agreement that started in 1976 and was revisited in 2004. This time around, Whitefish and Columbia Falls are included as official voting members.
Each of the cities will elect its own representative, starting after the current board terms expire in December. As a result, Flathead County will lose two of its representatives from the nine-member board.
Funding for the Health Department will still be assessed as a county-wide mill levy.
THE COUINCIL was also unanimous in its approval of two large developments.
Kilday & Stratton, a Bozeman real estate developer, gained approval for a 58-acre property west of Stillwater Road, between Four Mile Drive and West Reserve Drive. The developer received a zone change and a planned unit development overlay for the entire 58 acres, as well as preliminary plat approval for the first three multi-family phases. Those would include approximately 112 dwelling units.
Another development known as Parkland Meadows gained approval on Monday for initial annexation, RA-1 zoning, a planned unit development and preliminary plat approval. The 38.4-acre property is located at the northeast corner of Airport Road and Cemetery Road.
TWO ADDITIONAL agenda items rounded out Monday's discussion.
One was a $44,074 budget amendment to the Community Development Budget. Because of an unanticipated shortfall, the council unanimously approved the budgetary change.
Finally, the council unanimously approved a use agreement with the KALICO Art Center to install and maintain vinyl artwork wraps on six traffic signal boxes in downtown Kalispell.
Jemina Watstein, the Executive Director of KALICO Art Center, pointed to the success of other KALICO community art initiatives, like murals that were painted on tunnel walls this summer.
"We're really excited to continue this positive impact upon our community," she said.
Reporter Bret Anne Serbin may be reached at 406-758-4459 or bserbin@dailyinterlake.com.
Correction: This story has been corrected to show that Councilmember Ryan Hunter did not vote in favor of an amendment eliminating business zones from the allowable spaces for marijuana sales.
---