Supply chain issues leave local car lots bare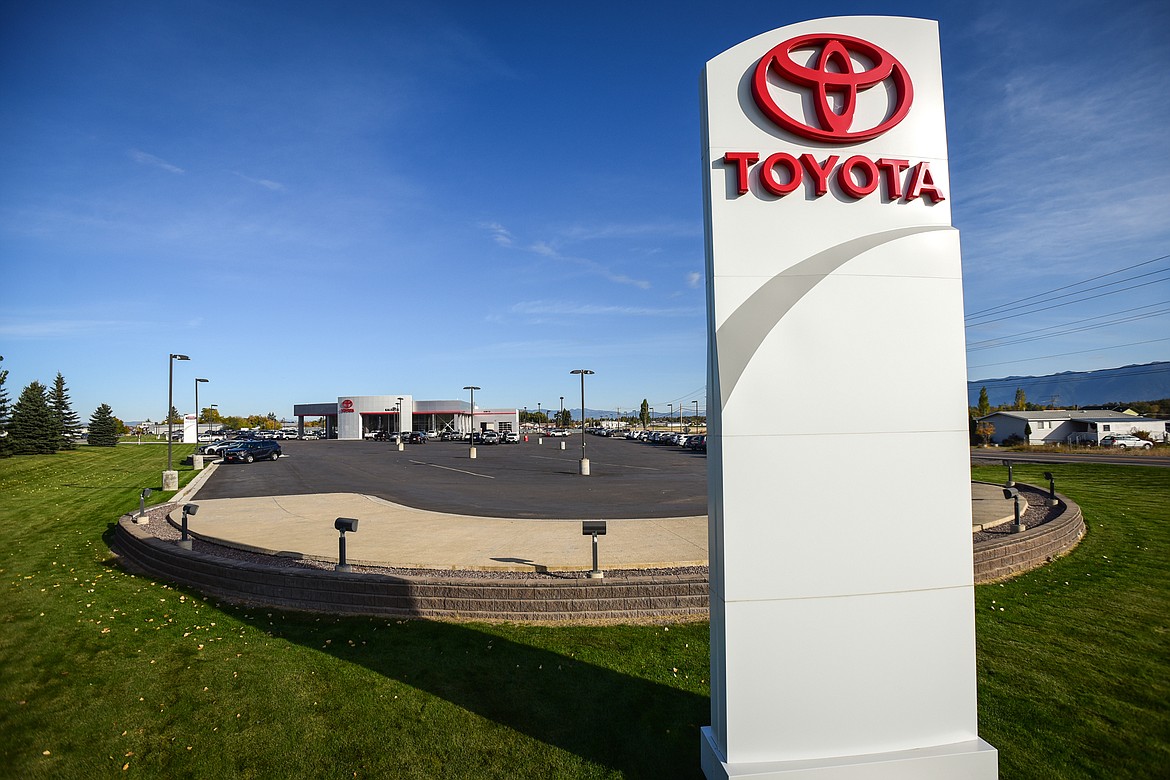 The new vehicle lot is shown at Kalispell Toyota on Friday, Oct. 8. (Casey Kreider/Daily Inter Lake)
by
BRET ANNE SERBIN
Daily Inter Lake
|
October 9, 2021 12:00 AM
Car sales moved into the slow lane recently as the automobile industry became the latest victim of pandemic-related shortages.
"Any dealership in the valley is for sure affected," reported Kevin Kaltschmidt with the Don K dealership in Whitefish. "Every dealer is down to almost no new cars on the lot."
"We definitely are experiencing some shortages," agreed Jesse Klotz, a sales manager at Kalispell Toyota. "It's the entire supply chain."
The supply chain breakdown has led to a shortage of new cars coming from manufacturers and a bottleneck at ports where the cars are imported into the U.S. From there, a lack of truck drivers has made it difficult to deliver new cars to dealers across the country, including in the Flathead Valley.
"It's all kind of stuck in limbo," Klotz said.
AT THIS point, car dealers are receiving small shipments of new cars periodically, but all of the vehicles in each shipment are usually already spoken for by the time they arrive at the dealer.
"Everyone has stuff incoming," Kaltschmidt said. But he added, "it's a fraction of what we used to have."
Car dealers are trying to mitigate the issue by communicating with their customers and encouraging them to plan ahead.
Customers can reserve a car before it hits the lot, Kaltschmidt explained, but the days of showing up at a dealership and driving away with a new car are no longer a reality.
"It has just changed the car business," Kaltschmidt observed. "It's no longer a same-day business."
But he said, "People are figuring it out. We're adapting and trying to make it as good as possible."
BUYING USED is an alternative to waiting around for a new car to make its way to a dealership.
"People are making a choice," said Phil Wolf of Wolf Auto in Whitefish. "Do I buy exactly what I want in two years or something available today?"
There's plenty available today in the pre-owned category. Wolf said he has a healthy supply of used cars, and Kaltschmidt said Don K has at least as many used cars, if not more, than the dealer usually carries.
But there's a catch.
The new car shortage is driving up the cost of used vehicles. "We're paying a lot more money than we used to pay," Wolf explained.
"In some cases," he said, that increase is transferred on to the customer. "We don't have any choice. Everything is just adjusted upward. Everybody is just having to pay more."
An unexpected additional cost comes from parts, too.
Kaltschmidt at Don K said parts are more expensive and harder to find than ever before. "Parts are taking way, way longer to get in," he lamented.
"We appreciate everyone's patience with how long it's taking to get everyone's cars serviced," Kaltschmidt added.
Reporter Bret Anne Serbin may be reached at 406-758-4459 or bserbin@dailyinterlake.com.
---