Well-rounded Robison boosts Wildkats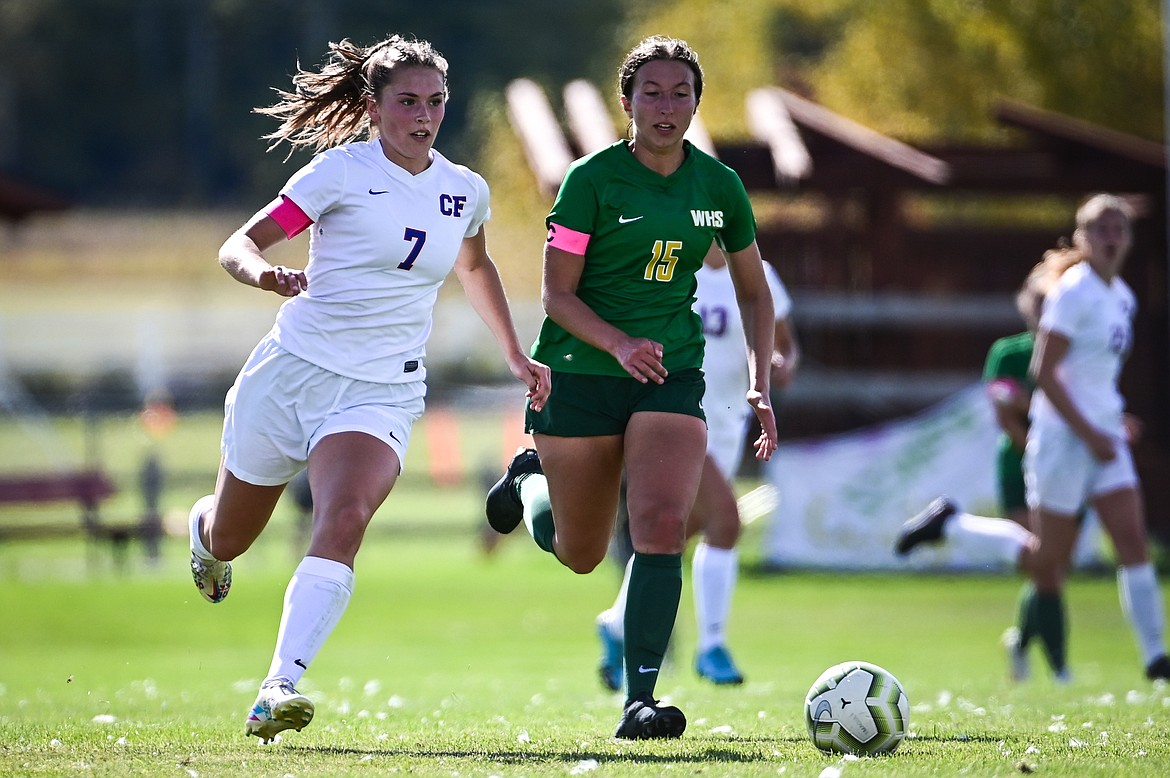 Columbia Falls' Maddie Robison (7) pushes the ball upfield against Whitefish's Anna Akey (15) in the second half at Smith Fields on Saturday, Oct. 2. (Casey Kreider/Daily Inter Lake)
by
KATIE BROWN
Daily Inter Lake
|
October 9, 2021 12:06 AM
Maddie Robison has scored many goals during her high-school career, but she's far from a ball hog.
She's known for her scoring prowess but her abilities as a passer don't get as much attention as they probably should. Until this year, at least.
The Columbia Falls senior set a new state record for assists in September with the 48th one of her career. She's up to 55 now, and has scored 85 goals as a four-year starter for the Wildkats. That goal total puts her in the top 10 of career goals scored in MHSA history
It's been a bit of a balancing act for Robison.
"I'm still trying to figure out when's the right moment for me to pass the ball," she said. "But passing the ball has just always been really fun and I like seeing my teammates score."
Last year Robison, a 5-foot-7 midfielder, led the state with 32 goals and 21 assists (another state record for a single season) and is currently up to 24 goals and 10 assists with the Wildkats' last regular season game today and playoffs next week.
"To me, it's been a challenge of sometimes I want her to be a little selfish, you know?" Wildkats coach Thomas Clark said. "Because there are moments where it's like, all right, you got the green light, let's go score some goals. You're the most dangerous player we've got."
She's walking in the footsteps of 2020 Columbia Falls grad Josie Windauer, who became the first soccer player to end up at a D1 school when she signed with the University of Montana.
Windauer smashed more than a few records during her high school career and Robison had a front row seat for it all — and set up some goals, too. Columbia Falls is still reaping the benefits of that partnership.
"I did learn a lot and I feel like she's the reason that I am the player that I am today," Robison said. "She kind of shaped me into being that facilitator, but then at the same time, I was scared my junior year because she was gone and I was like, 'Who am I going to pass the ball to?'"
It turns out she didn't need to worry. The Wildcats finished with a 10-3 overall record and Robison had plenty of opportunities to set up her teammates after Windauer passed the torch.
"And then it ended up our whole team had way more goals, way more assists because we worked together as a team," Robison said. "And it's cool to see how it changed just from one year."
She's settled comfortably into her role as a passer and scorer and says it's all a part of her evolution as a player.
"It's been fun to watch her balance that — 'When is it a good time to set up my teammates? When is it a good time for me to take it myself?'" Clark said. "And that's what makes her so special is that multi-dimensional aspect of her game."
Now the Wildkats are 8-3 with a 5-2 conference record. Robison has plenty of targets in fellow senior Cheyanne Johnston-Heinz, junior Sydney Mann and sophomore Hope McAtee.
Laurel's Mya Maack leads the state with 34 goals and might be unreachable in that category.
Speaking of Laurel — the team that's dealt the finishing blow to Columbia Falls for the past two years in playoffs — the Locomotives could end up in the play-in game against Livingston, the winner of which will face the Wildkats in the first round of playoffs. The result of Billings Central and Laurel's game today will determine that.
"We always say to the players and the players believe this, you gotta beat the best to be the best," Clark said. "So it doesn't really matter when you play them, you're gonna run into them at some point. Might as well try to take them out early."
Clark's confidence is partly boosted by the Kats' 3-2 loss to undefeated Northern A rival Whitefish Bulldogs a week ago. Though it was a loss, the Bulldogs won on a last-minute tally. Robison scored and Johnston-Heinz tied things up with a clutch goal late in the second half.
Robison's goal nearly sailed over the net but she buried it top-shelf.
"I tried really hard to miss it," she joked.
Whitefish had a one-goal game earlier in the season against Livingston but no conference opponent had yet pushed the Bulldogs to the brink and got under their skin the way the Wildkats did that day.
"It was the best game we've played all year and it was fun," Robison said. "We thought we were so close and we thought we had it, which is fine. But we were all happy afterwards because it was the closest we've gotten to making them go a little bit crazy. And it was fun to see that from them because they've just smoked everyone this year."
Robison is also an accomplished basketball player, earning all-state and MVP honors for her work on the court this past winter. She was also all-state in soccer last fall.
"I think the biggest thing is that we now kind of have developed the game plan that we want to go into the playoffs with, and we just have consistency there," Clark said. "You know, when you're early in the season, you're just kind of throwing things up in the wall and seeing what's gonna stick. And now we're at a point where we've figured out what's going to make us competitive. When you've got players like Maddie and players like Cheyenne, they can score goals really at will."
Some players get a feeling when they are going to have a big game, but Robison isn't like that. She plays best when she's relaxed and focused.
"I (score) most when I'm not nervous in the game, but when I'm just calm and having fun with my team, that's honestly when I do the best," she said. "That's when it's the most fun and I'm the most comfortable."
Columbia Falls travels to Libby for a noon game today. Playoffs begin next weekend and pairings are yet to be determined.
---