Whitefish City Council candidate Terry Petersen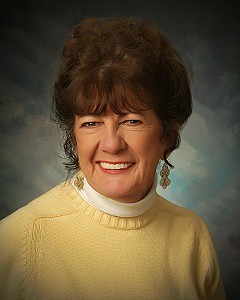 Terry Petersen (Courtesy photo)
by
Daily Inter Lake
|
October 12, 2021 12:00 AM
Terry Petersen is one of eight candidates running for a seat on the Whitefish City Council. The others are Ben Davis, Andy Feury, Kristen Riter, Phil Boland, Vincent Dell'Omo, Judy Hessellund and Giuseppe Caltabiano. Mark Owens' name also will appear on the November ballot, but he told the Daily Inter Lake he is no longer running, citing personal reasons.
Name: Theresa "Terry" Petersen
Age: 83
Family: Married, three daughters, nine granddaughters and four great-grandchildren.
Occupation: Retired.
Background: Served in the U.S. Air Force and taught high school and college courses. Holds a bachelor's degree in chemistry and biology and a master's degree in chemistry from the University of Montana, and a master's in clinical lab operations from Michigan State University. Took doctoral courses in biochemistry at Montana State University. Held teaching licenses in Montana, New York and California. Wrote for the Bear Paw Sentinel newspaper in Havre. Volunteered with Hill County economic development and zoning variance committees, as well as the Havre Area Chamber of Commerce, the Whitefish Library Association, the Montana Clinical Laboratory Management Association, and Havre-area 4-H and Girls Scouts clubs.
Why do you want to serve on the Whitefish City Council?
It is in the interests of all our community members to have our residents volunteer to serve on various committees and activities to bring forth energy, experience, visions and enthusiasm to our Whitefish, MT city. Having traveled, worked, raised a family and always strived to make the places we called home, a great place to live, I would like to continue that tradition with listening, communicating, working, asking questions, watching growth and planning with a purpose.
How should the city address its shortage of affordable housing, while responsibly managing growth and development?
It is an "across the board" commitment from all parties involved from the ground up … committee and town opinions, businesses, neighborhoods, traffic alignment, land owners, builders, utilities impact, school facilities, safety and media promotion/demotion. How long will affordable last? Who is defining affordable? What does affordable housing look like? Will it last? Will the new housing recruits stay around … who stays longer … the building or the people? Is it a lasting solution to the continuation of a healthy Whitefish?
As a council member, how would you prioritize the implementation of the city's Climate Action Plan?
Any change costs money and when you list items for consideration some things get to be No. 1 and then there is No. 10. Numbers 1 through 10 can't come out of the starting gate all at the same time? Have we prioritized all the things that need our immediate attention or are we riding the next wave with the loudest splash? Safety is a primary concern for all ages, from school children and buses to seniors who need to navigate major streets and neighborhood avenues, to meet everyday routines and commitments. Climate change should be on our list, but it does not lead my list.
A measure on the November ballot will ask voters to renew Whitefish's 3% resort tax. Should the measure pass?
When people hear the word "tax," the primal instinct is to crush the mere uttering of the word, less people whisper it in a preferential context. Every time we turn on the faucet, wet down in a shower or bath or flush the toilet, there is built-in push of more utility usage. Now multiply that by the % of people added to that everyday routine. We have used the extra income for some improvements in our city, by protecting what will be taxed. Sure the tourists and visitors will get taxed while they share our city, but we will still be in a safety zone. with designated taxable items. My suggestion is to learn to live with the "cush or bump in budget assets" and not jump on the "gravy train increase" proposed by current visitor trends
How should city officials continue to lead through the Covid-19 pandemic?
Obviously with my professional and working background, I say follow the science … don't edit it to fit a different opinion. Sure there are legitimate reasons for not taking the vaccine, here is where your medical provider steps in — not the gendarme. When the influenza flu vaccine came out, they gave people warning that there could be an inflammatory response from the shot because the micro was culture on eggs … the yolk of egg which has an inflammatory trigger for susceptible people to some inflammatory agents. When my generation was in elementary school, we [received] multiple vaccinations and most did not suffer the consequences of an iron lung treatment for polio or skin maladies and other complications of smallpox. Some religions also have restrictions on vaccinations, and that is protected under our constitution.
Recent Headlines
---