Glacier getting stellar senior seasons from 2-sport standout Sam Ells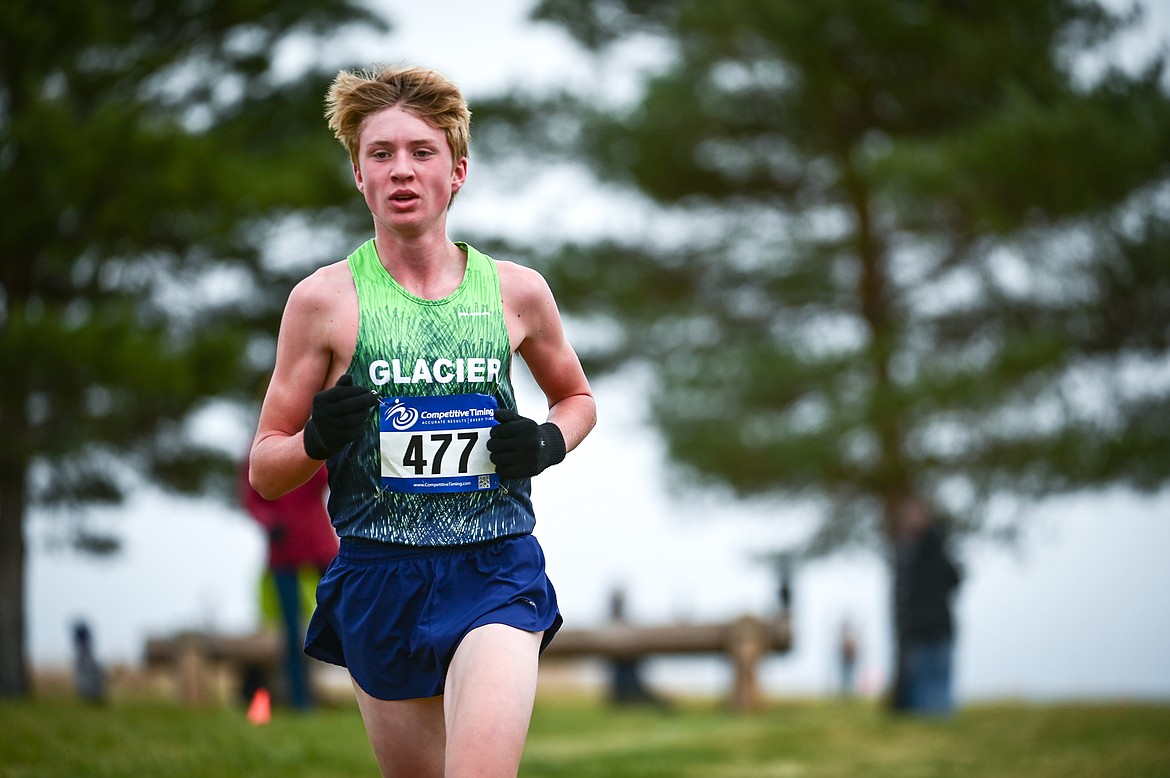 Glacier's Sam Ells nears the start of the second lap at the Glacier Invite at Rebecca Farm on Wednesday, Oct. 13. (Casey Kreider/Daily Inter Lake)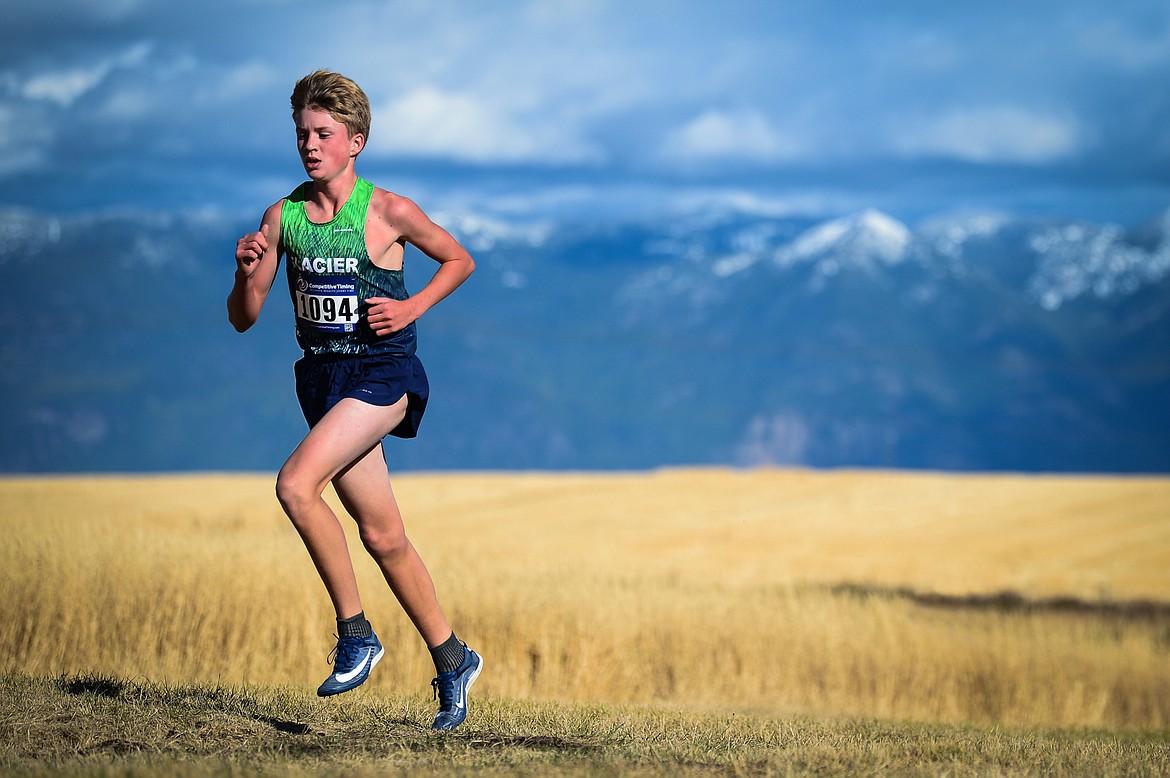 Glacier's Sam Ells climbs a hill during the Glacier Invite at Rebecca Farm on Wednesday, Oct. 14, 2020. (Casey Kreider/Daily Inter Lake)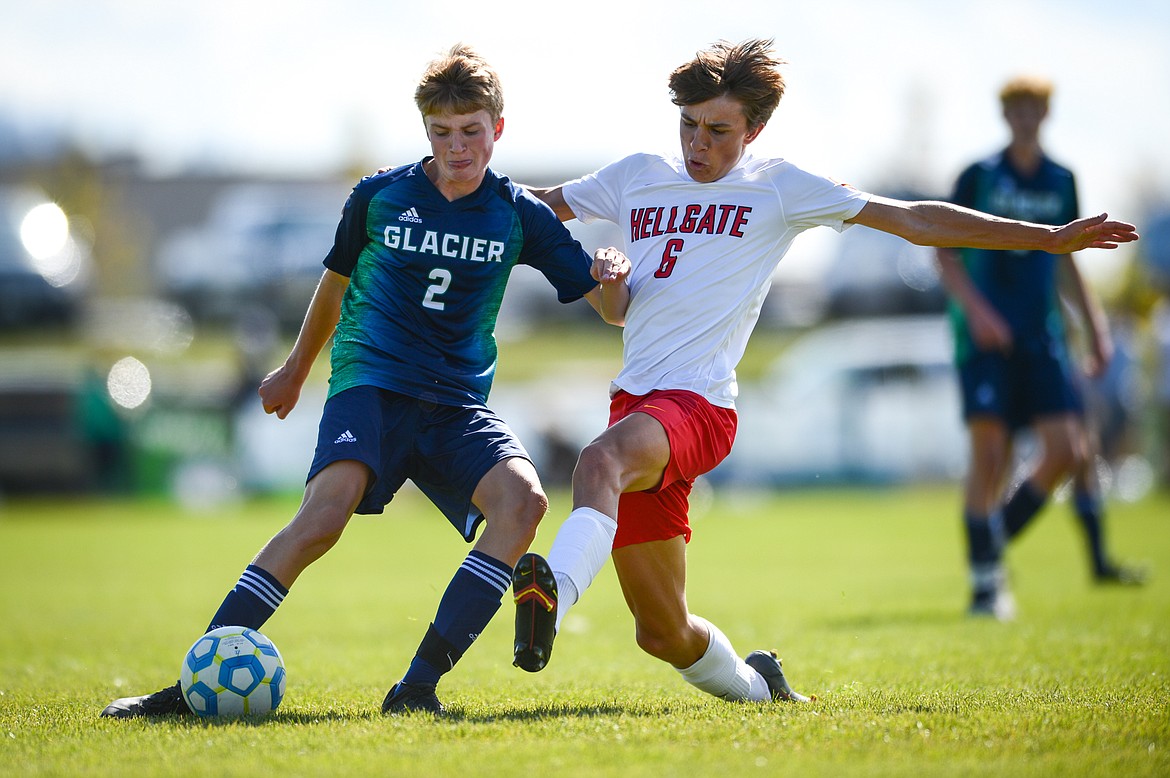 Glacier's Sam Ells (2) looks to shoot while defended by Missoula Hellgate's Henry Pierce (6) at Glacier High School on Thursday, Sept. 2. (Casey Kreider/Daily Inter Lake)
Previous
Next
by
FRITZ NEIGHBOR
Daily Inter Lake
|
October 13, 2021 10:15 PM
On or around Sept. 28 Glacier soccer coach Ryan Billiet got word from one of his top players, Sam Ells, that he might miss practice that day because of a sudden schedule change: He was headed to a cross country meet in Whitefish.
Oh well, thought Billiet, whose team has traded Ells back and forth with Cody Moore's team of Wolfpack harriers. It's just one practice.
Then when Ells did show up about midway through, Billiet figured the meet was canceled.
"I just put him right into practice," Billiet said. "Then I'm reading the paper the next day and I was like, 'Wait. You raced yesterday?'"
Not only that, Ells won for the third time in four starts.
"It's pretty exceptional to win that race and show up at soccer practice," Billiet said. "He slotted in and started getting some touch, and helping us prepare for that Big Sky match."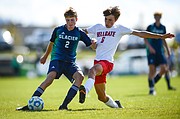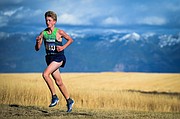 Sam Ells is among the top seven point-getters for the 9-1-2 Glacier soccer squad, with three goals and five assists. More impressively, he owns the second-fastest time among Montana high school cross country runners, having won the Butte Invitational in 15 minutes, 41.4 seconds on Sept. 24.
He has a 4.0 grade-point average and dreams of being an engineer. That's when he sleeps. If he sleeps.
"He's a quiet kid," Moore said. "Super respectful. Pretty humble, and a leader by example. Just a really fun, joyful kid to coach. He just likes to train hard and run fast."
But this fast? A year ago Ells finished 30th at the State AA meet, his time hurt by a hip injury. Given that experience you wouldn't blame an athlete for going with one sport.
Ells doubled down instead.
"We met as a team three or four days a week over the summer, and Sam was super consistent with that," Moore said. "And that was on top of playing soccer over the summer. We set out some goals and had some really good conversations to see where his heart was at.
"That was a turning point, I think."
Ells didn't run Glacier's first scheduled meet, but raced to first in the Flathead Invitational on Sept. 10 in 15:53.67. Two weeks later he cruised to the win in Butte and broke the school record, held by Simon Hill (15:46) in the process.
"Not an easy thing to do at 5,000 feet," Moore said.
---
Asked what gets more endorphins, breaking the tape or finding the back of the net, Ells pauses.
"I think a good race feels better," said the senior, moments after winning Wednesday's Glacier Invitational. "But you know, they're both up there. Scoring a goal and winning a soccer game, especially when it's close, also feels pretty good.
"Best of both worlds."
Ells says he got his wheels from his mom; the former Brooke Daehlin ran for Montana State's 1994 Big Sky Conference champion cross country team. Given that pedigree it figures he would be a threat to do what he's doing. And yet...
"It's definitely been surprising, so far this year," Ells said. "I wasn't expecting it to go this way at all."
If he was shocked by his time in Butte — only Missoula Sentinel's Tanner Klumph has run faster, and not since early September — one coach is surprised in a different way.
"He's the most talented kid I've ever coached," Moore said. "I've had kids run mid-15s and go Division I, but those kids were focused solely on running. Sam is running half the volume. It's pretty incredible."
Ells has missed soccer matches this year, notably the second crosstown so he could run — and post the best time — in Helena's 7-on-7 meet on Oct. 7.
The previous Saturday he was on Missoula's Rattlesnake Fields, facing the vaunted Hellgate Knights.
"We had our starting center-back out," Billiet said. "And another injured back-line player. Sam actually had to play a different position for him, defensive midfielder. And he played that for 60 minutes and helped shut out Hellgate. Which we've never done."
It was a 0-0 tie. Nobody had held the Knights, winners of five of the last six State AA titles, scoreless for 80 matches dating back to 2016.
"They usually figure out a way to put something away," Billiet said. "And we were missing two starting defenders."
---
Ells will run in college, and his top two choices have engineering programs: Gonzaga and MSU.
What a difference a year makes. Last October he had a non-contact injury in a playoff soccer match, forcing him out of Glacier's semifinal loss to Hellgate and slowing him in the cross country finale.
"It was at Legends," Ells said. "I was just stepping for the ball and it was my hip flexor. I think I kind of got stuck in the turf and overextended it. I heard a pop. Didn't feel too good."
There was no thought of him giving up soccer in 2021.
"No," said Ells. "I was looking forward to my senior year."
"Never," Billiet said. "We want to support kids and allow them to make decisions. These are informed decisions, on a player-centric philosophy."
"That balance is really tough," Moore allowed. "I did the same thing in high school myself, and I think Sam does a much better job of it than I ever did."
Four AA runners are currently under 16:00, including Klumph and Ells: Hellgate's Finneas Scott, who ran 15:47.6 in Butte, and Missoula Sentinel's Chase Green.
State is Oct. 23 on Missoula's University of Montana Golf Course.
"He's gone from being a top 10 contender to being in the conversation for an individual title," Moore said. "I think after his spring track season, when he ran 4:18 in the mile and took third, the conversation went from, 'Hey you can be a threat to get on the podium,' to, 'You can possibly be a state champion.'
"From a good senior season to a stellar senior season."
Ells, cooled off from his fifth win in seven starts on Wednesday, understands this. But first things first.
"I've got soccer practice later today," he said.
---