Pirates rally past Bulldogs in second half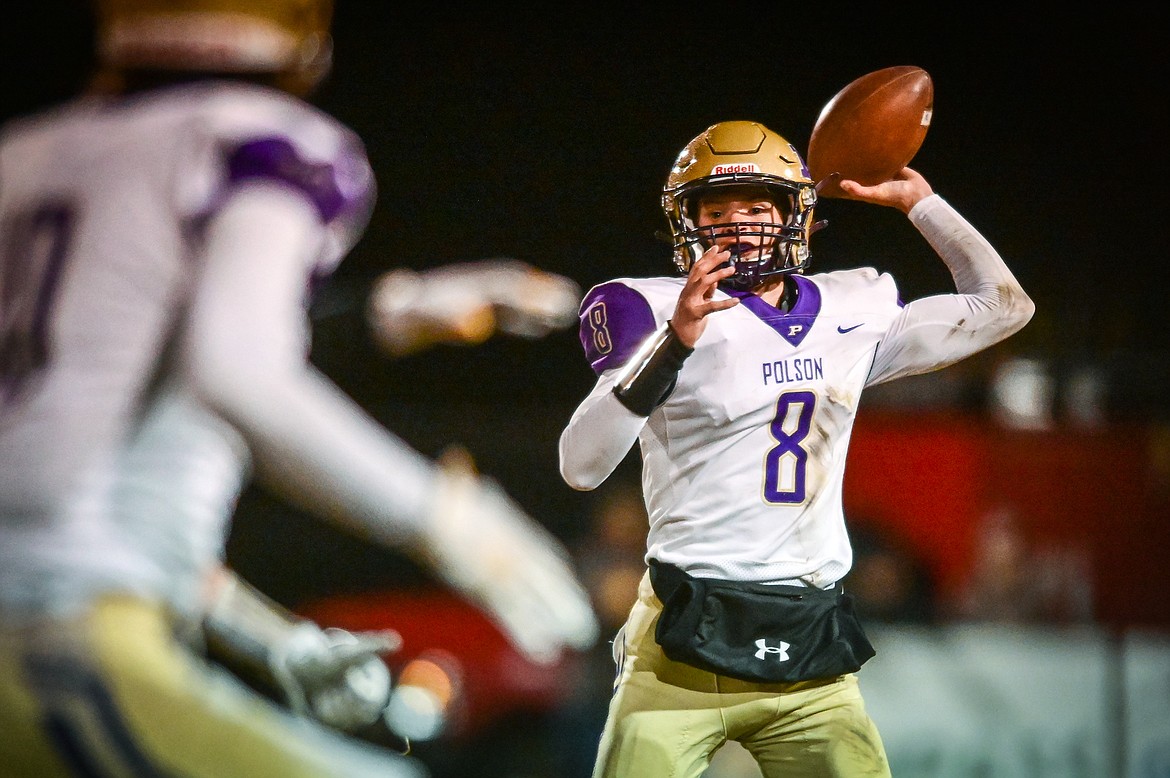 Polson quarterback Jarrett Wilson (8) looks to pass in the first quarter against Whitefish at Memorial Field in Whitefish on Friday, Oct. 22. (Casey Kreider/Daily Inter Lake)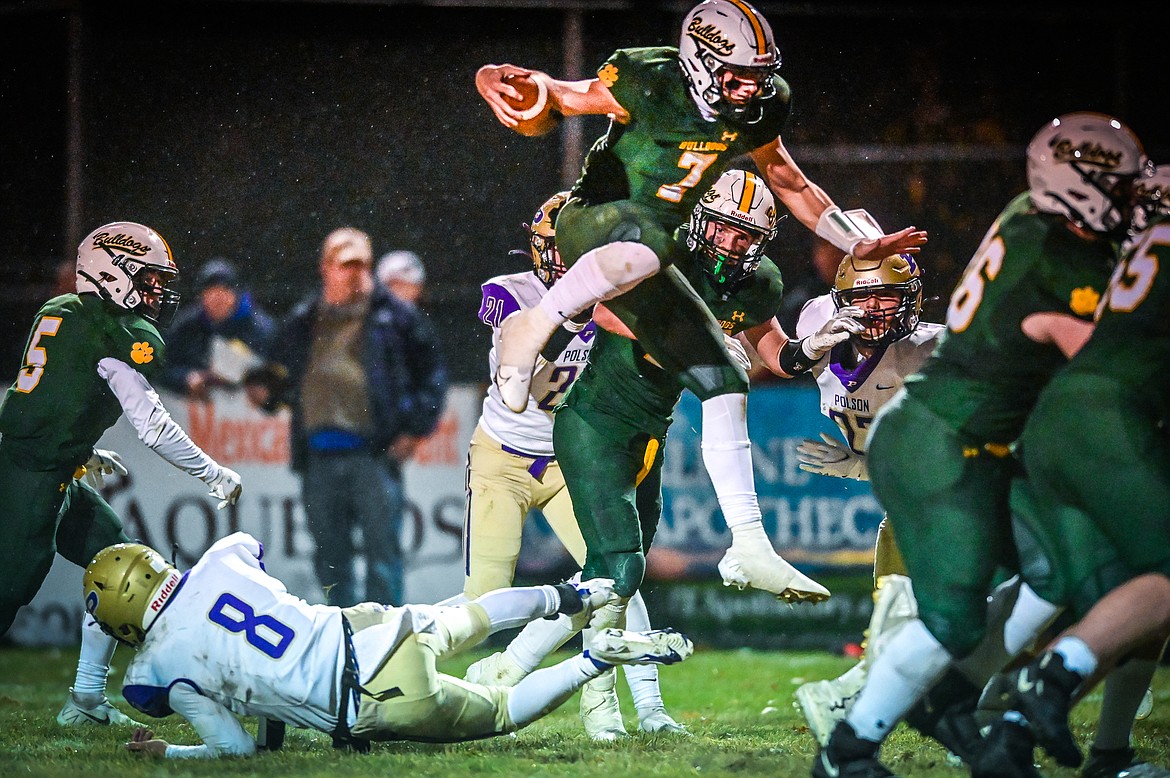 Whitefish quarterback Fynn Ridgeway (7) hurdles Polson defender Jarrett Wilson (8) on a touchdown run in the second quarter at Memorial Field in Whitefish on Friday, Oct. 22. (Casey Kreider/Daily Inter Lake)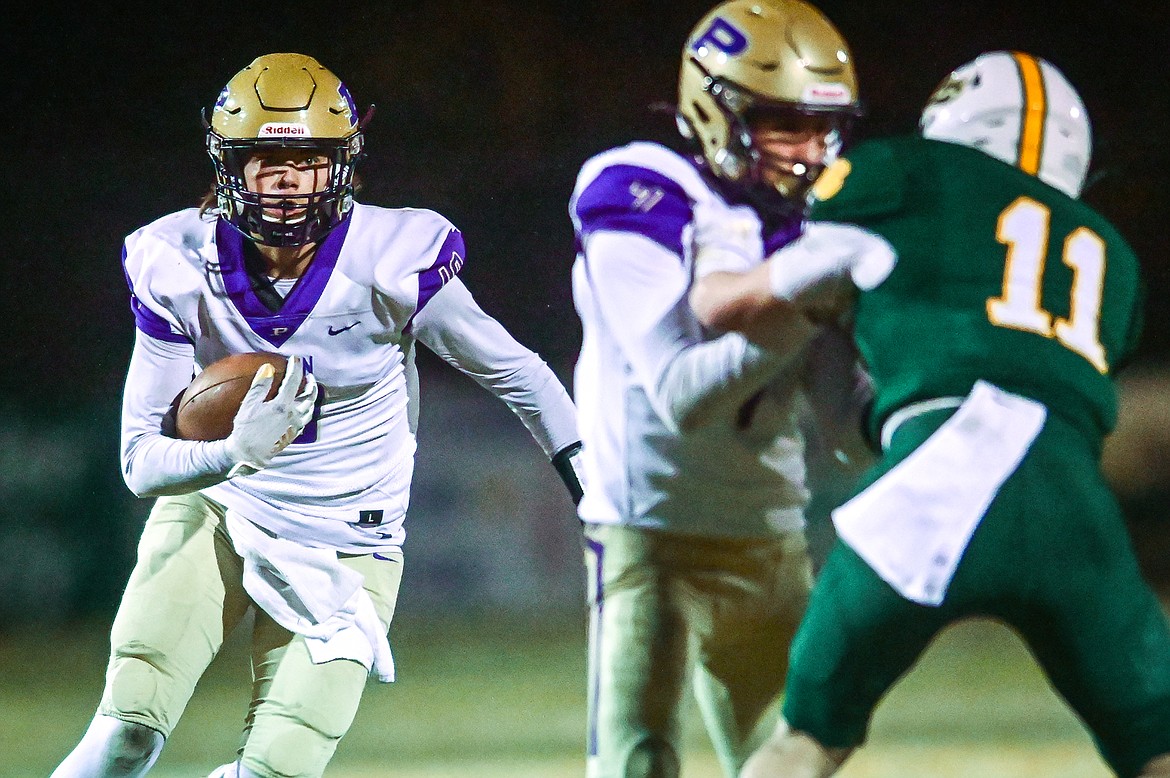 Polson wide receiver Colton Graham (10) looks upfield after a reception in the second quarter against Whitefish at Memorial Field in Whitefish on Friday, Oct. 22. (Casey Kreider/Daily Inter Lake)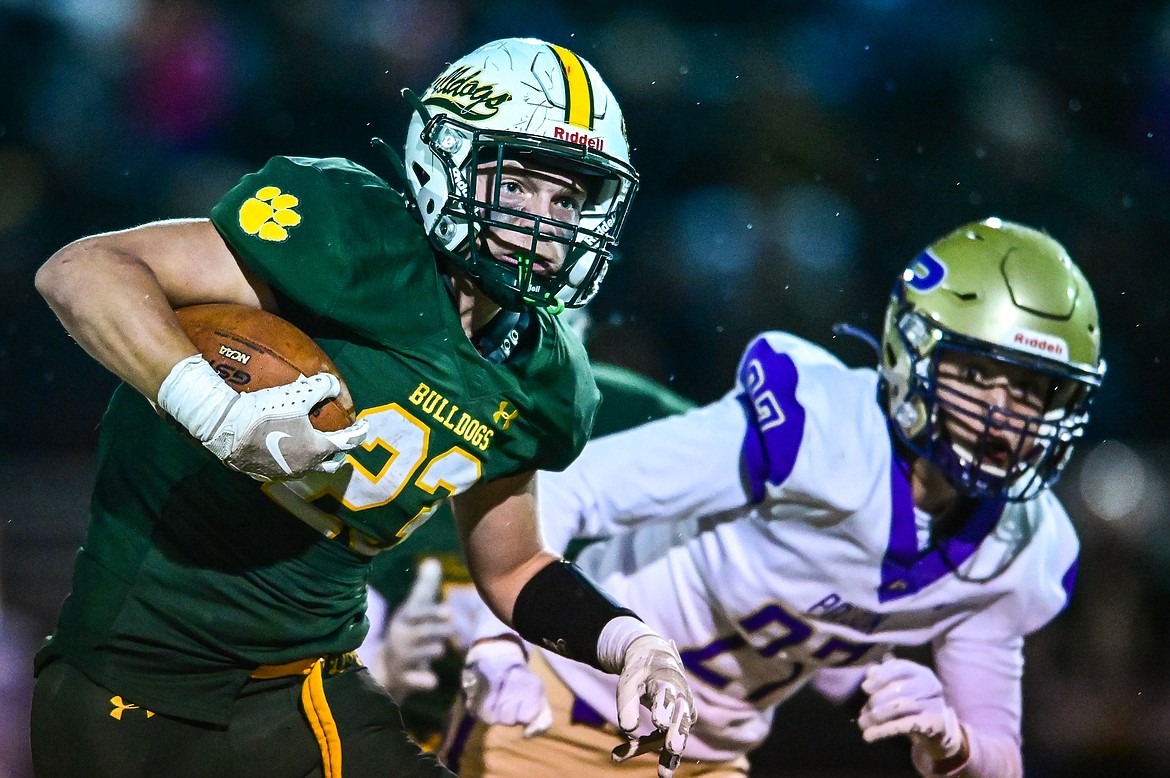 Whitefish running back Ty Schwaiger (23) looks for running room against the Polson defense in the first quarter at Memorial Field in Whitefish on Friday, Oct. 22. (Casey Kreider/Daily Inter Lake)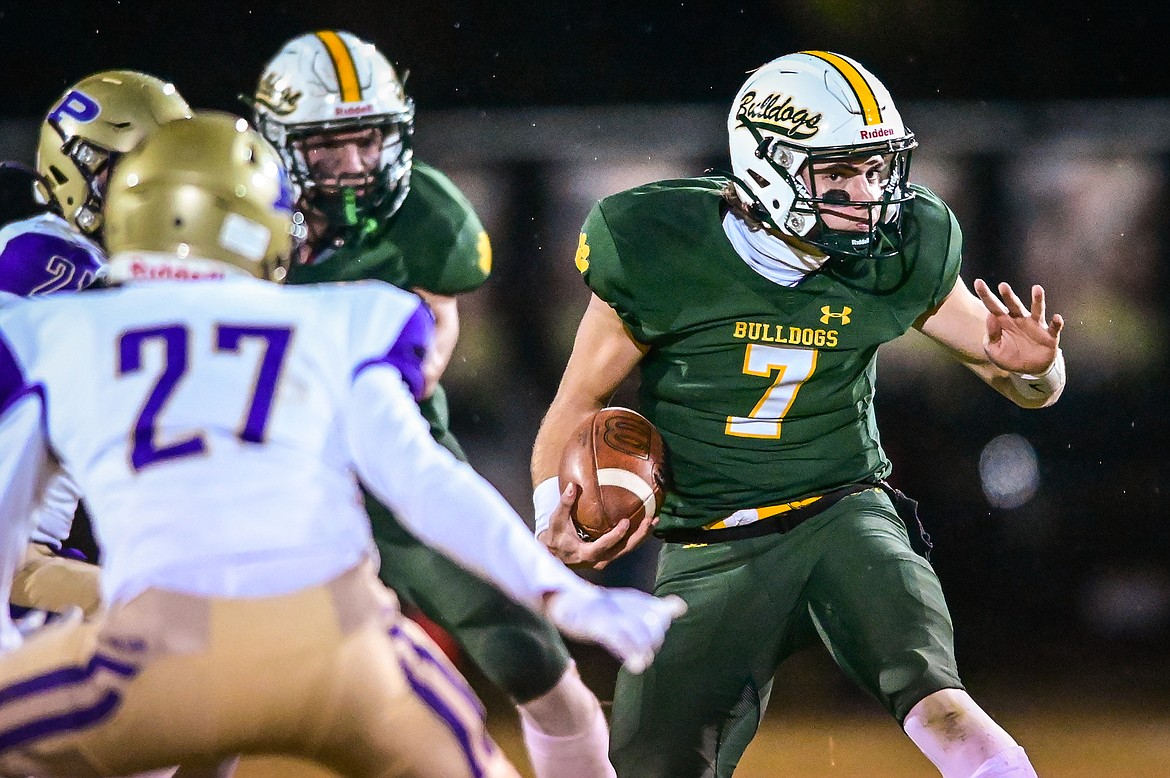 Whitefish quarterback Fynn Ridgeway (7) jukes as he picks up yardage on a run in the second quarter against Polson at Memorial Field in Whitefish on Friday, Oct. 22. (Casey Kreider/Daily Inter Lake)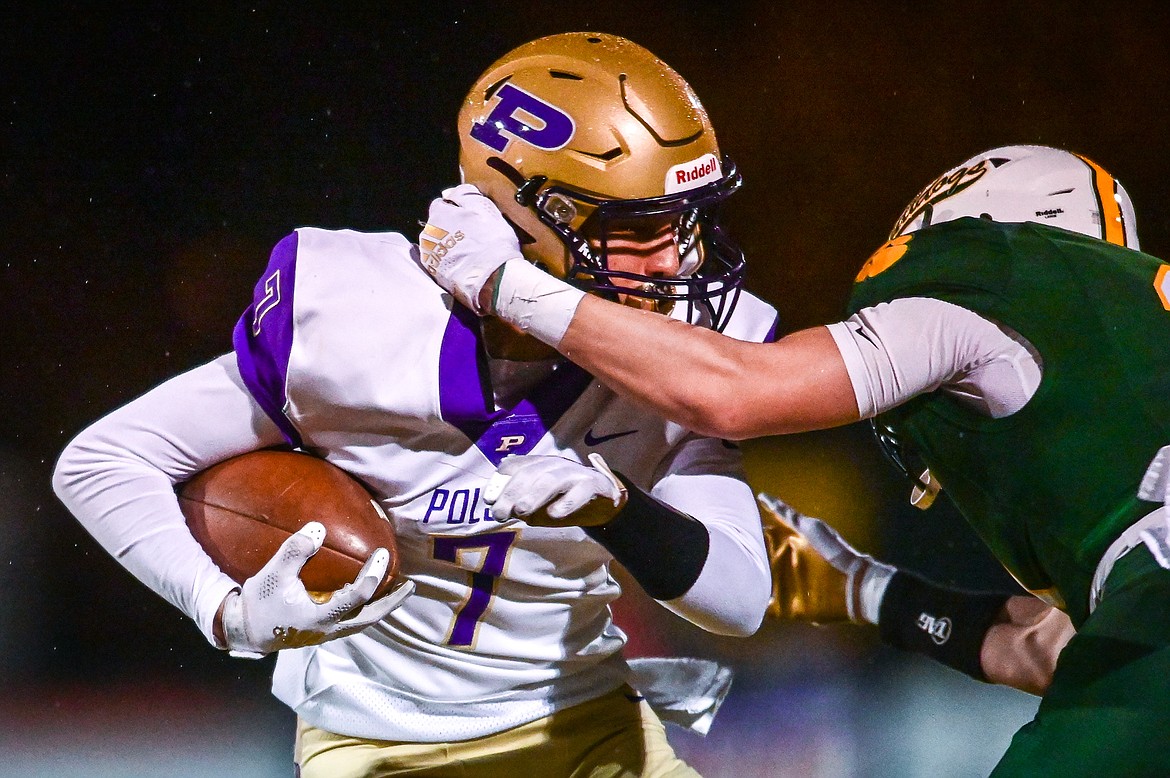 Polson wide receiver Alex Muzquiz (7) is brought down by Whitefish defensive back Jack Akey (11) in the second quarter at Memorial Field in Whitefish on Friday, Oct. 22. (Casey Kreider/Daily Inter Lake)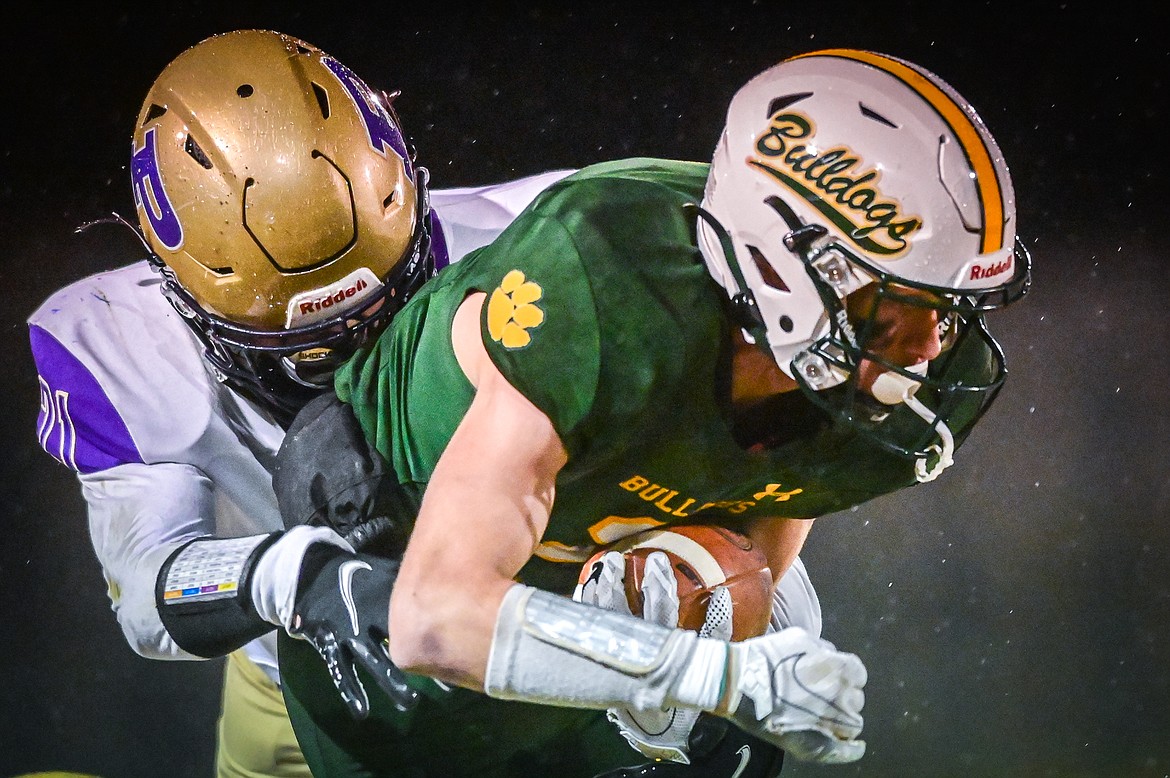 Whitefish wide receiver Bodie Smith (2) is brought down by Polson defensive back Dumont Dawson (21) after a reception in the first quarter at Memorial Field in Whitefish on Friday, Oct. 22. (Casey Kreider/Daily Inter Lake)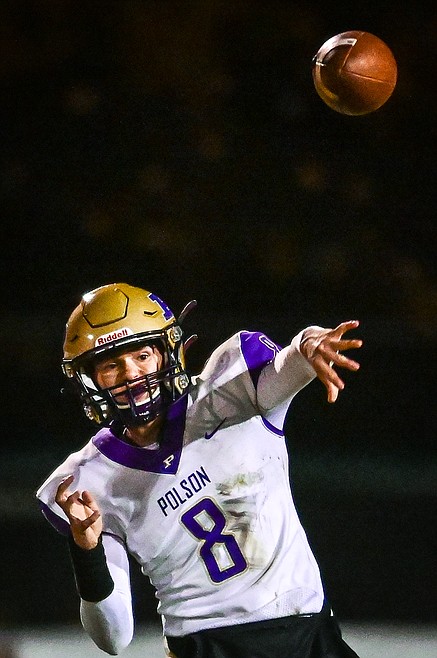 Polson quarterback Jarrett Wilson (8) looks to throw in the first quarter against Whitefish at Memorial Field in Whitefish on Friday, Oct. 22. (Casey Kreider/Daily Inter Lake)
Previous
Next
by
FRITZ NEIGHBOR
Daily Inter Lake
|
October 22, 2021 10:37 PM
WHITEFISH — The rain never let up after halftime, and neither did Jarrett Wilson.
Saddled with their first halftime deficit of the season, the unbeaten Polson Pirates scored four touchdowns to rally past Whitefish 38-24 Friday in the Dawg Pound.
Taxed by a pass-conscious Bulldog defense, Wilson ran for 147 yards and two touchdowns. The junior quarterback still got his touchdown passes — three, giving him 41 on the year — but his ability to run and shoot was a difference maker.
"They had a great defensive game plan and tried to take away the pass," said Wilson, who had almost as many carries (23) as passes (24; he completed 17 for 191 yards) Friday. "We were patient and passed it when we could. But our line did a good job blocking on the run.
Keyen Nash (33 rushing yards) had a great game. Our run game was on point today."
The game saw seven lead changes: Whitefish led 3-0, 10-7, 17-13 and 24-19. The latter came on Ty Schwaiger's 17-yard scoring run at 5:06 of the third quarter.
Polson answered, Wilson tearing off a 21-yard run ahead of a 4-yard TD pass to Alex Muzquiz. The Pirates led for good, 25-24, and got the ball back on a rare Whitefish 3-and-out.
Then, facing a fourth-and-12, Wilson made the play of the game — he rolled right for a rugby-style punt and instead flung a pass to Colton Graham for a 23-yard gain.
"We're not a big punting team, but we get the ball in my hands and I can punt it," Wilson said, then added: "Not very well. I got lucky on that first one (a 36-yarder in the first quarter)."
From there he converted another fourth down with a short pass to Graham, then capped the drive with a 16-yard run around right end.
It was 31-24 with just 4:26 left in the game. Whitefish gave up the ball up on downs with 2:16 left, got the ball back on downs at 1:07 and with 36 seconds remaining Wilson — him again — picked off a fourth-down Fynn Ridgeway pass and sped 30 yards for the pick-6.
Whitefish fell to 7-2 with its second straight loss; it will likely be the No. 3 seed out of the West into next week's playoffs. Polson, 9-0, is the No. 2. Hamilton is 1 and Columbia Falls 4; the Broncs beat the Wildcats 55-20 Friday.
The Bulldogs, getting 140 yards rushing for Schwaiger and another 92 from Ridgeway, held up well.
"That was a great high school football game," Whitefish coach Chad Ross said. "Hundred percent. Loved it.
"We know Jarrett Wilson is a great quarterback. We dropped the defensive ends off and frustrated him a little bit. He ran the ball a lot, and a couple missed tackles — that's something we need to clean up — and maybe a play here or there and it's a great day."
Ridgeway completed just two passes, both to Bodie Smith, including an 18-yard TD strike. He also had a leaping, 5-yard TD to put Whitefish up 10-7 early in the second quarter.
The Bulldogs often ran most of the play clock down before snapping the ball, and Smith's TD catch with 24 seconds left in the half had them up, 17-13.
"Teams are going to do that — they don't want to see (Wilson) calling a play every seven seconds," Polson coach Kaden Glinsmann said. "They came out in a different set. They didn't pull anybody and that kind of messed us up a little bit. All the credit goes to Coach Ross and his staff. We play that thing in the rain 10 times, it probably splits right down the middle."
Polson won this one. Graham had eight catches for 101 yards, including a 32-yard score. Wilson had a hand in all six TDs. … and one big fake punt.
"He does such a great job, we have all the faith in his decision making," Glinsmann said. "You saw that here tonight. He's a special young man and I tell you what, it's just a pleasure coaching him. I just can't wait to see what these next couple of weeks bring us."
Polson 0 13 12 13 - 38
Whitefish 3 14 7 0 - 24
W — Ryder Barinowski 24 FG
P — Robert Perez 11 pass from Jarrett Wilson (Kaden Nelson kick)
W — Fynn Ridgeway 5 run (Barinowski kick)
P — Wilson 1 run (kick failed)
W — Bodie Smith 18 pass from Ridgeway (Barinowski kick)
P — Colton Graham 32 pass from Wilson (pass failed)
W — Ty Schwaiger 17 run (Barinowski kick)
P — Alex Muzquiz 4 pass from Wilson (run failed)
P — Wilson 16 run (run failed)
P — Wilson 30 interception return (Nelson kick)
---