Glacier sends Gallatin packing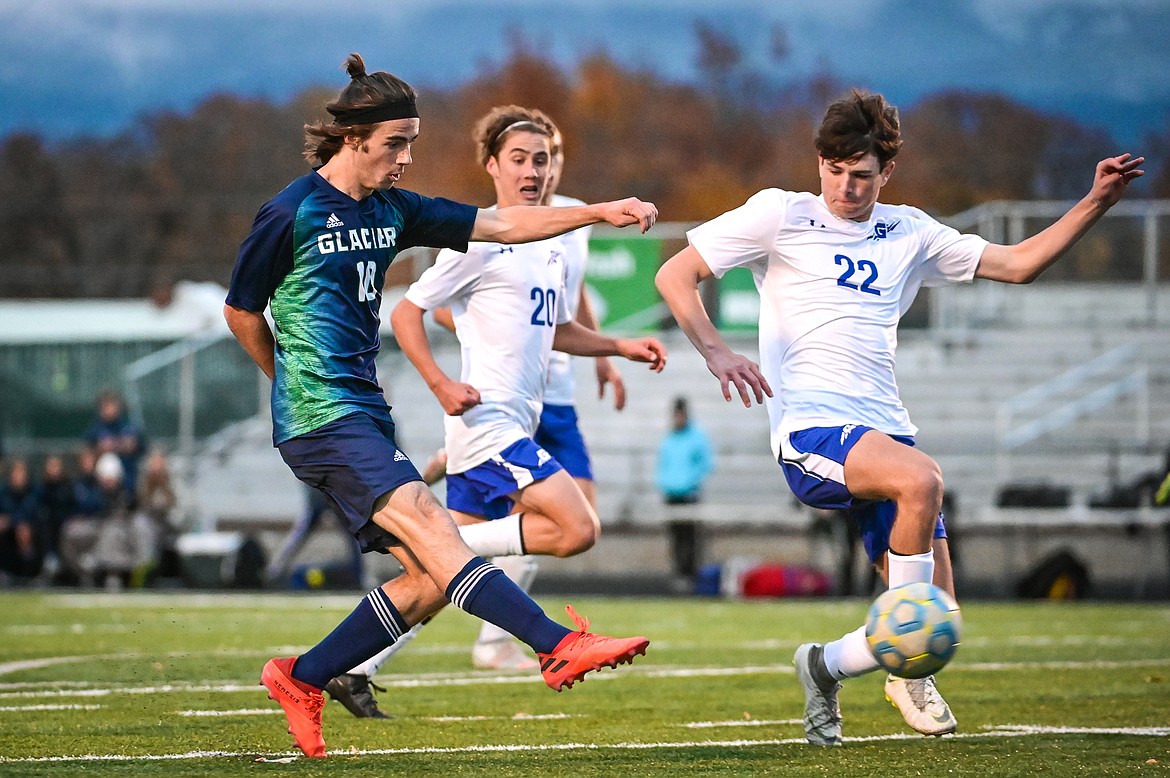 Glacier's Zane Elliott (10) scores a goal in the first half against Gallatin at Legends Stadium on Saturday, Oct. 23. (Casey Kreider/Daily Inter Lake)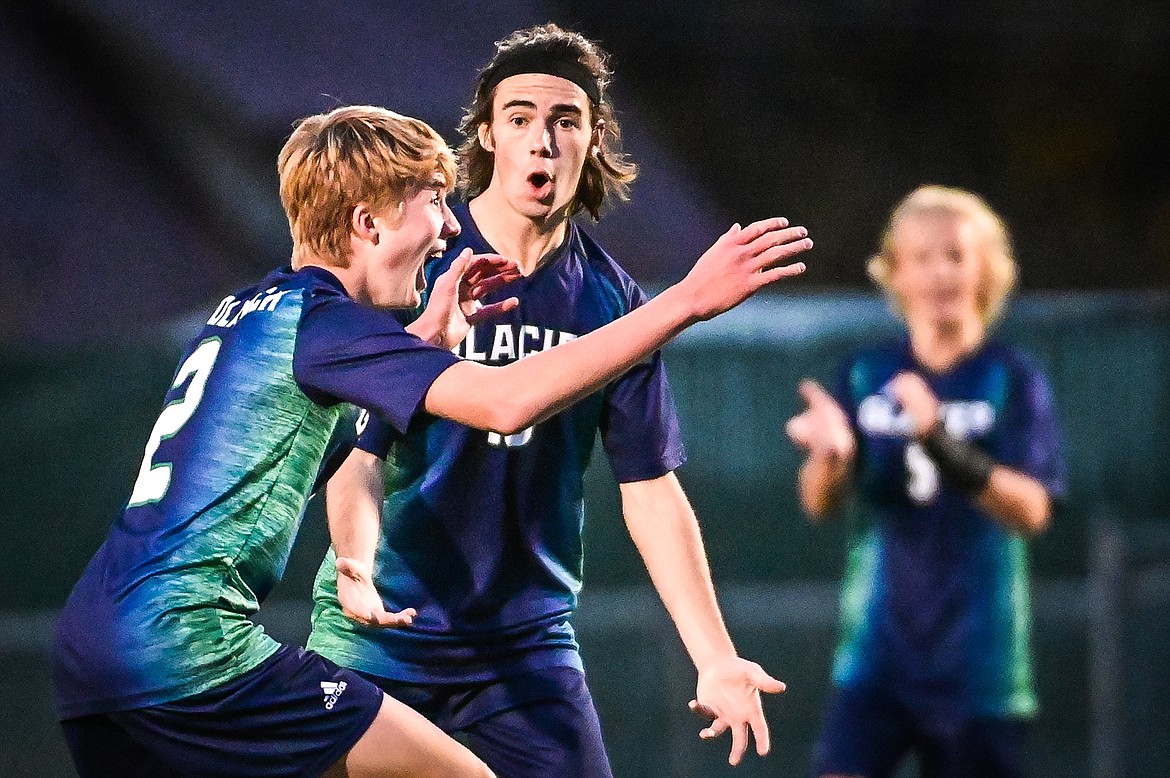 Glacier's Sam Ells (2) and Zane Elliott (10) celebrate after Ells' goal in the first half against Gallatin at Legends Stadium on Saturday, Oct. 23. (Casey Kreider/Daily Inter Lake)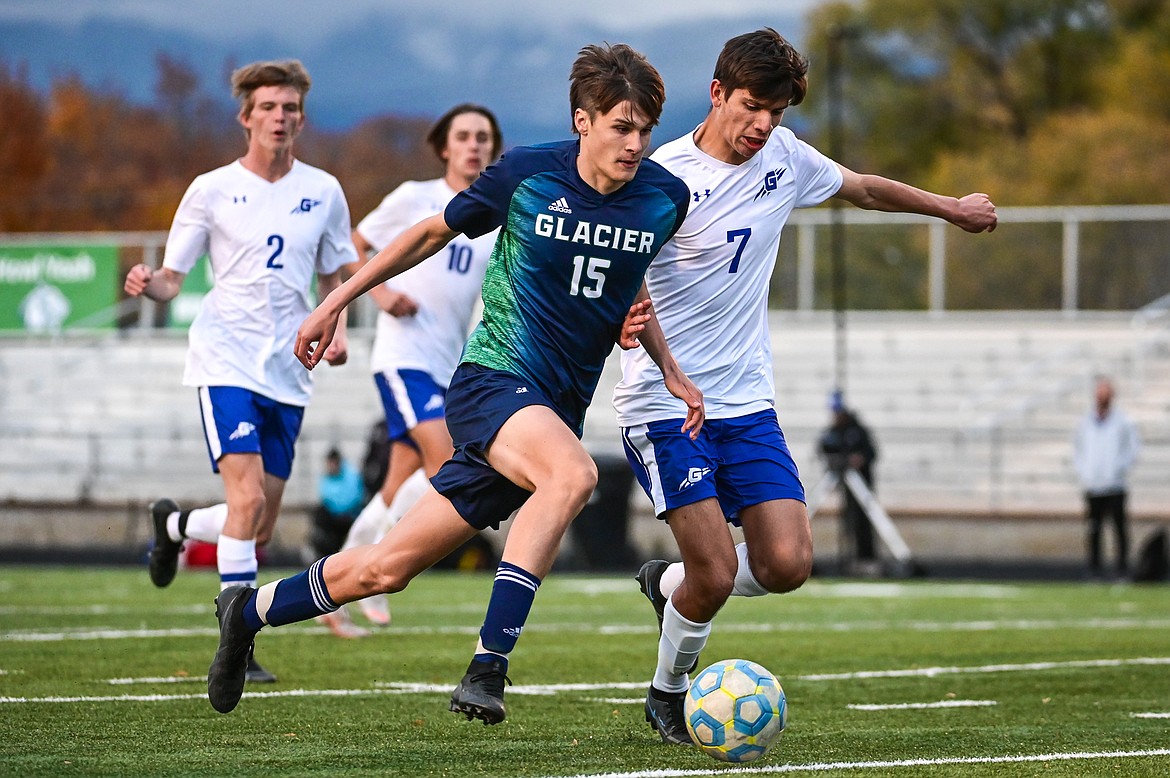 Glacier's Bridger Dalla Betta (15) attacks the Gallatin defense in the first half at Legends Stadium on Saturday, Oct. 23. (Casey Kreider/Daily Inter Lake)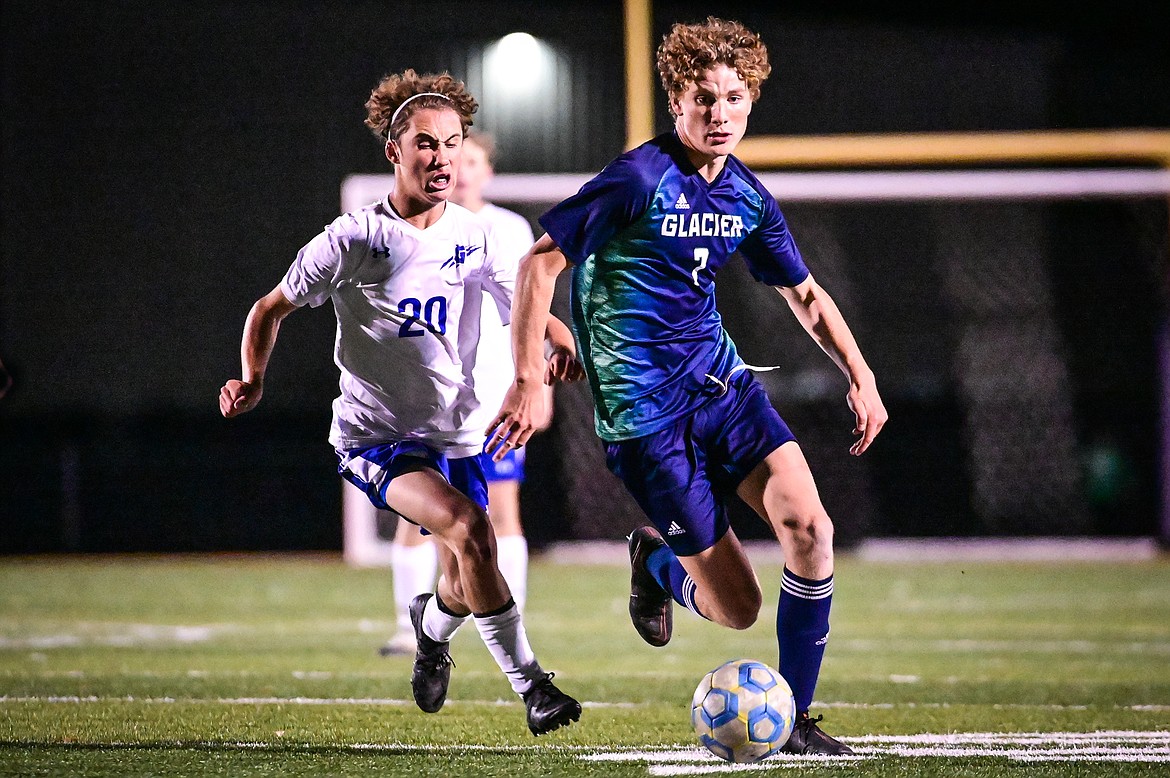 Glacier's Sullivan Coggins (7) attacks the Gallatin defense in the second half at Legends Stadium on Saturday, Oct. 23. (Casey Kreider/Daily Inter Lake)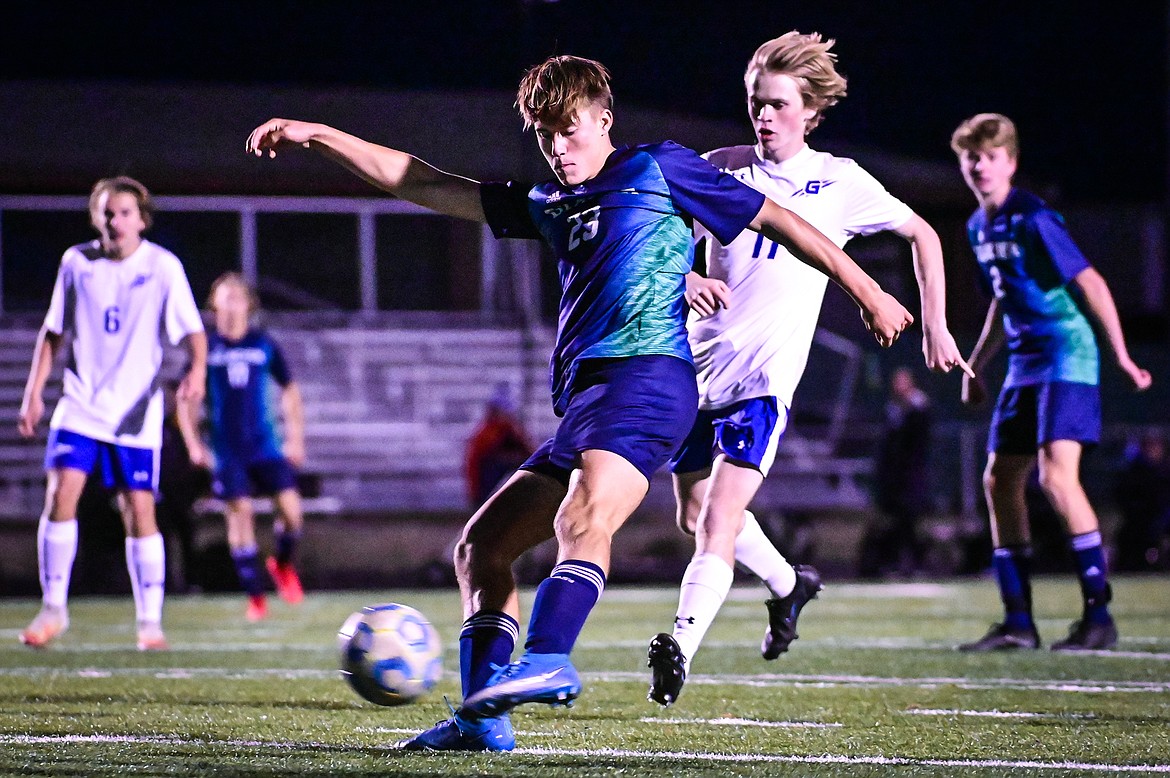 Glacier's Joey Paolini (23) shoots in the second half against Gallatin at Legends Stadium on Saturday, Oct. 23. (Casey Kreider/Daily Inter Lake)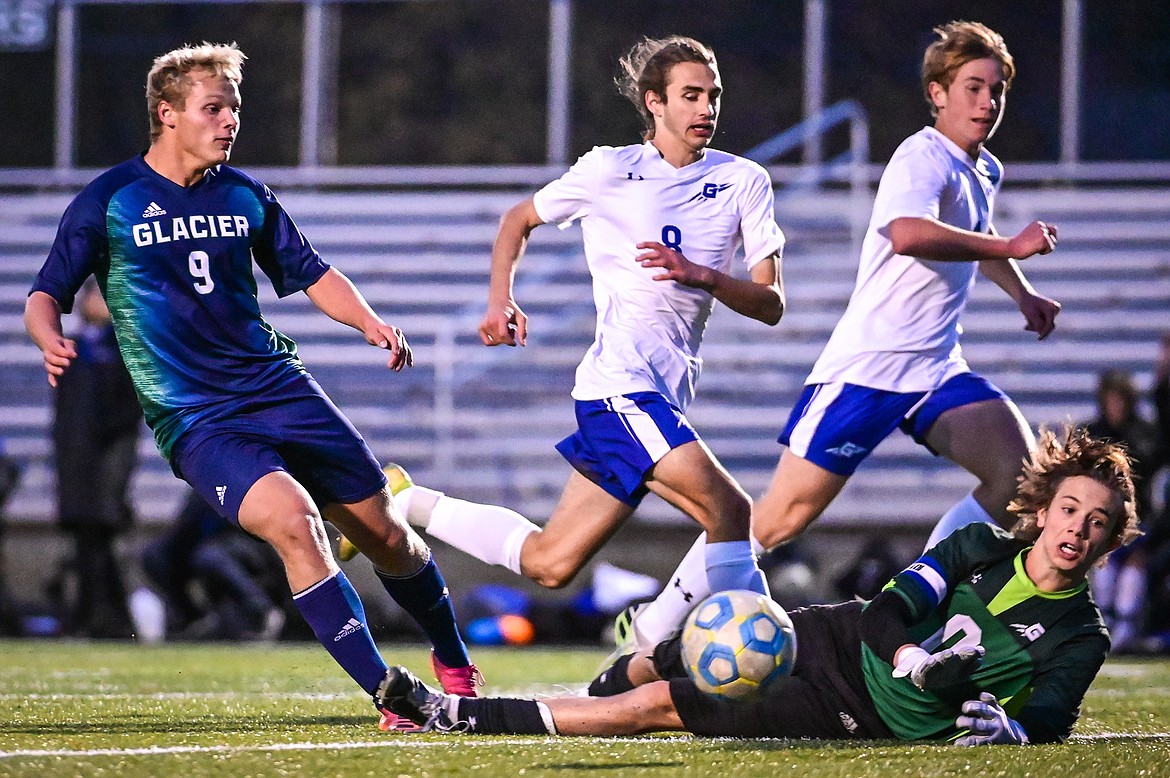 Glacier's Hunter Lisowski (9) has a shot stopped by Gallatin goalkeeper Aden Lyle (0) in the first half at Legends Stadium on Saturday, Oct. 23. (Casey Kreider/Daily Inter Lake)
Previous
Next
by
KATIE BROWN
Daily Inter Lake
|
October 23, 2021 11:15 PM
Sam Ells didn't have the best day at the state cross-country meet in Missoula much earlier in the day.
In fact he wasn't able to finish his race. But he still made it back in time for the Wolfpack's quarterfinal soccer game against Gallatin Saturday night.
Then he made up for everything by scoring a goal, one that ended up being the game-winner in a 2-1 victory over the Raptors.
"It felt good when it went in. Just kind of a bright spot today," Ells said.
It was always the plan for Ells to do double-duty Saturday. Not that he would have it any other way.
"I've been looking forward to getting back on the field for a while," he said.
Ells' goal almost wasn't one — the ball sailed right through Gallatin keeper Aden Lyle's fingers at the far post when he thought he had a grip on it. There were a few surprised faces on the field once realization set in that it was indeed a goal.
Zane Elliott got things started for Glacier with his goal in the 22nd minute. He broke out ahead from the Raptors' defense and by the time defenders reached him, the ball was on its way to the back of the net. Sol Dalla Betta got the assist.
"It was a great shot," Elliott said. "I don't think I could make that again."
While Glacier had to grind out a win Tuesday over Big Sky, Saturday's game couldn't have been more different, with the two goals coming easily enough in the first half, though a third goal remained elusive. It wasn't for lack of effort — the Wolfpack put 21 shots on goal.
"You could tell we were prepared," Glacier coach Ryan Billiet said. "You could tell we were confident. We were disciplined, we were organized, we were creative. We were different. We were consistent."
The Raptors made things interesting by scoring in the final minute of the game. Max Burke got that one.
John Pyron made two saves in the almost-shutout.
"It was really just a team effort. I think this game took a lot of grit and we just won it with heart and that goal was just great to put one in right at the start," Elliott said.
Glacier is in its third semifinal in a row and likely headed to Bozeman, who won 7-2 Saturday against Missoula Sentinel.
"Every moment is just an amazing part of this journey and we'll get back to work on Monday and prepare for who's next," Billiet said.
Gallatin 0 1 — 1
Glacier 2 0 — 2
G — Zane Elliott (Sol Dalla Betta) 22:00
G — Sam Ells 31:00
GAL — Max Burke 79:00
Shots — Gallatin 4, Glacier 21. Goalie saves — Gallatin 11 (Aden Lyle), Glacier 2 (John Pyron). Corner kicks — Gallatin 1, Glacier 5. Fouls — Gallatin 9, Glacier 5. Cards — Gallatin 3.
Class AA quarterfinals
Boys
Friday
Missoula Hellgate 2, Billings Senior 1
Saturday
Glacier 2, Gallatin 2
Bozeman 7, Missoula Sentinel 2
Billings West 2, Helena Capital 0
Girls
Friday
Missoula Hellgate 2, Billings Senior 0
Saturday
Helena 1, Bozeman 0
Gallatin 2, Missoula Sentinel 0
Billings West 9, Helena Capital 0
---