Wildcats, Bulldogs bound for another state final clash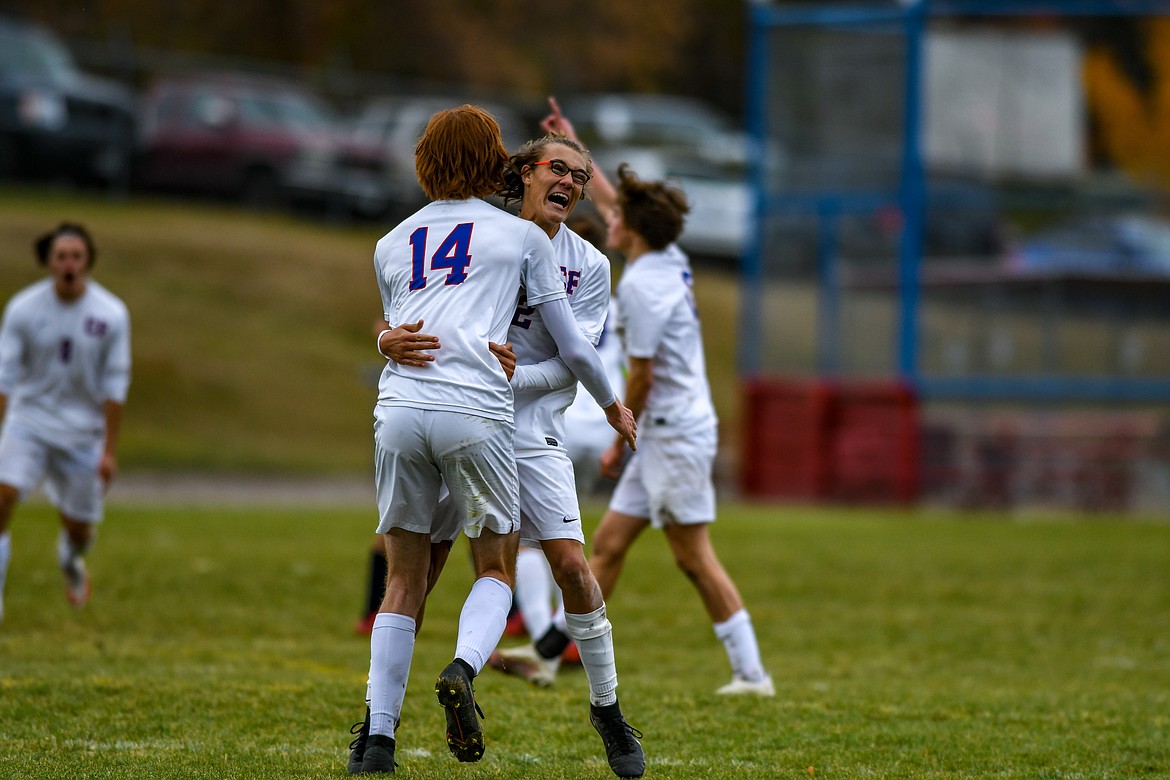 Columbia Falls' Ethan Austin (14) and Findley Sundberg celebrate the Wildcats' semifinal victory over Loyola on Saturday in Missoula. (JP Edge/Hungry Horse News)
by
Daily Inter Lake
|
October 23, 2021 11:05 PM
MISSOULA — A little battered and bruised but none the worse for wear, the Columbia Falls Wildcats came home with a 1-0 win Saturday over Loyola and another berth in the Class A state final.
"The game itself was just nothing much resembling a soccer game," Wildcats coach O'Brien Byrd said. "It was just bodies smashing into each other, tremendous speed, tons of physical challenges. It was something we felt like we survived instead of won."
Josiah Kilman scored in the first minute of the game and Columbia Falls held it up for the duration of the physical contest.
"Loyola brought that to the game — they played a very direct, physical brand of soccer," Byrd said. "It was like someone throwing everything and the kitchen sink at us."
Bryce Dunham made 13 saves for another shutout.

"It's been a while since we've been scored on," Byrd noted. "It's pretty impressive to keep a shutout in a game like this today."
The Wildcats' cross-county rival Whitefish earned its fifth straight final appearance Saturday with a 3-0 win in Livingston over Park. Gabe Menicke scored twice, and Chase Sabin had a goal and an assist.
Whitefish and Columbia Falls will face off in the state championship game for the second year in a row on Saturday. The Bulldogs have won three consecutive state titles.
The Bigfork Valkyries were defeated 8-0 by defending state champ Laurel. Bigfork upset Stevensville in the quarterfinals last week.
Billings Central, who the Whitefish girls upset last year in the semifinals, dashed the Bulldogs' hopes of another try in the final with a decisive 5-1 win. Abby Derbyshire had a hat trick for the Rams. Emma Barron scored Whitefish's only goal, assisted by Sophie Olson.
Laurel will play Billings Central for the title on Saturday.
Class A semifinals
Saturday
Boys
Columbia Falls 1, Loyola 0
Columbia Falls 1 0 — 1
Loyola 0 0 — 0
CF — Josiah Kilman (Kai Golan) 1:00
Shots — CF 10 Loyola 8. Goalie saves — CF 13 (Bryce Dunham), Loyola 10 (Hudson Covicks). Corner kicks — CF 4, Loyola 1. Fouls — CF 15, Loyola 17. Cards — CF 1, Loyola 1.
Whitefish 3, Park 0
Whitefish 2 1 — 3
Park 0 0 — 0
WF — Chase Sabin 26:00
WF — Gabe Menicke (Sabin) 38:00
WF — Menicke 63:00
Shots — WF 10, Park 6. Goalie saves — WF 6 (Will Peppmeier), Park 7 (Brandon Smith). Corner kicks — WF 4, Park 4. Fouls — WF 6, Park 4. Cards — Park 4.
Girls
Billings Central 5, Whitefish 1
Whitefish 0 1 — 1
Billings Central 3 2 — 5
BC — Abby Derbyshire 9:00
BC — Derbyshire 13:00
BC — Kendall Wahl 29:00
BC — Derbyshire 55:00
WF — Emma Barron (Sophie Olson) 56:00
BC — Ava Yates 60:00
Scoring information for Bigfork at Laurel was not available.
---