Kalispell architectural award winners announced
The Cottages at Immanuel Lutheran and Cushing Terrell's new Main Street building have been honored as the Kalispell Architectural Review Committee's 2021 award winners.
The awards program started in 2010 "to acknowledge quality development in the community that reflects the goals and purpose of the committee, encouraging originality and innovation to protect and enhance the city's character and appeal."
The Cottages at Immanuel Lutheran are located at 189 and 191 Crestline Ave. The architect was MMW Architects, and the contractor was Davidson Construction Inc.
"One of the standout features on these homes was that they were designed with very inviting and livable outdoor spaces with shade and shelter from the weather," said Julia Pierrottet, chair of the Architectural Review Committee. "Like the old front door porches, we can imagine these spaces encouraging time spent outside interacting with neighbors — interaction that is so important as we age."
Each unit has a unique look/layout, but they all are coordinated with a variety of similar materials and paint colors, and they all have lots of good-sized windows," Pierrottet added. They're an excellent fit for the adjacent residential neighborhood."Meanwhile, Pierrottet said of the Cushing Terrell building: "This remodel of a somewhat dated mid-century modern building stood out, in part because the designers took stock and took advantage of the "good bones" of the existing building. They created a higher roof line at the east end of the building that complements the existing long, low lines of the structure.
They developed a landscaped sunken patio on the south elevation with the large bank of windows there that not only improves the interior space but provides a unique and interesting face for anyone driving into town from the south," Pierrottet noted.
"The planters, added windows and updated materials on the west elevation provide a strong sense of 'entry' — something that the committee always likes to see, particularly on Main Street," she said.
Cushing Terrell designed the building and Martel Construction served as the contractor.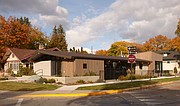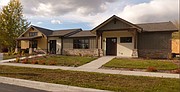 Recent Headlines
---