Hans Sacrison, 85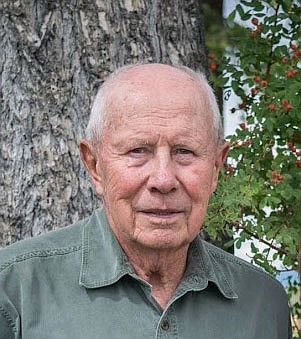 |
October 24, 2021 12:00 AM
Hans Sacrison passed away in his home, exactly where he wanted to be, at the age of 85 in Kalispell on the morning of Oct. 5, 2021. He is now reunited with his parents, brothers Jack, Bob and Bill, and his precious daughter, Nancy Lou Curtis.
Hans led an extraordinary life beginning in Buffalo, South Dakota, to which he always maintained a connection. There he married LeAna Lyons, and together they shared 65 devoted years. Hans attended (and, in his later years, supported) the South Dakota School of Mines and Technology in Rapid City, South Dakota. Not only his incredible mind, but also his honesty and uncompromising integrity, led him to great success as a mining engineer. Together, he and LeAna, later joined by their daughter, Nancy, experienced working and living in many locations across the U.S., Canada and Australia. Hans also traveled to many South American countries with his work. The project closest to home was the 7-mile long Flathead Tunnel near Trego, which is the second longest tunnel in the United States, and is used to this day by freight trains and Amtrak. The most unique project was in Australia where Hans designed 27 miles of water tunnels driven to divert water to the city of Melbourne across the Great Dividing Range.
Through Hans' innovative engineering he spearheaded changes in tunneling methods with the use of lasers for shooting grades and leveling. After their time in the San Francisco area, Hans decided to begin another life for his family, leaving San Francisco, and finally putting down roots on their beautiful small farm in the Flathead Valley in the 1970s. Though he continued consulting, Hans became a passionate horseman, farmer and builder. While to most, he appeared as a stoic and disciplined character, those who knew him best realized that underneath his composure was a tenacious, irreverent, sensitive, loving soul. (And a razor sharp sense of humor when you took the time to listen.) To glimpse it was a wonder.
Hans leaves behind his beloved wife, LeAna, granddaughter Jadi Rae Curtis, son-in-law, Ray Curtis, brother-in-law Larry (Sandra) Lyons, many beloved nieces and nephews, Darci Sanborn, a friendship born of their love of horses, and his dear friends the Thoms family, who were, in reality, also family to him.
There will be no memorial service as he was not one to make a fuss.
Memorial contributions may go to Creston Fire Department and their new Fire Hall Fund.
Recent Headlines
---