Covid surge pushes Kalispell hospital over capacity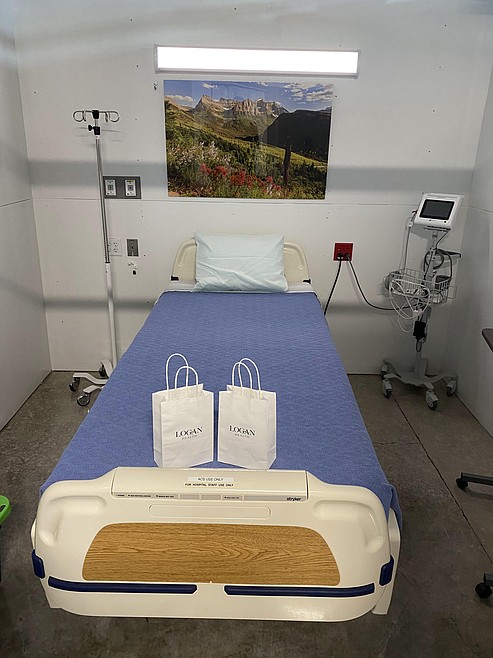 This image shows a room at the Medical/Surgical Extension Unit at Logan Health in Kalispell. (Logan Health photo)
by
MATT BALDWIN
Daily Inter Lake
|
October 27, 2021 11:00 AM
Logan Health opened its temporary alternate care unit this week as a mounting number of Covid-19 patients continues to tax the Kalispell hospital's bed capacity.
The unit is located on the third floor of the Logan Children's facility in the space originally developed as the state's alternative care site. Crews with the U.S. Army Corps of Engineers set up the space in May of 2020 on the unused third floor of the children's hospital.
The unit is equipped for 24 beds in total. Ten beds will open when capacity in other medical and surgical spaces are reached, and an additional 14 beds will open should the first 10 be filled.
The unit is for acute medical and surgical patients over 18 years old who have met criteria for discharge but are awaiting placement in a skilled nursing facility, or those identified by their provider as a candidate for the unit.
All patients in the unit must be Covid-19 negative.
A Logan Health fact sheet notes that patients in the unit will have a full-size bed and access to their nurse at all times. The unit includes bathrooms, entertainment devices, meal delivery and space for visitors.
LOGAN HEALTH Medical Center reported 56 Covid patients on Wednesday. That total included 45 unvaccinated people. Fourteen Covid patients were in the ICU and seven were on ventilators.
As of Monday, Flathead County's total hospital bed capacity was at 98%, according to a state report. Logan Health Medical Center was overcapacity by five beds. Logan Whitefish, formerly North Valley Hospital, reported seven Covid patients Monday.
Montana National Guard soldiers were still at both hospitals assisting with non-clinical needs.
Flathead County had 1,226 active Covid cases on Wednesday. According to a state report, 171 people in the county have died of the disease since the pandemic began. Eighteen deaths have been reported in the last two weeks alone.
Statewide, there were 11,041 active cases on Wednesday, with 463 hospitalizations. Yellowstone County is the hot spot in the state with 2,617 active cases.
Flathead County's vaccination rate ticked up to 46% this week, which is still below the state's overall rate of 55%.
Recent Headlines
---